Guest Post
Austrian startup oratio brings automated chatbot conversations to Messenger, Viber, Telegram and Kik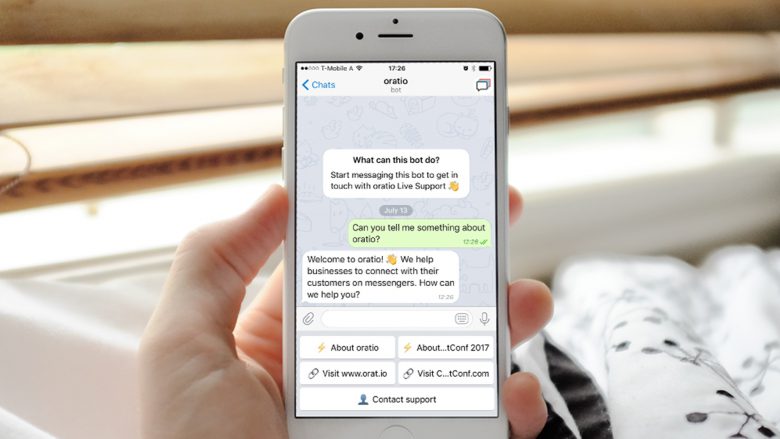 After having handled more than 10 million messages from more than 140 businesses all over the world, oratio is now releasing Automate. Supported by smart chatbots, businesses can now set automated replies across all available messaging networks to solve one essential problem, making information available for customers in a quick and easy way.
Messaging has grown rapidly in the past few years on the back of a mobile first world that is built on messaging – either between friends and family or businesses. Facebook Messenger is among the largest networks in the world, accounting for more than 1.2 billion active users each month. Viber, Telegram and Kik are growing massively and already close to 1 billion users combined.
That means for businesses that the choice of channels is even more important than ever before and it turns out that messengers have the potential to establish a new standard for customer communication.
Recognizing text patterns and typos
With messaging at the very heart of oratio, we are now making automation features available to everyone to make it easier for teams to respond to customer chats on Facebook Messenger, Viber, Telegram, Kik and soon Twitter. Smart chatbots are supporting your conversations and are even able to recognize text patterns, words and phrases as well as typos.
But there is more. As it turned out, customers really like to quickly access information only with the tap of a button, so we decided to create a Conversation Menu across all messaging networks. It's a smart and convenient way of accessing information right within a conversation.
Over the next few months we will continue to improve Automate and add exciting new features to make conversations with customers a reality for many businesses around the world.
Are you curious to learn more? Get started now and start setting up Automate »
This guest post is written bei Bernhard Hauser, co-founder of oratio.