Interview
Connecting the Diaspora Dots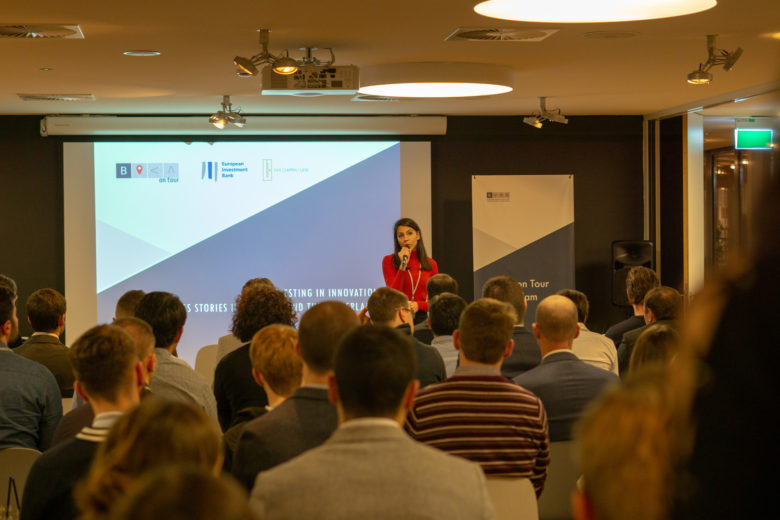 You have probably heard names of prominent founders and investors abroad like Bogomil Balkansky, Momchil Kyurkchiev, Kosta Yordanov, or of newcomers like Nikolay Piriankov or Lubomila Jordanova, so you know that the Bulgarian diaspora has its tech entrepreneurial vibe. However, many other faces are not as widely known and not so well connected to the local ecosystem. In the past two years the Bulgarian Private Equity & Venture Capital Association (BVCA) has been on tour to connect the dots – to meet those Bulgarian expats, explore their businesses and find a way to connect them to the local startup and VC life.
Trending Topics met Maria Marinova, Director of BVCA, to find out why they visited Vienna, London, Berlin, Paris and Amsterdam, who came around and what is next.
Trending Topics: What is BVCA aiming with the tour and how is the diaspora relevant to what is happening in the Bulgarian VC industry?
Maria S. Marinova: The aim of BVCA on Tour is to bring together the Bulgarian diaspora abroad and to engage it in a discussion about its success stories in the spheres of entrepreneurship and investment. It is an ongoing initiative that bridges the local ecosystem with hubs around the world and grows its network with representatives of successful Bulgarian professionals abroad, but also foreigners who wish to do business or seek to engage with Bulgaria. Not least, this is a deal flow channel for our members. In the past two years, we visited five European capitals and met over 600 people during those events.
Next year we will partner with America for Bulgaria Foundation and meet the Bulgarian diaspora in the USA in three cities of the West Coast: Seattle, San Francisco and Los Angeles.
Who came around and what are your key takeaways from each city?
In terms of participants, we traveled with fund managers who are BVCA members and some of the most successful start-ups and companies from Bulgaria. We always had guest panelists too – Bulgarian entrepreneurs who live abroad like Pavel Cholakov from Voxelscope, Ekaterina Alipiev from Jourvie, Tsvetomir Petkov from Coya and Yordan Tabakov from Wizzilab. We also had foreigners who work with Bulgaria and the SEE region. Maurine Alma, CMO of Takeaway (Takeaway acquired Bulgarian BGMenu in €10M deal earlier this year- ed. note),  Ton van't Noordende, CEO of 01 Ventures, and George Northcott from Founders Factory, to name a few.
The audience of the events was a mix of investors, founders, top managers, business professionals, policymakers, NGOs, consultants, researchers and students, among others. We had between 120 and 150 guests on average per event. What surprised us, however, was the fact that foreigners were also interested in the initiative – 30% of the guests were investors, founders and managers from the respective markets.  
What does engaging the diaspora mean on practical level?
This might not sound very practical, right? (laughs). It means opportunities for co-investments, deals, information flow, visits and key introductions. Having this network would allow our members to have access to information and business contacts across markets for themselves or their portfolio companies. But most importantly, through this initiative we spread the word about the positive developments in Bulgaria in the past five-six years in terms of entrepreneurial potential, business opportunities and R&D work in the country, as well as the case of successfully structured and fully operational financial instruments in support of start-ups and growing companies.
"Only for the past few years, technology company exits in Bulgaria have totaled more than €400M, which I think speaks for a mature ecosystem here."
We want to tell these stories abroad and show ways in which the local community can be a part of this. Additionally, we appoint ambassadors per city who facilitate exchange processes or are a contact point for local entrepreneurs or investors who need any support on the respective market (see the table).   
| | |
| --- | --- |
| City | Ambassador |
| Vienna | Tsvetoslava Kapatsinova, Vienna Business Agency |
| London | Raya Yunakova, Pi Labs Property Innovation |
| Amsterdam | Ivan Draganov, Dealroom.co |
| Paris | Open for applications |
| Berlin | Open for applications |
Are there any visible results from this tour?
Yes, we have some traction and success stories. We have met exciting founders we would otherwise not hear of and introduced them with local investors and decision-makers from the Bulgarian ecosystem, some of which came into negotiations with them.
The most important from my perspective is the broad database of contacts and followers BVCA has generated throughout the years through this initiative. We have an annual gathering around the Christmas holidays in Sofia where we invite our network representatives from all around the world to meet BVCA members, team and partners in Bulgaria. It turns out the Christmas event is not only where they have networking, but also where business happens.
According to a recent study of The Bulgarian Association of Software Companies, a lot of Bulgarians are considering to move back because of the evolving tech scene. Do you think the development of the local ecosystem could reverse the brain drain trend of the recent years?
There are already a lot of people who live and work between Bulgaria and another country, and recently more and more who come back to start a business here. I do think those processes could bring back well-educated people with valuable know-how. That is why our joint initiative in the USA will have in its focus exactly those aspects: showcase the opportunities in Bulgaria for work, where one could put in practice his or her international experience, find a good base for starting and growing a company; or give back to the community by engaging in a socially-responsible projects or an NGO work.

Inspired by what we hear from around the diaspora we decided to partner with BVCA and collect more stories. So we are launching our Christmas Mailbox soon. Stories of networkers, founders, investors, executives in the tech field and suggestions for people we shouldn't miss are welcome. Drop us a line at alexandra.kozbunarova@trendingtopics.at, ping us on Facebook or LinkedIn, send us letters, voice messages, videos, photos, postcards… Just let us know you are out there.