IN DATA
DigitalFoodLab: European foodtech startups raise EUR 2.7b in 2020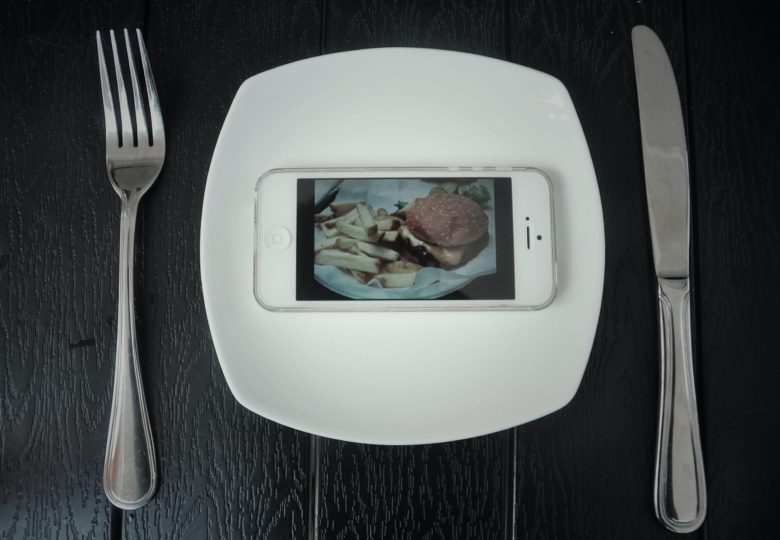 Foodtech has a lot of backers worldwide, with Europe traditionally lagging behind other major markets. However, in recent years European investors have started to see the potential in the niche market and have steadily made pushes. The ongoing pandemic has really changed the way we lead our daily lives. With the inability to go out and eat at our favorite restaurants, we have been forced to stay at home and order a lot more take away. This might be one of the main reasons foodtech startups have managed to stay strong during the difficult 2020 year, with investments in the sector reaching their previous peak of EUR 2.7 billion in 2019, according to a DigitalFoodLab report. 
Despite the pandemic, the total amount invested in FoodTech startups globally has risen sharply. Hence, the share of the European foodetch ecosystem dropped to a mere 12%.
A third wave of European foodTtech startups is rising, which is characterised by two key features: they are raising more at a very early stage (even before having a product) and are betting on long term trends.
Three generations of foodtech

According to DigitalFoodLab's report, foodtech startups can be divided into three different generations:
Gen 1: Delivery-oriented
Gen 2: Restaurant and everyday food delivery
Gen 3: Future of foods (food automation, meat alternatives, dark stores, etc.)
Two new foodtech unicorns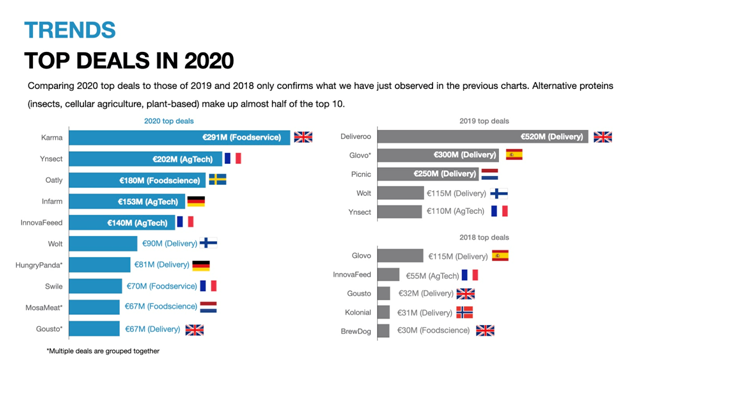 During the pandemic, two companies stood out higher than any other. UK-based startup Gousto, a meal kit company, reached the coveted EUR 1b mark after a round of funding, making it one of the two unicorns of the year.
The second unicorn of 2020 was Oatly, a Swedish startup developing dairy alternatives, reaching an even higher evaluation of nearly EUR 2b.
Another company, UK's Karma Kitchen, a kitchen rental start up, managed to get the largest round of funding amongst foodtech companies, acquiring EUR 291m.
Increased faith in foodtech
2020 saw much stronger faith in foodtech startups as investors supported these up-and-coming companies at a much earlier stage of development, series A funding.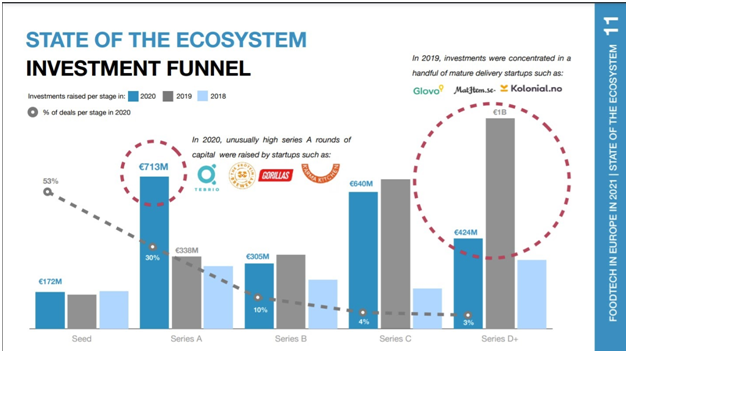 Innovation hubs
Foodtech has exploded in five main parts of Europe – the UK, France, the Nordics, the DACH region and Benelux. These regions attracted 94%  of all foodetch investments made in Europe.

Challenges facing Europe
While not being at the top of the race, European foodtech startups have managed to make waves with their new and innovative ideas. However, there is one big hurdle they must overcome in order  to compete internationally. Startups need to be able to expand their products beyond their countries' borders. While some have already achieved this feat, it is nowhere near the same level as startups outside of Europe.
This may change in the future. With bigger corporations, such as Nestle, investing in startups,  up-and-coming companies may get the push needed to take their businesses to the next level.