"Startups can open our eyes with disrupting ideas": This is how the Factory1 accelerator works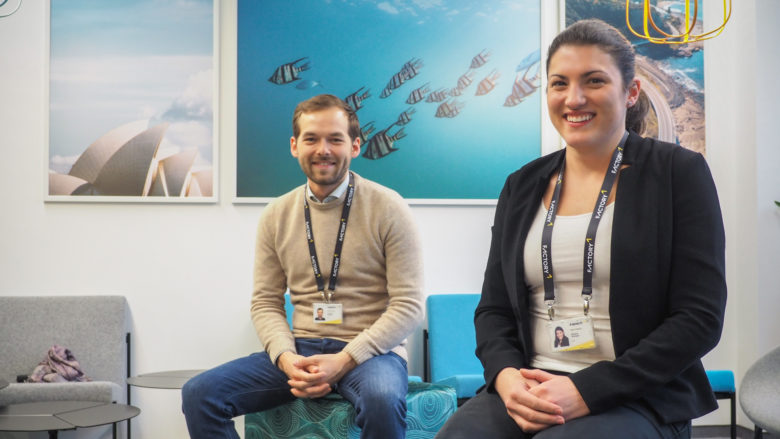 Once self-driving cars take over our streets, everything will get better. Less traffic, less CO2, fewer accidents, more parking spaces. Right? Well, forecasts are hard to make, especially when they concern the not so near future. Meanwhile according to other studies the robo-cars might slow down the whole traffic and make it all less efficient.
The mobility of the future and the effects of autonomous vehicles are topics that the Austrian tech company Kapsch also addresses. It is known worldwide for its toll systems, traffic infrastructure and mobility management systems.
Traffic of the future is unpredictable
"Some studies say that autonomous driving will provide more traffic. If self-driving cars become affordable for everyone, then they will compete with public transport", said Christoph Seybold. "And we have to be prepared for this scenario." At Kapsch, Christoph works as a solution consultant, but recently also as a startup mentor.
This year, international startups will once again participate in the in-house Factory1 accelerator program. 193 startups have applied and four to five young companies will be invited to take part in the five-month program. "We have evaluated whether there are any solutions that we can integrate with," says Barbara Hollinger, Business Development Manager at Kapsch. Like Christoph, she is one of the 60 international mentors who will take care of the startups. "We are looking for startups that are already on the market and have made sales."
Individualism vs. tower manager
Mobility Platforms, Integrated Urban Mobility, Data Privacy, Smart Autonomous Platforms – Factory1 is all about the mobility of the future. This new reality might seem far away, but is indeed approaching in giant leaps, and it comes with some effects that could be surprising.
For example, self-driving cars themselves are considered expensive, but this image changes drastically once they are integrated into car sharing services.  "There are calculations that fares will fall so sharply that they cоuld undercut the price of the subway tickets," says Christoph. That would increase demand, and instead of less cars on the streets, there would suddenly be more. This is also because conventional vehicles do not disappear overnight. "This mixed traffic will cause considerable problems," says Barbara. "We need to be prepared for this challenge. Taking innovative ideas into account in collaboration with startups can help"
Kapsch is investigating solutions from the complete vehicle individualism to a fully centralized control of every movement. "Opinions significantly vary whether self-driving vehicles will coordinate themselves or if they will be managed from a central point similar to airplanes from a tower," says startup mentor Christoph. "Self-driving vehicles could be directed by a traffic management center. We're already considering what components are needed to set up such a system."
"Startups can open our eyes"
And this is where startups come in. "We already have well-founded and patented tech solutions in-house, but keeping up with rapidly changing market demands can become a challenge for large companies" says Barbara. "That's where startups come in. They can open our eyes with disrupting ideas."
The goal of Factory1: From February to June, the young companies will develop a proof of concept in the accelerator, which ideally works in conjunction with existing Kapsch solutions. At the end of the program, there should be a close collaboration. Even a complete takeover is conceivable. "Ideally, we can position ourselves jointly in the market," says Barbara.
The perfect startup
The selection process for the accelerator is demanding. "The perfect startup can dock its solution to ours and shares our vision," says Barbara. "Of course, with almost 200 applicants, those who can't present their pitches properly fall out. On the other hand: a startup that throws out perfect marketing phrases but doesn't have a profound solution as a basis won't work either."
Founders should better think in advance what the benefits they can offer Kapsch are. "Some have really thought about concrete use cases and see where they could work with us. Someone who only wants funding but does not propose a concrete solution has a hard time with us," says Barbara. If founders are only looking for investment, they won't make it into the accelerator. "If a team of 200 people makes zero revenue, or if a startup wants to raise ten million and has no CFO – then skepticism is appropriate," says Christoph.
"We can be very fast"
Even those who only want to get access to customer (Kapsch has 100 branches worldwide and generates more than one billion euros in turnover per year) should not be too optimistic soon. "Our customers are governments and cities that are often very conservative. It's hard to get access to them as a startup. But if we as a company stand behind a startup, then a new top technology can take off," says Christoph. Kapsch is the lever to make a new product big. "When we see that there is something big in Factory1, we can be very fast."