Guest Post
Apple will launch indoor navigation for all iPhone users, predicts Austrian startup indoo.rs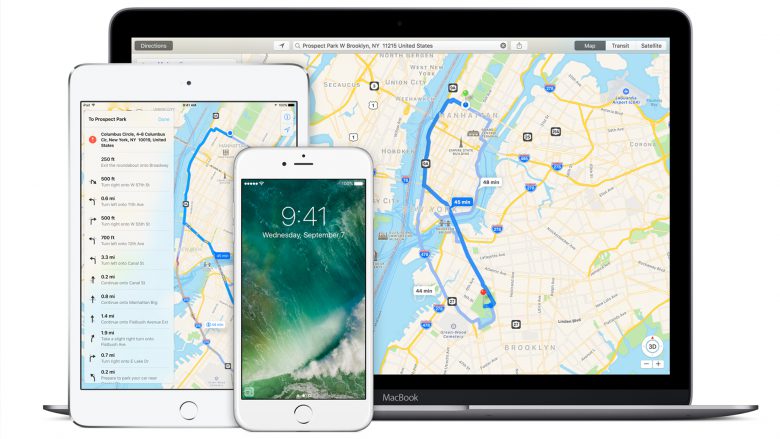 The Austrian startup indoo.rs offers an indoor positioning service for its customers. In this blogpost, Nick Stein, head of marketing at indoo.rs, gives insights into what Apple might launch at the WWDC conference next week:
As the title suggests, there are strong rumors inside the industry that Apple is about to launch Indoor Navigation for all iPhone users. The history of Indoor Navigation solutions and Apple are heavily intertwined. 2010 is really where the story starts, and it starts with Wifi and not Bluetooth, as the iBeacon was introduced later. This was difficult and expensive as a Wifi router is a much more expensive piece of equipment than a Beacon. Not to mention bigger and costly to power.
The biggest issue, however, was the way in which the routers were placed in buildings, floor after floor they were placed in exactly the same area. This meant that repeaters would be needed to have a chance at triangulation. In 2011, Apple updated from iOS4 to iOS5 on their phones. This might not seem on the surface like a big move from Apple, so let one of our founders explain.
"It was possible to scan for hotspots in range and read their Bssid and signal strengths. This was possible on iOS 4 by using private APIs and was then not longer possible on iOS 5 without jailbreak", says Bernd Gruber, co-founder of indoo.rs. Is this when Apple realized the opportunity that Indoor Navigation would mean to them regarding the amount of data?
2013 a pivotal year for Apple indoors
Jumping to 2013 and two big announcements jolted the industry forward. Apple saw the need to scale and was determined that SLAM technology was the only way to achieve this, so they acquired WifiSlam and then followed that with the "minor announcement" at their event regarding the creation of the iBeacon protocol.
This was overlooked by a lot of people watching that Keynote as it is the products that are the big headline grabbers. In fact, it was really only the indoor positioning and proximity marketing communities, both hardware and software,  which took real notice. Doing this, moved Apple into the driving seat.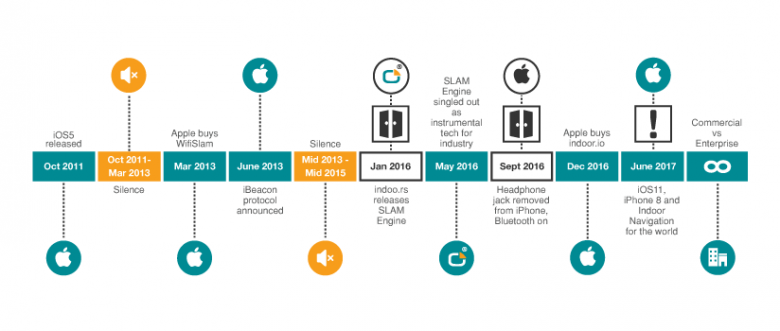 2013 showed Apple's power and foreshadowed their Indoor Navigation intentions
First came the beacon providers, the good, the bad and the hideously ugly. The market needed a while to settle and for a few to either stand out or disappear. The feeding frenzy began after that. Pilot projects, press release after press release of projects, use cases, new startups and finally the startup exits. Big companies started to try to catch the wave by buying up the hardware and software providers on the market, to gain a competitive edge.
All the while it looked like Apple were, at least outwardly, not paying much attention, maybe letting the market settle on the use cases for them or just doing what Apple does best, keep it quiet and then wait for the big launch.
2014-2015: Indoor Navigation goes back to the drawing board
After some early adopters, pilot programs and even investment buzz from the Motley Fool, the novelty wore off a bit. The use case that was seeing the most traction was the proximity marketing. This was seen as the path of least resistance regarding ROI. More or less an online version of couponing, it worked on the principle that if you want someone to do something, there needs to be a benefit for them.
Then came the next big tech giant into the game. Google announced two big moves, Eddystone and Project Tango (now known as Tango), to get into the game. The ace up their sleeve with Eddystone was removing the need for a customer to have their own app, this could all be triggered through the Chrome browser.
By leveraging an app that is pre-installed in Android and has between 1-5 million downloads, it was looking like a great move from Google. This was great for proximity marketing again but was not a hit for indoor navigation, for a number of reasons.

"Tango is different from other emerging 3D-sensing computer vision products, in that it's designed to run on a standalone mobile phone or tablet and is chiefly concerned with determining the device's position and orientation within the environment", reads the Wikipedia Tango page. Then came a big boost for the hardware side with an enormous exit for Aruba that might have bought a boat or two.
2016 Blue Dot is back and tracking assets
As 2015 continued and moved into 2016, we saw a lot of pivots, changes and re-positioning in the market. During that time we decided to concentrate on removing a barrier for the entire industry, see our SLAM technology. Something that, at an industry testbed, really stood out.
"Grizzly Analytics believes that indoo.rs innovations, particularly their SLAM technology, will be instrumental in propelling the market forward", says Bruce Krulwich of Grizzly Analytics.
The middle of 2016 had the industry move from the "nice to have" area or "gadget zone" to the "need to have" revenue generation zone. After seeing the event industry grow due to SLAM, it was the asset tracking side and for us, the focus on pushing that we have always been a solution provider and not just a data company, which has led to the next growth wave.
Data is the driving force behind the recent growth in our industry as it has been for many tech companies. We are working heavily with our clients to make sure that the data gained from the installations helps them understand their venue more. With indoor navigation and analytics, venues will become a living entity – changing, updating and being optimized for the visitors.
This has all been confirmed through numerous talks with others in the industry recently at Mobile World Congress. It also seemed that from the people visiting the booth, the customers are ready.
Apple: The giant awakes
The end of 2016 has got the industry all excited again, asset tracking, etc are really kicking off. Then Apple decided to tease us again. With removing the headphone jack, it has forced new iPhone owners to have Bluetooth on at all times. This removes a big barrier that many in the industry have been trying to solve, followed by publicly dipping a toe in the Indoor Navigation pool with the acquisition of indoor.io
This has gotten the tongues wagging again.
So since the first announcement of the iBeacon protocol, the industry was much more focused on solving the proximity marketing issue than the navigation issue. This has been due to the more obvious business arguments around ROI.
Now the market is looking for more than just contextual push notifications, it is looking for Smart City solutions where buildings, services, and navigation can be automated through the use of IoT. Indoor Navigation is a logical part of this next phase of Smart Cities/Buildings, as labor intensive tasks are now able to be automated allowing asset tracking, navigation, etc to drive innovation and savings.
2017 WWDC rumors- Indoor tech goes mainstream
Indoor Positioning and Navigation will be front and center of the WWDC keynote this year, that is the prediction. The hardware will be huge and the focal point as normal, the iPhone is 10 years old after all, but the biggest thing will be Indoor Navigation available worldwide at the flip of the update switch. There will be also a combination of Indoor Navigation and AR, but Apple is keen on keeping this secret.
Bloomberg Technology recently predicted that AR will be a big topic for Apple and that they are making big purchases and strides in this field, something backed up by MacWorld.
The connection between AR and Indoor Navigation is going to help push this industry into the mainstream.
When this happens, it is going to send tremors through the entire industry and be something we should be scared about right, well the opposite is true. Apple will be offering a fantastic service to many and a massive marketing campaign for the entire industry, while controlling all the data themselves. Google will doubtlessly also come into the game again soon with Project Tango and an update to Eddystone. They are likely to turn it into an advertising platform, selling all the data back to the location.
Commercial vs Enterprise Indoor Navigation
The ubiquitous solution will have huge pluses for small and medium size companies and for public domain areas. As stated, this will be great for the end users but the venue owners will have to make a call on what they want to do. Through trusting Apple or Google, the data will be owned by the providers, whereas, with a company like indoo.rs, there is an initial fee upfront but a definite ROI on the backend, as the data is part of the package that is being purchased.
An Enterprise solution will offer a lot of advantages. As with anything, a solution that is fitted to the environment will make sure the absolute best data is able to be collected.
ROI is not the only area where indoo.rs will stand out from the crowd. We will be offering an enterprise solution with the possibility to host in-house and, more importantly, a solution exactly catered to each individual location. Think of this like building a house. You can build a prefabricated house where there will be inefficiencies and compromises or you can work with an architect and have every want and need catered for.
By owning your own data, the insights and learning that are able to be applied to your venue will improve user experience, enable higher levels of building automation and inevitably lead to smart building which increases your profit margin. Data sensitive areas such as Hospitals, Airports, Military facilities, in fact, any industry where virtual and actual security are business critical, will require custom solutions.
The commercial solutions will be much more about the fear of missing out, the enterprise solutions will be about learning from your venue and visitors, and making improvements to that will lead to an actual return on investment.
Do you trust your venue and user data with a commercial provider or would you prefer to use the data to your and your customers' advantage? Looking forward to the 5th June in San Jose and seeing what iOS11 brings.