Coop-Story
Fintech Roadtrip CEE: Why Slovakia is so self-confident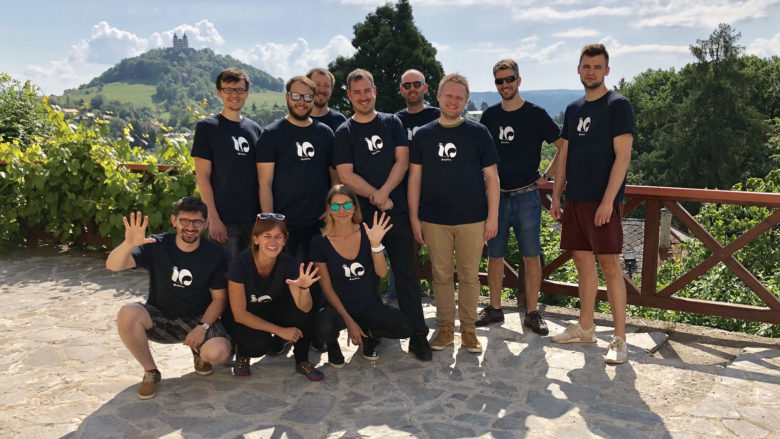 "Startup's scene in Slovakia is growing. Some Slovak startups have emerged globally (ESET, Sygic, Slido). You can feel it: There is now a strong generation of ambitious young people, IT or marketing, who have great ideas and are not afraid anymore to use them." Dominik Miša, Head of Marketing, Staffino
The range of variations is enormous. Flying taxis, 3D trick art painting on walls, flexible mini excavators or biometric access systems. These projects and their companies have one thing in common. They are looking for partners and investors on the Slovakian web platform finance4project.com. "Our main goal in developing f4p was to find a simple digital way to connect entrepreneurs with investors, banks and other service companies that can help them," explains f4p founder Robert Bulla. He knows, that this business idea is not really significant: "It's true, there are other matchmaking platforms. But we at f4p do not want to be intermediaries; we just want to be 'extreme facilitators' ".
Bulla wants to offer an increase in value for investors and enterprises beyond the bare contact function: Its platform relies on services that prepare corporate projects from the perspective of banks and investors. This means that they advise their clients on the presentation of business plans and company data. The participating financing partners should be certain that the wheat has already been separated from the chaff in the offered startups and corporate projects. Bulla is certain that "the entrepreneurs of the future will no longer stop by the banks to present their projects to them. Banks need digital online solutions and tools to be able to access these projects." Banking is changing – and the Slovak startup wants to be part of it. Bulla and his co-founder Ana Lucas are currently working with five freelancers on the f4p project.
Pamela Babuščáková, Head of Research and Development Department at Tatra banka, the local subsidiary of Austrian's Raiffeisen Bank International AG, adds:
"Large universal bank houses have certain advantages, such as complexity of services. On the other hand, they also have negative sides in form of lower flexibility, which can be balanced sensibly when combined with smaller agile startups. And there is more into it. We believe that combining a credible institution like a bank with the fearlessness of a young startup brings interesting solutions in favor of the client."
Growing scene in Bratislava
Robert Bulla and his team are part of the lively startup scene in Bratislava that has gained a lot of momentum over the past five to six years. As of 2017, the capital city of Slovakia is home to 107 companies on the Inc. 5000 Europe list, an annual tally of the fastest-growing private companies in Europe. There Bratislava is coming in just behind Stockholm, which has 134, and London, which has 177 companies.
There are many reasons: During the last years there arose a number of resources available to entrepreneurs in the capital, including the accelerators Clusterhaus, Connect, and Impact Hub. In addition, a number of startup Awards and congresses ensure increased public attention. According to the latest startup study by KPMG from 2016, almost 73 per cent of respondents are under the age of 35 and indeed only 9 per cent were over 40. And they know how to stand a crisis: Almost 59 per cent of the KPMG respondents have already been involved in a startup that failed.
No support  
Meanwhile, even the government-sponsored Slovak Business Agency SBA aims to provide funding, consulting, business loans, and other resources to local startups. SBA organizes an initiative called Startup Sharks to improve initial conditions for startups. Since 2017, small entrepreneurs that operate in Slovakia are able to hire a personal coach, get direct or indirect state support or find information about support schemes. In autumn 2016 the government approved a new law on the promotion of small and medium sized enterprises (SME) that defines startup, using specific EU terms, and requirements to get state support. As for Robert Bulla, he stays sceptical about official help: His experiences were clear: "We did not get any support from the Slovak government so far."
There is no particular regulation regarding fintechs in Slovakia. In February 2018 the Ministry of Finance of the Slovak Republic founded the Centre for Financial Innovation (CFI). CFI is responsible for market and legal analyses, and shall be enabler of cross functional cooperation between fintechs, financial companies and public institutions. The Slovak National Bank further regulates certain services.
New generation
Dominik Miša is responsible for Staffino's public relations and marketing: "We cannot rely very much on subsidies from the government: We are nevertheless successful, not because of it." Miša is already happy, that the government "does not stop startups from trying". But he sees a successful trend towards a new kind of entrepreneurship: "There is now a strong generation of ambitious young people, in the areas of IT or marketing, who have great ideas and are not afraid to use their competence and creativity." Staffino has been operating in the entire European market for three years.
The startup develops evaluation and customer loyalty software for all industries. The fact that there is a marketing specialist position at all underlines the success that Staffino is achieving from its Bratislava location: "It is amazing to see how the company grows." Staffino has about 15 employees in headquarters and more in branches around the world through country leaders. Clients seem to appreciate their idea: "Gradually, we acquired T-Mobile, Orange, E.ON and Intesa Sanpaolo as customers", Misa does not hesitate to underline his references.
Investors focus on the market
Bratislava has about 413,000 inhabitants, a fourth of the Austrian capital of Vienna. Nevertheless the startup scene is impressive. Small startups have emerged globally (ESET, Sygic, Slido) and more companies are trying to find a place on the market. There are also inverstors like Neulogy Ventures, Braun Holding, and Limerock, who are investing into fast growing startups that have some potential. According to the KPMG Startup Ecosystem Survey, 77 percent of investors have increased their number of investments in Slovakia.
However, these are largely early-stage or seed funding rounds, as the majority of Slovak startups are still in their infancy: Fewer than half (46 percent) have raised external funding, the KPMG data found. Many of the grown companies leave Slovakia in later stages. They look for their markets and for smart money in a new neighborhood. One example: Vectary, a 3-D modeling business that launched in Bratislava in 2014, moved its headquarters to New York City, after raising $2.5 million from BlueYard Capital, which is based in Berlin, and from Neulogy Ventures.
IT know-how is eagerly sought after
The Austrian Werner Kroiss founded a new IT company in Bratislava in 2004: "The then flat tax of 19 per cent has attracted several foreign IT companies to Slovakia," recalls the SAP specialist. After the end of the tax experiment – today taxes in Slovakia are at the Austrian level – the boom in foreign IT investments has flattened out. What has remained is the demand for trained employees and partners. Kroiss has retired from Slovakia after losing important employees to larger IT companies: "Small IT companies and digital startups are always in competition with the major tech companies. This means to compete against AT&T, Lenovo, and Dell who all have large offices in Bratislava and the surrounding area.
But Kroiss underlines, that Slovakia is home to a trove of tech talent. They are coming from local engineering schools including the Slovak University of Technology in Bratislava–which currently counts more than 15,000 students and 147,000 graduates–as well as the nearby Technical School of Košice, in the country's second-largest city. For Kroiss there is one last advice: "Each digital startup has to have a program or a strategy to make its employees to allies. Otherwise they will be lost."
Change of mind
For f4p founder Robert Bulla, the tense situation on the IT job market is nothing new – but less threatening. His fintech buys IT competence from freelancers. He and his co-founder have the banking know-how for the evaluation and organization of the investment projects and companies: "Entrepreneurship has changed a lot in Slovakia. It is not shabby anymore." New and small businesses have regained reputation: They are responsible for nearly 60 per cent of the Slovakian GDP. Robert Bulla: "People like doing business on their own more and more. And that is why startups are becoming a central topic in the Slovak economy."
This article was written in cooperation with the Fintech Accelerator Program "Elevator Lab" of Raiffeisen Bank International. In 2018, the program has also rolled out local challenges in eight CEE markets (Albania, Belarus, Bulgaria, Kosovo, Romania, Russia, Slovakia and Serbia). Data material was provided by Raiffeisen RESEARCH.