portrait
The Superhuman: How Georgi Nenov Turned His Side Hustle Podcast Into A Sustainable Business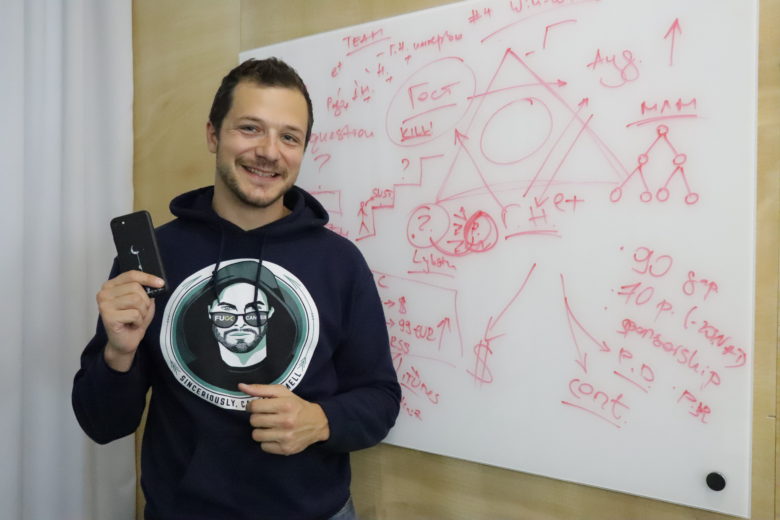 "At one point, while I was down and struggling to find my own project, a calling that would allow me to continuously learn, I asked myself what has helped me feel better and positively change my life in the past several months. And there was an answer – I was listening to podcasts, one called Addicted2Success in particular," recalls Georgi Nenov. And so the concept of The Superhuman Podcast, the Bulgarian podcast series listened over 200k times since, was born.
Four years ago, he started the podcast as a side project to give visibility to inspirational individuals around him, and allow others to also learn from them. Two years later, he decided to go all-in, quit his corporate job in Germany, came back to Sofia and dedicate himself to his endeavor. This October, after passing the threshold of 160 episodes and around 6k loyal unique listeners across different platforms, The Superhuman Podcast also turned into a sustainable venture. Nenov recently signed a sponsorship contract with outsourcing company Telus International Europe, and alongside his 90+ individual supporters, finances the project.
The human story behind the Superhuman
At the age of 17, Nenov had no idea what to do. Then, he decided to go for an economics and transportation study, graduated and started а job in this area. He was doing traffic forecasting. Unfortunately, once his office closed, he couldn't find a suitable job. 
Thus, at the beginning of 2013, he finds himself in a tough situation – no job, no money, no idea what to do, again. A friend referred him for a position at Lufthansa Technik in Sofia. And so he went. He liked the idea, liked the job as well, but "It took me a year to go to my manager and ask him for more – not a promotion – but more opportunities to learn," he recalls. 
Around the same time, Nenov started to feel bad in his skin. Due to the stress of not having the job the previous year, he had gained weight. Around this time he met Lazar Radkov, the founder of training club Live to Lift, who later turned out to be the first guest in the Superhuman Podcast. In 10 months, Georgi returned to the six-pack, but more importantly, he had more energy and felt way better. "I realized that taking care of myself has changed my life in every way – I was able to do more at work, and have more time for everything else," he remembers. In the meantime, with the support of his manager, he was applying for different positions within and outside the company. But the rejections were coming one after another. "Nothing in my life happens at any cost," he says. 
He started an internship as a trainer in Live to Lift, but kept the corporate job while waiting to come up with a new idea. He even got a promotion at work, which allowed him to have even more free time. And this, as you might have already guessed, is where the podcast story begins.
The Win-Win-Win mindset
And so he started. Without decent research of podcast trends, average listening time, keywords for SEO, etc. The first episode was recorded with an iPad that Nenov won from a raffle that he didn't even apply to. "In the beginning knew three things: I wanted to share these positive and inspiring stories, I wanted it to be listenable – with sound quality that is good enough, and last but not least – I wanted to give credits to the people I'm presenting. Unlike the model of 'Addicted2Success', I wanted the audience to know more about the people I am talking to," explains the founder. The first three episodes got more than 3k listens in one month. So this is how Nenov realized he's touched a nerve. And went all-in. In the beginning, he was broadcasting once a month, then it turned into the weekly inspirational podcast that the listeners are expecting every Tuesday.
A rush to monetize the content has never been part of Nenov's game. So how did he do it in the era of free digital content and the misconception of the role of media? "There was a point at which I had to decide whether I'm doing The Superhuman Podcast for the profits or for the quality content. I chose the content. It wouldn't have developed as far as it did if I had chosen the money," says Georgi Nenov. This is an equation pretty much everyone in the media business needs to solve, and there's no receipt.
Instead of going down the profitability path and starting to hustle looking for sponsors and advertisers, Georgi got a new job in Lufthansa Technik's Headquarters in Hamburg, Germany to support the project. 
The Superhuman project, he explains, has thee stakeholders: the audience, the guest, and himself, and the only way to make the product valuable, is to figure out how to add value to their lives. And the money will follow. As it happened when the sponsorship contact with Telus was signed.
The community effect
It was probably the authenticity that brought Nenov the traction he has today – his episodes were listened to over 200k times, whereas one-third of his listeners spend over an hour with an episode, he has 70+ people who support him via the donation platform Patreon, and another 20 who regularly donate via bank transfers. And since last week, there's also a corporate sponsor, who came to Nenov, not the other way around. 
"I've always done it my way. The length I thought was the right one, my own tone, the questions that interested me… and not least I've always seen the audience as friends, and talked this way," he says. Despite the fact that he found a similar project some months after he started out with the Superhuman Podcast, competition has never bothered him. On the contrary.
"There could be no competition in podcasts as the energy of the interviewer is the most important component," he says. Furthermore, Nenov believes there should be a Bulgarian podcast community, where people can learn from each other, get better together and produce more content of good quality. Only this way, there will be a market, there will be more potential…and also profit for everyone.
As of today, it takes Nenov 4-5 hours a week. And he's not alone – three other people help the final product shape. "There's only one rule – everyone does what gives him or her more energy and joy," he smiles.