deal
Bulgarian Startup Nasekomo Raises €4M To Turn More Organic Waste Into Protein and Scale Environmental Impact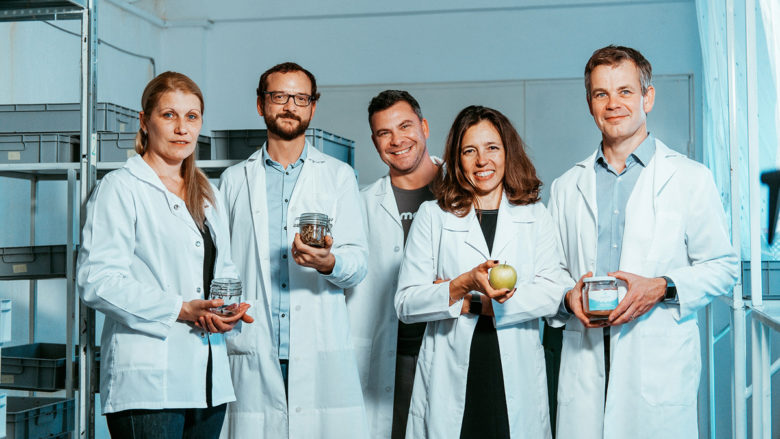 Nasekomo, the Bulgarian startup that upscales organic waste streams from the agro-industry into animal feed by harnessing the power of the fly larvae, has just announced it has closed a €4M investment round. This is the biggest publicly announced early-stage round in agtech in Emerging Europe, in which Bulgarian VCs Morningside Hill and New Vision 3 participate with a total of €1.5M, and are joined by another around 20 international private investors. 
"We'll use the current investment to further scale our insect breeding and increase our protein production performance and efficiency implementing robotized technology," tells us Xavier Marceneac, who co-founded Nasekomo together with Olga Marcenac and Marc Bolard, three years ago, after the successful exit of BPO company CallPoint to Telus International. Since the start, the company has managed to develop unique solutions for the insect rearing market and is currently turning organic waste into protein for fish and animal food and insect oil. Simply put, the specially bred Black Soldier flies are fed with organic waste and then turned into different products used in the pet food, and potentially cosmetics industry.
"Insects are part of the natural diet for many animal species. They now represent an opportunity to become a sustainable solution to supply the proteins that the world is increasingly consuming. Instead of increasing wild fish catch in oceans and deforesting to plant soy, we can feed insects with local agricultural by-products with extremely limited water consumption, and produce high-quality sustainable proteins for fish, poultry, pigs and pets. This local-loop vertical farming has clear environmental benefits and will build greater resilience of the European food chain. Thus, our business model is not only profitable but will have massive positive impacts on society in the long term," explains Olga Marcenac.
The company that has already secured its first €1M investment in 2017, has already launched its first demo production facility, has its first clients across Europe, and is now aiming to expand and scale production. One patent for the EU is filed, and two more are on their way. 
AI and robotization for further growth
The company has spent the past three years in developing both its breeds and also a scalable production technology. "We have leveraged robotics, A.I., and big data which will allow us to produce insect protein efficiently. We will not only be competitively producing large volumes but also addressing the challenges of our world related to animal feed," states Marc Bolard, co-founder and technology lead. Currently, the company is producing 500 tons of protein a year and serving the needs of European producers of hypoallergenic pet food who sell in big markets like Germany, Spain, and France. "We are in a space where the demand is higher than the supply and we already have a pipeline of clients who are waiting for us to build the larger-scale facility and start delivering the protein," tells us Xavier Marcenac. According to him, there will be a demand for 3-5M tons of such protein annually in the next ten years, and there are already several companies across Europe that are building production facilities. In order to be able to quickly gain market share, Nasekomo is now on its way to scale the production – the first industrial-scale facility in Bulgaria is already on its way.
The investment will allow Nasekomo to grow its presence on the market and increase its productivity by deploying robotics and data analytics. The company will also launch a new selective breeding program in order to provide continuously improving efficiency in transforming waste into insect-based products.
Investment in scalable sustainability
"In these challenging times, we believe it is paramount to invest and grow businesses, which address some key challenges within our society, namely climate change and food chain sustainability. In addition to its sustainable development impact, the business provides a great investment opportunity," says Pavel Velkov, Managing Partner at the lead investor Morningside Hill Ventures. For VC Morningside, which is backed by the governmental Fund of Funds, this is the first deal since the fund was structured last year. Velkov and team have put €1M into the venture, expecting at least 5-10 times return of the investment. According to him, Nasekomo is an interesting investment opportunity not only because of the protein production but also because of the potential to license its technology to other players in the region. "We are already in advanced negotiations with multinationals to roll out jointly-owned units in Europe and Asia, which will produce aggregated 100 000 tons of insect protein by 2026," says Xavier Marcenac, cofounder.
The other VC participant in the deal – New Vision 3, is also coming from Bulgaria and is backed by the Fund of Funds. The fund, which is focused on deep tech companies, backs Nasekomo with €500K, believing its AI technology used for the breeding of the flies is a winning investment. "Nasekomo brings AI-enabled automated solutions to enhance the sustainability of the agriculture sector, which has great potential in the region. By integrating robotization into insect farming, we are putting Bulgaria ahead on the sustainable biotech innovation map in the region and globally," says Yordan Zarev, Partner at NV3, in an official announcement. The rest of the current round is raised from private investors from all over Europe, tells us Marcenac. 
Ambitious plans in the next year
After raising the biggest agtech early-stage round in Emerging Europe, Nasekomo is preparing for some big steps and also another round. The company will be expanding its production capacity and needs to further grow its team of 30 people adding AI specialists, biologists, but also production personnel. In the meantime, co-founders are exploring licensing and franchising opportunities and conducting tests for new products such as insect oil, which could be used in animal antibiotics. Scaling the insect breeding and regulatory framework that would allow them to enter new animal food verticals are among the challenges the company is facing and needs to tackle. 
Not least, in order to be able to grow fast and serve the unmet demand for proteins on the market, Nasekomo will also have to raise its next round rather soon. "To finance our ambitious plans we need to raise further €15M this year or the next one," says co-founder Xavier Marcenac.
This may also interest you:
Sasha Bezuhanova: The Green Restart Initiative And Why Digital and Sustainability Innovations are Important for the Economic Recovery