CEE Star of the Week
Estonian Warren: Еmpowering Local Cloud Infrastructure Providers to Compete with Google, Amazon, and Microsoft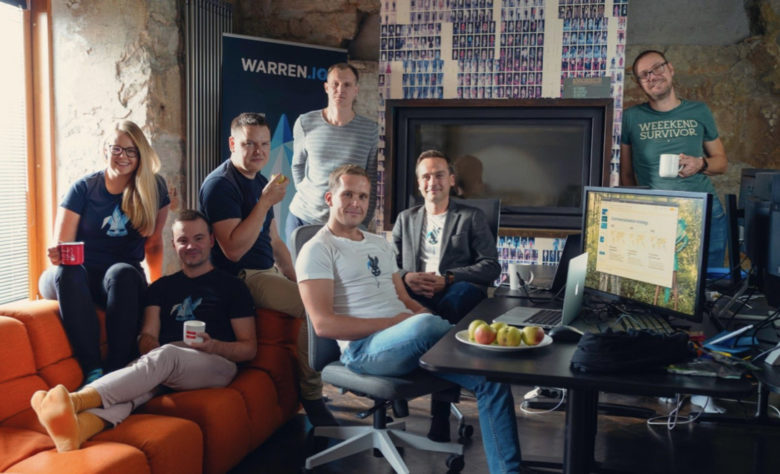 "CEE Star of the Week" is our weekly series of short stories where we present a company from Central and Eastern Europe that has recently achieved something significant – closed an investment round, won a prize, successfully launched on a new market, made a prominent hire, etc. The stories can be found both on trendingtopics.at and trendingtopics.eu.
Cloud computing has been around for approximately two decades. According to a study by the International Data Group, 69% of businesses are already using it, and global players like Amazon, Microsoft, IBM, and Google, Warren have been investing heavily in cloud technologies for this time. But what is the future of local infrastructure service providers and how are they going to stay competitive?
The Estonian company Warren is trying to answer exactly these questions. While it was founded in 2016 to answer the need for a platform to manage e-commerce projects across different local data centers, Warren has been growing rapidly in recent times. On November 2, the company announced it has closed a $1.4 million seed round of financing led by London-based early-stage venture capital fund – Passion Capital. The money is to be used for the further development of its distributed cloud platform that aims to connect local infrastructure service providers into a single coherent network that the end-users can access as if it was a single global provider.
The platform created by Warren will enable local cloud providers to accommodate clients with international reach through automatically cross-selling resources. According to the company, the end-user will be able to consume all underlying infrastructure through a single API and user interface.
The company has data centers and IaaS providers in Europe and Southeast Asia and it recently entered South America. Warren scored an MoM growth for Warren's clients reaching 125% for IDCloudHost in the last quarter of 2020. Its platform features a complete turnkey commercialization service with fully managed update processes and a focus on collaboration. 
"Our company follows the 'think global, act local' philosophy," said Warren's co-founder and CEO Tarmo Tael. "We see immense socio-economic benefit and impact in unlocking the untapped potential of cloud computing for local economies," he added. The Trending Topics Team reached out to him to understand Warren's philosophy better… and to find out the answers to some evergreen questions about the company.
Trending Topics Team: What is the goal of Warren?
Tarmo Tael: The goal of Warren is to unite local infrastructure service providers into a cohesive network that end-users consume as if it was one provider. From the service providers' perspective, we help them to provide a competitive service in the local market with the capability to service international clients (local clients going abroad and foreign clients using their services).
What is your business model? The solution to what problems do you offer to your clients?
Warren has a revenue share business model that enables providers to start using the platform with no upfront costs. Our clients grow with us as they onboard more end-users. This model also perfectly aligns with our goals to focus on the end-user and eliminates all the negotiation aspects as we and our customers need the same things to succeed.
What is special about the company and what is giving it its competitive advantage?
Most of our team has a long history of working together and has a very strong technical background from various companies (Playtech, Khune+Nagel, Twilio to name a few). For example, our system architect has a Ph.D. in distributed systems and a strong background in system architecture and dealing with complex algorithms – that will become especially important when scaling the platform and adding automation features on top of the underlying network of service providers. 
Understanding the problem and motivation to solve it also runs deep in our team, as we started out solving our own needs while managing e-commerce projects on top of various infrastructures with different platforms. Over time we also realized the potential socio-economic impact of our solution and that adds a much more profound drive to make the vision come to life.
What differentiates your products from those currently available at the market?
In the long run, it will be the network of local cloud providers and the automation related to it. Currently, it is the completeness of the offering – the platform vertically takes care of all the layers from provisioning the hardware, managing end-user resources, handling the payments, etc. The service provider just has to set up the hardware and support its clients. Also, our revenue share business model drives us to deal with any of the issues related to the services as fast as possible – we become more like an extension to the local service provider's team and help in navigating the hardware choices – planning the networks, troubleshooting the bottlenecks, etc. 
Which is your most profitable market? Why do you believe it is?
It's safe to say that regions with large domestic markets will be very important growth drivers for us currently. We see that already in Indonesia, for example. The reason seems to be the general growth of the market, young and forward-thinking population, etc. In Europe, the data sovereignty aspect is important and it also becomes a strong driver in emerging markets soon.
What are the biggest challenges that you have faced so far? What will be the biggest challenges for you in the next 12 months?
As with most early-stage startups, the first struggles are often related to funding. In our case,  it was very hard work as the product is relatively complex to explain (while you are still fine-tuning the scope and focus) and our product is very labor-intensive to build out (compared to a simple mobile app). The latter part will be the biggest challenge for the coming months as well – prioritizing and balancing the technical work in relation to the runway and expectations of different stakeholders. 
How many users do you have currently?
We are currently in production in Estonia and Indonesia. Soon launching in Brazil, Singapore, and Russia. In terms of end-users, we are not publishing these numbers as these are clients of local providers and not all of them want to share the information.
What investors do you have onboard? Are you looking for investors?
Passion Capital led the latest funding round. The investment round also included early-stage fund Lemonade Stand and notable tech industry angels, such as Nokia's former Vice President Paul Melin and Marek Kiisa, the co-founder of VC funds Superangel and Nordic Ninja. 
In terms of additional investors, we are currently not in the "raising mode", but we are still discussing follow-on investments. It makes sense to us to speed up the development and leverage the opportunity we have found ourselves in.