e-mobility
Folding E-Scooter Narcine Finally on the Market After Three Years of Development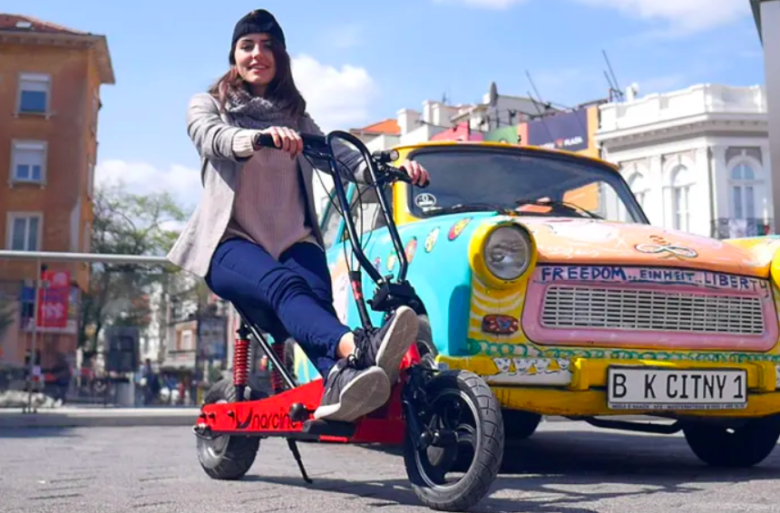 Today, around three years after its development started, the foldable electric scooter Narcine is ready and launches a crowdfunding campaign. Founder Ognyan Bozhilov is hoping to sell 100 pieces in Bulgaria and the region in the next month so the production can start. Even though the market seems to be already flooded with urban e-mobility vehicles, Bozhilov sees the UPS of the product in its user experience and foldability.
"We offer a different experience – Narcine is like riding a Vespa on the way to the office that could then be folded and taken into the elevator," he explains. Young male professionals are the primary target group of the company.
The crowdfunding campaign is on Indiegogo and will last for 31 days. It has a fixed goal of 100 vehicles or $130K that will allow the two founders to cover costs for production and certification. "In case we don't reach the goal, the campaign will be considered unsuccessful, and we won't be producing and shipping Narcine," explains Bozhilov.
Another e-scooter?
By simply googling e – scooters one could find more than a dozen startup products that were hyped over the past around the year – ranging from rather modest successes like Spanish Aktivo to products like Mate X, the foldable e-bike that collected $17M+ on Indiegogo last year.
Developed by two engineers Ognyan Bozhilov and Marin Genov, Narcine, promises to be different being light (25 kg.) and foldable. In short – Narcine gives you the style & comfort of a large moped in half the size of a bicycle, the description reads. The e-scooter reaches a maximum speed of 25 km/h and has a range of up to 55 km with one charge of 4 hours, depending on the battery. The e-scooters parts (excl. battery) are produced in Plovdiv and hand assembled in Sofia. Batteries are purchased from China.
The standard price of the vehicle is $1,799, but during the Indiegogo campaign, there will be discounts of up to 37%. Users can also purchase a battery modification, that increases the standard range of 30 km to 55 km.
Primarily Central and Eastern Europe
So far Narcine has produced and sold several pieces in Bulgaria and Romania and hopes to grow its community and client base through Indiegogo. The successful campaign is a precondition for the certification of the compact vehicle and the production in general. The team is targeting mostly Bulgaria and the neighbor markets.
Whether Narcine will make it to the market, remains to be seen. In the first hours of the campaign, one vehicle was purchased, and several other customers supported the campaign by buying other perks. The campaign is set for a bit over the average amount raised in campaigns on the platform ($50k-$70K), it's, however, in the hottest category – e-mobility.
Read more:
+ Indiegogo: The most popular category is e-mobility