evtols
Behind The Hype: For What And For Whom Are Flying Taxis Really Meant?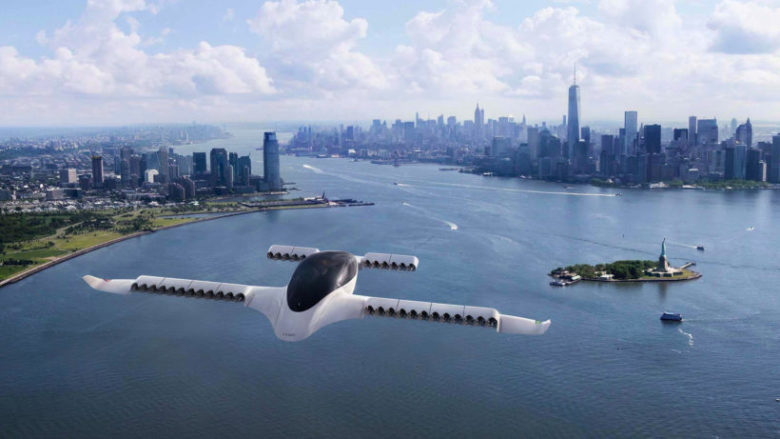 Some call it a taxi, others – a drone. For some, they are eVTOLs,  for others – just an electric helicopter. In any case, in the next few years the so-called "electric vertical takeoff and landing" vehicles should conquer the skies above and beyond urban areas and offer their passengers a fast and comfortable alternative to car or public transport.
Looking at the numbers, one could doubt whether these air taxis are intended for the masses. Up to 100,000 passengers will be transported by eVTOLs by 2025, and by 2050 there will be three million airline taxis globally. That's a tiny fraction of the traffic and just a small addition to the car, bus, train or metro transportation. For what and for whom are flying taxis really meant?
1. Prices
As Uber announced its UberAir project for eVTOLs shot ahead, the promised prices of flights were set to be no more than an average Uber ride. However, it is expected that airline taxis will cost significantly more than a taxi ride.
"Airline taxis are means of transport for the upper and upper middle classes. I can not imagine that the price allows a regular use for the general public ", WU-Professor Sebastian Kummer, specialist for transport, told futurezone.
The German startup Lilium, for example, promised that a flight from the city to Munich Airport could cost between 60 and 70 euros. In other words, eVTOLs are not for everyone – except, one has the respective salary or a savings account that would allow this luxury.
As a comparison: At Uber Copter, a helicopter service, an 8-minute flight from Lower Manhattan to JFK Airport costs between $ 200 and $ 225.
2. Routes
In Singapore, Dubai, but also in the Austrian city Linz there are already plans for the first air routes on which people can fly in eVTOLs. These are mostly first test routes and not real, commercial operations. Most of the time, the discussion goes in direction to airport transfers. This is especially suitable for business travelers who want to get to the airport quickly. But passengers who need to travel with luggage for a long journey are excluded as the flying taxis don't allow huge and heavy bags.
The current design of eVTOLs is also for shorter trips. The ranges are usually far below those who have about electric cars. Volocopter creates 27 km, Ehang 50 km, Lilium at least 300 kilometers.
3. Landing areas
eVTOLs will not be able to land anywhere (e.g. just at the next house roof), but need dedicated landing zones, where they get take-off and landing permission and where their batteries are recharged. The German startup Volocopter has already presented plans for such mini-airports, including boarding procedures and security checks. In Singapore, the first of these airports will be ready in the second half of 2019 and look something like this: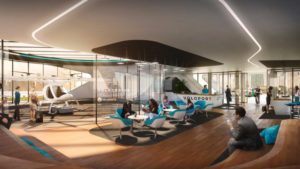 4. Security Checks
Simply book with an app and withdraw? Hardly possible. For the use of eVTOLs, there will probably be own starting and landing stations. With airports in the forefront, there are likely to be safety checks at these eVTOL airports. This looks a bit like the Voloport concept, which is set to start in Singapore this year.
As reported Volocopter is currently testing, as appropriate passenger processes including pre-flight checks and boarding procedures and security checks (it is also luggage taken) have to look so that the project get the green light from the authorities.
5. Energy consumption
A study by the University of Michigan, has taken a closer look at how much energy Flug taxis really consume. And came to the following conclusion: Electric air taxis consume more energy on routes with less than 35 kilometers than cars with internal combustion engines. Only from distances of 100 kilometers of good capacity (3 passengers), they are really more efficient and can undercut cars with electric motor in energy consumption.
The question of the electricity source for the batteries of the eVTOLs also remains relevant. For example, coal power would clearly boost the CO2 footprint of the flying taxi.
6. Noise pollution
Depending on the design, the rotors and drive systems of eVTOLs are sometimes quieter, sometimes louder. One thing is clear:  they are not quiet. A few aircraft drones will probably go unnoticed in a city in street noise, but they will become a significant source of noise if they are used in large numbers in the future. NASA scientists have shown in a study on the psychoacoustics of drone missions that the sounds of drones compared to other vehicles such as cars or trucks are perceived as much more unpleasant. People are used to the street noise, but not to rotors-noises from above. Manufacturers of eVTOLs always claim that their aircraft are quieter than helicopters. Well, that's something…
7. The Players
Volocopter

, a German startup from Bruchsal

Lilium Aviation

, a German startup from Wessling

Joby Aviation

, a US startup from Santa Cruz

Uber

, in cooperation with the Boeing subsidiary Aurora Flight Sciences

Ehang

from China, in cooperation with aviation supplier FACC

Airbus

, the European aircraft manufacturer

Boeing

, the US aircraft manufacturer
| | | | | | | |
| --- | --- | --- | --- | --- | --- | --- |
| | Volocopter | Lilium | Boeing | Airbus | Ehang | UberAir |
| Model | Volocopter 2X | Lilium Jet | Passenger Air Vehicle | A³ Vahana | Ehang 216 | Over Elevate |
| Range | 27 km | 300 km | 80 km | 60 km | 50 km | 100 km |
| Pax | 2 | 5 | 2 | 2 | 2 | 5 |
| max. Speed | 100 km / h | 300 km / h | 180 km / h | 230 km / h | 160 km / h | 320 km / h |
| Origin | D | D | USA | EU | China | USA |
| Investors / Partners | Intel, Daimler | Atomico, Tencnet | | | FACC | Embraer, Aurora (Boeing) |