Event
Biotech Atelier 2020: Bringing Together the Creators of the Healthcare of Tomorrow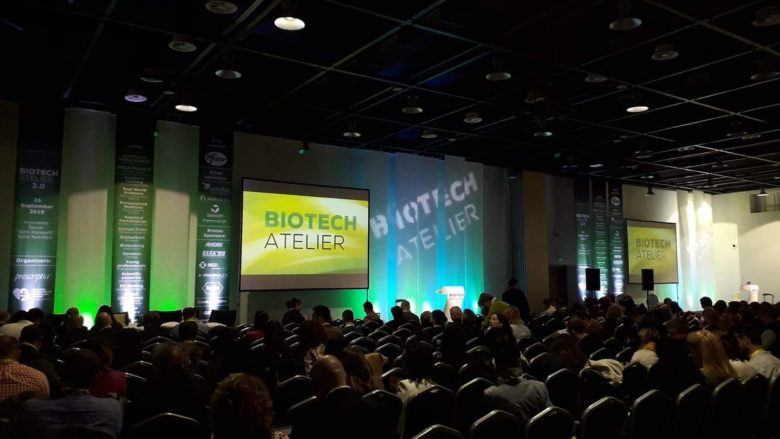 +++Apply here for the Startups Hall of Fame pitching competition or scroll down to learn more about the initiative.
In times of pandemic and health uncertainty, there is a need more than ever to look into the possibilities for next-generation knowledge and speed up the process for driving innovations in the health sector. It is, therefore, the perfect timing for the brightest minds in Biotech, Health Care, IT, Social Sciences, and Pharma to gather and engage in international idea-sharing and cross-border cooperation. 
In order to light the spark of Health and Tech developments in Europe and ignite the next wave of innovation and commercialization, Biotech Atelier, the European annual biotech conference, will unite all stakeholders across Biotech, Healthcare, IT, Life Sciences and Pharma. The conference will take place online, on 24-25 September 2020. 
Biotech+Healthcare+IT+Life Sciences+Pharma
In the span of two days, the event will assemble virtually over 1000 like-minded business leaders, scientists, health futurists, international experts, and think-thanks, allowing the audience to learn from the knowledge of 110+ prominent speakers. 
The content is delivered in keynotes, discussion panels, workshop series, startup presentations and student poster featuring, while the topics will cover everything from Patient Centricity, Advanced Therapy Medicinal Products (ATMPs), Digital Health and AI, Digital Therapeutics, Real World Data and Evidence, Medical Regulation, and many more. 
Current insights, trends and expectations for the future of Biotech, Healthcare, IT, Life Sciences and Pharma will be presented by over 110 handpicked experts from around the globe, including Dr. Zaklina Buljovcic – the Principal Consultant Innovative Therapies at PharmaLex Germany, Michael Byczkowski – the Vice President and Global Lead of the Industry Business Unit Healthcare Providers at SAP SE, Germany, Angela Spatharou, Partner with McKinsey & Company, London, and a member of McKinsey's European Healthcare leadership, Pierre Meulien, the Executive Director of the Innovative Medicine Initative (IMI), Belgium, and many more. Some of the keynotes feature regional and international leaders from IQVIA, World Courier, Pfizer, SAP, IBM, EY, and many more. The conference is possible thanks to the long term trust of all its partners, including many regional and multinational leaders such as Pfizer, Novartis, Astellas, GSK, Amgen, Bayer, and Elta'90, to name a few. 
The event organizers who share a common belief in the untapped potential for biotechnology in the SEE region are the non-profit association of scientists, medical professionals, and patients – the Bulgarian Association for Personalized Medicine (BAPAMED), the advisory firm for pharmaceutical R&D and health economics, Prescriptia, and Sofia Tech Park. The organizers expect to reach an audience of more than 1.000 participants and over 200 represented companies. 
Startup Track and Startups Hall of Fame
Besides uniting over 1.000 stakeholders from over 200 organizations from all focus industries, in 2020 Biotech Atelier is devoting extra attention to the youngest representatives on side of the business – entrepreneurs and startups. This will be done through two subsequent initiatives. For warming up the stage, the first session is the Healthtech and Biotech Startup Track, organized by the VC Eleven. It will feature a keynote, fireside chat and open-office hours with established investors and experts. As a logical continuation, the second initiative is the Startups Hall of Fame, organized together with Trending Topics SEE and featuring a startup pitch competition. 
Startups Hall of Fame, hosted by Trending Topics SEE, is a startup pitch competition, featuring completely new MVP-stage startups, early-stage companies with initial traction, and academia collaborators working on their next spin-off. Participants will pitch in front of an international jury of investors and Healthcare professionals and gain regional exposure thanks to live streams via the channels of Trending Topics SEE. The top three contestants will be featured in an article on Trending Topics. 
Participation
The Startups Hall of Fame pitch contest targets startups, young companies and academia representatives from South and Eastern Europe working on spin-offs, a product or service across the areas of Healthtech, Biotech, and Life Sciences. We will take into consideration both one-man MVP-stage concepts and companies with some initial traction and will give the floor to the top 10 applicants to stand up in front of the jury and Biotech Atelier's international audience. The application deadline is 23th September, for more details see here.