Guest Post
busuu founder: 10 learnings from 10 years of the startup rollercoaster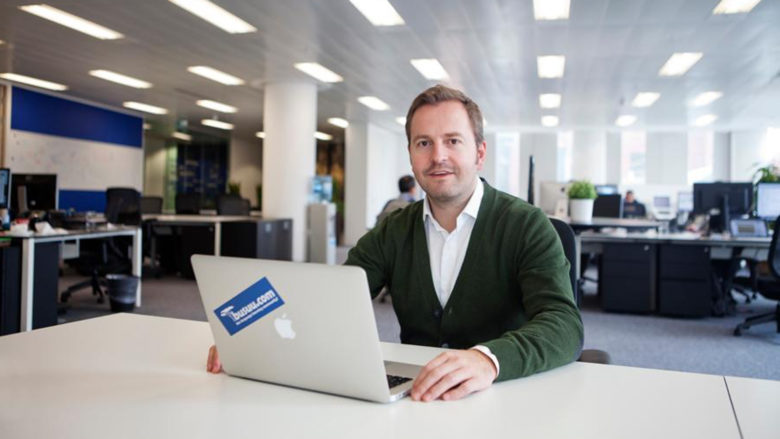 May 2018 marks the 10th anniversary of busuu, the month we took the first (pretty shabby) version of our website online. For those who don't know us, busuu is one of the world's leading mobile apps for language learning with over 80m users. We provide interactive language courses combined with the ability to practice your skills with our native speaking community. We have been named 'Best Education Start-Up in Europe' (and won tons of other awards), were selected by Google and Facebook for cool partnerships and managed to grow to our scale with 'only' 15m EUR in fundraising.
The last 10 years have been an incredible journey. A journey of A LOT of hard work, countless challenges and beautiful memories. As there are a lot of founders out there who might just be starting or who are a few years into their journey, I would love to share some lessons from my personal experience:
1. Don't listen to the naysayers
When we started in 2008, language learning was done with books, in classrooms or with yellow boxes full of CD-ROMs that didn't work. Even today, only 4% of the 60 bn USD language learning market is online. People told us that it's impossible to learn a language online, that it would never work. They were maybe right at that time, but wrong in the long-term. Yes, the first version of busuu wasn't that great and you probably could not learn a language with it. But people underestimated the speed of technological development. The iPhone & App Store were launched in 2007/2008 and suddenly users had a powerful language trainer in their pockets. Today, we have proven with several empirical studies that you can learn a language on busuu (in fact we are one of the most effective apps out there) and every month, more than 500m exercises are completed on our platform.
Don't get discouraged by people who base their opinion on the present and not on the future.
2. Fundraising ≠ Success
busuu was born in the midst of the financial crisis. Lehman Brothers collapsed 7 months after we founded the business, the stock markets were crashing. Times were dark and no one wanted to invest in us, especially being an unexperienced founding team within the new and then unsexy edtech market, based in Madrid. So we bootstrapped for 2 years without salary, not through choice but because of lack of alternatives.
But over the years, we appreciated how important it is to build a capital efficient business. We managed to grow to where we are with only 15m EUR in fundraising, still maintaining majority ownership as a founding team. Some of our competitors raised 20m USD, got sold for 8.5m USD and shut down. Others raised over 100m USD and are still figuring out their business model..
Be mindful of fundraising, it comes at a huge price (dilution & loss of independence) and it can become a drug for the business you get addicted to too easily.
3. Don't obsess about your competition
There was a time when literally every week a new language learning startup was launched. At the beginning I analysed all of them, looked at their movements, tracked their progress. This was probably a waste of time. As mentioned initially, the language learning market is huge and over 1bn people are learning English alone. There is enough space for several players and it's definitely not a 'winner takes it all market'. With hindsight, we should have focussed on our USP (learn a language combined with social interaction with native speakers), doubling down on it, not caring too much about the rest — which is exactly what we have been doing over the last few years.
Focus on what you do best, build your USP and don't care too much about what the others do.
4. Focus, focus, focus
This has been covered countless times in several startup articles but then again, we fell into the same trap. We launched 165 language pairs (Spanish learning English, English learning French, French learning Russian etc) very early on, we immediately were global with users from 190 countries, we launched a kids app and we tried to sell to corporates at the same time. Steve Jobs famously said: "Deciding what not to do is as important as deciding what to do". I declare myself guilty of committing this crime several times. But I try not to keep repeating it 😉
Stay focused and get it done.
5. A founder doesn't need to remain an executive
I co-founded this business with Adrian who I met during our MBA at IE Business School. He had the original idea for busuu and was looking for a partner — I was looking for an idea to found a business. We were the perfect, complimentary match, he had a technology background, I was the marketing/finance/product guy. During the first few years we worked extremely well together as a team, then Adrian decided to move back to Zürich to start a PhD program. At the beginning, I didn't understand his decision but over the years it made more and more sense to me. He realised that he is an incredible, visionary founder (and biggest geek I know 😉 but does not necessarily enjoy leading a large development team of engineers. After his move, we eventually managed to hire fantastic engineering talent and a brilliant CTO who runs the show. Adrian enjoys being a shareholder and on the board of busuu — everyone is happy and the company won.
Many times I have seen other companies fall apart because the founding team splits. Think about what is best for the company and then find the right solution that also works for the founders.
6. Know your numbers
Being an ex-management-consultant that was relatively easy for me. But I am still amazed by many first time founders who don't know their numbers or don't have anyone in the team who is good at excel. This is a recipe for failure.
Very early on, we started to invest in performance marketing and soon realised the more we invest, the more money we make. We managed to scale from 100 EUR marketing spend p.a. to millions of marketing spend p.a. without raising external cash.
This obviously only worked because we had extremely tight control of our sign-up and premium conversion rates and worked out our CPA targets on a very detailed level. The 'godmother of all VC formulas' (CAC < LTV) has only recently become 'a thing' but from day 1 (and because of lack of financing) we built the business being highly numbers driven.
7. Technical debt, you have to pay it back
Unfortunately, I am not an engineer. But I do have a decent understanding of software development and I am a product person at heart. Nevertheless, in the early days, we took too many shortcuts. And in 2014, we were still running a then 40m user community on a very old technology platform. This was like driving on the highway at 120km/h on the bicycle, your mother uses for shopping. It was insane and I got to know first hand the concept of 'technical debt'. We realised that we had to completely re-platform everything (aka rebuild busuu from scratch after 5 years of development!) and the initial estimate was that it would take us 3 months (yeah right ;). It ended up taking nearly 2 years. It was hard, it was painful, we lost our market leadership to new competitors and it nearly killed the company.
Since then, we have learned our lessons. Every quarter, we do a 'scale week' and give the engineers enough time/freedom to fix stuff which normally never gets done during the sprints and set ourselves up for success in the future. We are back in control and have very little 'legacy code' for a 10 year old company.
Don't take too many shortcuts because they create technical debt, and technical debt, you have to pay it back (usually at the worst possible time).
8. Work hard & persevere and get some great mentors
Founding and growing a startup require a lot of hard work. Unfortunately, there are no shortcuts to this and every successful founder I know can confirm this. If you think you can combine a nice lifestyle with running a startup, you are terribly mistaken. You need a partner and family who support that choice and who covers your back — I am extremely lucky and grateful to be in that position.
You need to combine the hard work with strong perseverance. Most of the last 10 years were not necessarily a joyful, easy ride. We have been hacked, stolen from, blatantly copied, had a fundraising fall through weeks before closing leaving us close to bankruptcy, we moved the entire business from Madrid to London and had to build up everything again  — there were several 'near death' experiences on the road. John Lennon once said: 'Happiness is an inside job'. So in the darker moments of the startup world, I try to remind myself of that and focus on the many many positive elements of my life (like my kids, wife, sports etc).
What I also do in these difficult moments, is to speak with my mentors. I was extremely lucky to get amazing investors and advisors on board (Hansi Hansmann, Martin Varsavsky, Brent Hoberman, Andrew Wait) who massively shaped myself as a CEO and the way we operate at busuu. Without them, I would have given up long time ago.
9. Culture eats strategy for breakfast
This famous phrase comes from the Austrian-born management guru Peter Drucker. At one point, we had the completely wrong culture in our business. Things moved extremely slow, the product was full of bugs, people were not engaged, wrong people were in the wrong positions and it did not feel like a business even I wanted to be part of (which is sad, given that this was 'my' company).
It required a massive restructuring to bring the company back on the growth track. 2/3 of the staff had to leave or decided to leave themselves. It was a very painful but necessary re-start of busuu.
During this difficult time, I learned my lessons. I have learned that in order to attract the best talent, you need to be able to let go. I also learned how important it is not only to hire the best, but the ones who are extremely aligned with our values and vision of the company.
We now do a 'value check' in every interview, use our values for performance management, firing and promotions. We now even have a Culture Manager who is in charge of implementing 'visible and invisible' culture initiativesacross our company. Since then, busuu is a totally different (and pretty amazing) place to work and business is back on the growth track. We are also hiring btw 😉
10. The journey is bigger than the destination
When we initially founded the business (being young & naive MBA students), we thought that we will start a company, raise some money and then sell it off after a few years. That clearly didn't happen (although we had several options to do so) but the longer the busuu journey continued, the more I realised how meaningful this ride actually is. In politically challenging times like these learning another language and understanding other cultures has probably been never so important. And from a product perspective, there are SO MANY things we still want to do (and finally are able to do due to further technological advancements), so I feel, we are just getting started! 🙂
So starting a company should not be about 'exiting' it as soon as possible. But rather embracing the struggle and enjoying the ride.
I am extremely grateful for this amazing experience and want to thank my co-founder, wife, family, friends, investors, mentors, partners, users and most importantly the busuu-team — who made it all happen — for this journey.