VCs / Interview
Calm/Storm Ventures: After the foundation comes the storm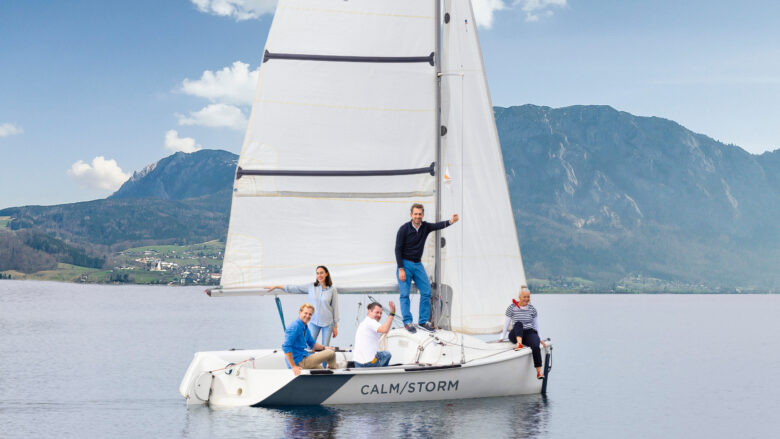 Calm/Storm Ventures has strong roots with business angel Hansi Hansmann, Speedinvest, and Runtastic. After the first focus on HealthTech, the next fund is about financing the best founders in Austria.
2021 was a hype year that doubled the number of unicorns worldwide to 1,058 from 586 in 2020 after massive amounts of venture capital were pumped into these tech companies. Everything was different in 2022, when mass layoffs, downrounds, and a lack of venture capital dominated the headlines. The founders and partners of the Austrian VC Calm/Storm Ventures know these two poles very well. Taken together, Lucanus Polagnoli (ex-Speedinvest), Hansi Hansmann, and Alfred Luger (ex-Runtastic) weigh in on more than 180 investments as fund managers and business angels. In this respect, one can say that the start-up roller coaster won't faze her that easily.
The name Calm/Storm is intended to express this – a fund as a safe anchor in the storm of entrepreneurship. "After the company is founded, the storm comes. You can't avoid it, even with a lot of capital. Right now in the middle of the crisis, young entrepreneurs have to keep calm in order not to go under," says Calm/Storm Ventures boss Polagnoli. For the passionate sailor, the naming of the early-stage investor was obvious. "Calm/Storm has set out to invest in purpose-driven founders who aim to make a difference in our lives for the better. These founders also do not throw everything away so easily when the first crisis looms on the horizon."
Only on recommendation
The concept seems to be working – in 2022 Calm/Storm Ventures was even the most active digital health investor in Europe. If the first fund focuses on digital health, the second is all about the best Austrian founders. Everything is possible, from FinTech to ClimateTech to EdTech, the main thing is that one thing is fulfilled: "We only invest in founders that we know well or have been recommended by our supporting partner network." Since Calm/Storm Ventures got into startups very early on (pre-seed and seed) it is always very much about the founders themselves.
"Unlike other funds, we are a real 'super early stage' investor, so we don't need any sales, and that's often the case MVP or a proof-of-concept just underway," says Polagnoli. "The founding team has to convince us. However, since we are a venture capital fund, the sales and market potential must be correspondingly large. That's why we focus on the Founder/Market Fit. But the most important question is whether the founders can solve a big, important problem digitally."
Digital tsunami expected
There are a few warning signs that keep Calm/Storm Ventures from investing. Polagnoli lists: Homogeneous founding teams; difficult starting positions due to "watered down" cap tables; Founders who see fundraising as a necessary evil; and if founders do not want to give full commitment to the respective startup and have other projects running at the same time.
Incidentally, Calm/Storm will not remain involved forever either. "For us as a micro-VC, the ROI can, but does not necessarily have to mean a sale of the start-up or an IPO. It is also often the case that in a later round of financing, a larger follow-on investor buys the shares of the early-stage investors in a so-called secondary in order to increase their own shares and enable us to exit," says Polagnoli.
Many investors see the current crisis years as an opportunity for new startups to emerge that nobody thought of in better times. "We don't think we're going to see the big innovations in monetization or business models. The disruption is more likely to come from the digitization of major issues such as health, environment/energy and education," says Polagnoli. "The Covid pandemic has shown us how external effects can accelerate digitization processes that have been overdue for a long time. From our point of view, we will be swamped by a proverbial digitization tsunami."
Calm/Storm Ventures
Fund size:
Calm/Storm I: €20+5 Mio.
Calm/Storm Austria (Status Pre-Closing): €10+ Mio.
Calm/Storm II (Status Pre-Closing): €20+ Mio. Euro
Founders and partners: Lucanus Polagnoli, Hansi Hansmann, Alfred Luger
Portfolio-Soonicorns: 9am.health, Friday.Finance
Ticket sizes:  Pre-Seed & Seed (€50,000-300,000, follow-up financing up to €500,000)
Verticals/Search Fields:
Calm/Storm II Fund: Digital Health & Wellbeing, Europa & USA
Calm/Storm Austria Fund: Austrian Entrepreneurs, industry-agnostic
Pitch deck submission:  www.calmstorm.vc/pitch
Which 3 startups would the VC like to have in their portfolio:
Kranus (potency app on prescription)
AivF (AI platform to support artificial insemination)
Marta (home care mediation and support software)