ENTREPRENEURIAL COUPLES
Elina & Max: My Venture. Your Venture. Our Adventure.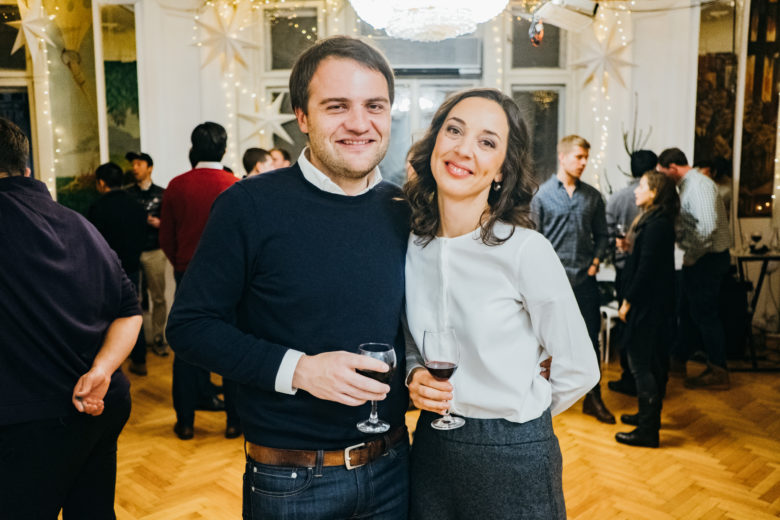 Elina Zheleva, the founder of DesignThinking.bg – the first design-thinking agency in Bulgaria, and Max Gurvits, a serial entrepreneur and ecosystem developer from the Netherlands, have been together for 12 years. Around nine of them, they spent in a long-distance relationship.  Elina, a young industrial engineer, and Max, a young law graduate, first met in 2007 at the European Aviation Safety Agency where they were the youngest employees. "I instantly fell in love when I saw him explaining about the then coolest thing – Facebook to two 60+ French colleagues. He didn't care about them looking strange at him, he just wanted to share what's up and coming", Elina laughingly recalls.
Half a year later, Max's internship ended and he went back home to Amsterdam. And this is how a long journey began. The next years they spent travelling around – between Germany, the Netherlands, Bulgaria, even France at some point while Elina was doing her MBA. In 2011 they rented an old Volvo and drove all the way from Germany through the Balkans to Turkey exploring the local startup ecosystems and writing a blog. After exiting his first startup Max, who enjoyed Sofia during the road trip, decided to come to Bulgaria and make it his home base as he saw an evolving startup ecosystem and a vivid community.
Meanwhile Elina had changed the course drastically, graduating a Design Thinking program in Stanford and looking for her next big thing. Both knew it's already time to set up a home base together and after several conversations Elina decided to come back as well.   
How has your relationship influenced your career paths?
Elina: Travelling so much with Max made me look at things from a different perspective and at some point led me to my second big love – design thinking. He was also the one who made me think I could bring this to Bulgaria.
Max: One of the reasons I left the Safety Agency was Eli. I didn't feel it was right for our relationship to stay there, I didn't want to see it as an office romance – these are not sustainable. And I didn't like the job as much, I admit (laughs).
Have you ever considered doing business together?
Elina: Never seriously. We help each other a lot, of course. Max has helped me and advised me in any key decision I've made.
Max: In course of the years, we have brainstormed different ideas like food trucks for example, but it was never serious. Some years ago, as Eli's business became something big and we saw our friends running a family company, we had a very short discussion whether we could do it too. It will happen at some point probably, but for now, it's not on the agenda.
How do you keep personal and business life apart?
Elina: In order not to  lose the beauty of the life you need to make some efforts and create quality moments. We plan a lot. For years we've been sharing Google calendars so we could easily find the time for each other, we even plan dinners sometimes (laughs). Last week I invited Max on a date through the calendar.
Max: At some point we realized we need to be very mindful about this and consciously put effort. Especially Friday evenings and on the weekend, we remind each other to put the laptop aside and stop thinking of work.
Do you still have time to travel together?
Elina: Yes, we create that time. We have never betrayed our trademark – road trips that allow us to see places and connect with local people and culture. All those years, we've always preferred to be just the two of us on these trips.   
Which are the bright and the dark sides of sharing a life with an entrepreneur?
Elina: The bright side is that we always miss each other. We feel the same joy when the other is coming home from a business meeting of two hours and after a month away. Because we travel so much, there are always so many stories to tell. Of course, the downside of travelling so much is that it's sometimes hard to be alone.
Max: The best part is having someone to be proud of.  I must admit, I was a bit puzzled when Eli said she wanted to start a company, I didn't want to see her disappointed. But then I saw her energy and grid to build something and she did it. Which really makes me proud. And of course, the dynamics and all interesting stories. On the other hand, the line between private and business is blurred and the time for each other is limited. We have our ways to overcome that though for example the rule to spend at least half the time together. To be honest, I wouldn't live any differently.