CEE STAR OF THE WEEK
Estonian Eziil: The Company That Offers a SaaS Solution To Digitize The Manufacturing Process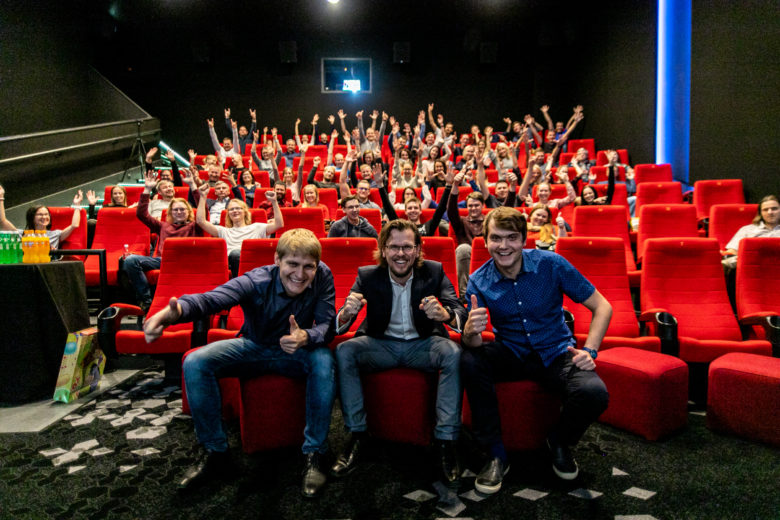 "CEE Star of the Week" is our weekly series of short stories where we present a company from Central and Eastern Europe that has recently achieved something significant – closed an investment round, won a prize, successfully launched on a new market, made a prominent hire, etc. The stories can be found both on trendingtopics.at and trendingtopics.eu.
For more than 250 years, manufacturing has played a central role in building the modern outlook of the world. With innovation taking place at an accelerated pace, it is natural to wonder: when will manufacturing, the biggest pillar contributing to the economy, finally be digitized?
In this week's edition of our "CEE Star of the Week", we are going to answer this question. Our starring company is Eziil – an Estonian startup, which has developed production management software for factories that are looking to increase efficiency through better cooperation of the work processes. In a nutshell, the SaaS platform is helping managers and owners of manufacturing sites digitize the production process. Recently, the company raised an investment of €1.2M that they are planning to use to further improve their platform.  We met with Maido Janke, co-founder and CEO of the company, to discuss the motivation behind the development of their software, the challenges they have faced, and the prospects for their sector during the pandemic.
Trending Topics: What does the new investment mean for you? 
Maido Janke: Investment preparation took longer than expected because of the pandemic. You are expected to make some numbers for the investment to happen, yet you can imagine how we made them. We will use the money to launch a new product line in SEE and to help producers understand the production environment of the region. The investment helps us make starting to use Eziil much easier because it's a real hustle for a producer that has not had earlier digitized production to make the first steps as easy as possible. This is something in which big players such as Epicor are failing – they are giving producers a big chunk of a challenge to teams who struggle. We try to make incremental progress, with smaller steps, which makes it a lot easier when starting to use our product and digitizing your production environment.
Secondly, we are helping with project production. What does it mean? Project production is when you start building from zero. It often happens – for example, you have to build a bridge, then you have to build houses this means lot of designing, lot of engineering, lot of information in BOM (Bill Of Material) and BOO (Bill of Operations)I ; for the teams behind such projects, digitalization is a headache, because they have to input data into different systems. That is why we will try to help them by automating the process. This is the second thing that will be possible with the investment money. Some of our clients are already testing that and we are expecting feedback. These are Estonian companies, yet, we are reaching out to companies from different markets to let them know that we will soon have such a service and that they can get in touch with us.
What is your industry like? What trends have you been observing, what changes has the pandemic brought about?
At the moment, there is a phase transition happening. This is connected to two main things: firstly, everything from the industry is becoming more digital and computerized, which means that the information flow is becoming really quick. The second thing is a generation change – this means that the older production people are stepping away from the workforce and the management force and the younger generation is stepping in. Now, imagine going to the production site if you don't know an overview of what is happening in this factory? If you feel like you are in complete darkness? Older people have been implementing control relying on their heads, but this is because they have been working in the industry for 20 years now, then they throw you into the environment and then say "Oh, you're stupid, you are not surviving." Of course, I will not be surviving, I don't have any tools, you are not giving them to me, not helping me and teaching me how to make an impact. Industries that do not make their production process transparent and do not help their people by giving them the tools they can use to execute the plan, these industries will die.
When it comes to the pandemic situation, its effect depends on the type of production. Generally, there are two types of production. The first one says "OMG, Covid, I will not do anything, I cannot make any decisions," they are totally paralyzed. If we go one year back, we will notice that these companies are not making any decisions as well, and they say that they do not have the time for this as they are growing too fast. Such companies, in the long term, are out of the business, anyway. Then, there are other companies that say "Okay, these are the Covid times, we have less work, we can accept that, but this is also an opportunity to make the changes that we need to make, systemize, so that we can start building up the new base and start growing in a different way, because, if we take things 12 months back, we had fewer people, everybody was rushing, we were trying to fulfill the orders, we were just trying to get to another day. Now we have time to make things differently." These companies are thinking in the long-term and will survive. These companies have been boarding up, coming to work with us. In the short term, things are horrible, but in the long-term – they are an opportunity.
Are you offering an end-to-end solution? How hard was it for you to gain those first clients to help you validate your project?
To the first question, yes, we do everything from sales, purchase, production, production planning, and reporting, delivery, and invoicing. We don't, however, do bookkeeping or accounting.
It was really challenging – we lost two and a half years bootstrapping – we did everything ourselves. Startups in bootstrapping – it is quite an interesting journey. On the one hand, we were only trying to do things we were certain the client would pay for, nothing extra, but on the other, it put us in a situation where we were not able to select what we wanted to do because money was the loudest speaker. We had to search for companies who had money and were willing it and their time to make Eziil better. My first meeting was with a piece of clean paper – we did not have Eziil yet, I sat with the paper and wrote down what Eziil would be. Then, our first client said, "Yes, we can make a signup." We had to start developing at the same time that we were implementing things. It was quite a hustle. Now, these days are gone, we have around 50 clients from Estonia, and it's like a standard process.
What is the technology behind your solution? What makes it unique?
Our idea has been that every client has his own level of evolution, so we are helping clients who are taking their first steps. Maybe they have used some kind of a bookkeeping system, they have used Excel, and they feel they want to digitalize the production in a more systematic way and get a holistic understanding of the production. We can help anyone from a production manager to sales managers, production workers, engineers, etc. This is our technology – we gather all these people in a single system, which makes it holistic. The main enabler is that we can help all these people who are at different stages of their development make this change easy, take it step by step. The infrastructure in this investment is almost zero – factories need to have Internet access and security is a high priority to us, we have our own browser. For the producer, it is very easy to start – they should only guarantee us that they have an Internet connection.
What differentiates you as a company, and as a team?
When we raised the money, we asked our lead investor about how he sees us, and what separates us from the others. I was joking with him, but he said that he really really likes us. He has more than 10 years of experience in the area, and he has had quite a few successful ventures, so I was interested to know the reason behind. He said that our ability to always adapt to the situation is what separates us from others. I started thinking about it and understood that he is right: no matter that COVID happened, despite everything, we always find a very specific niche to enter, what to improve in ourselves. What can be taken from this is: manage your own stress work on having a better working environment; communicate with your team, understand how they are feeling about every change. Our very adaptive culture separates us from others.
What is your business model?
We have a B2B SaaS model – we work with factories that then produce goods for customers, and we have monthly payments for our service. At the moment we are also opening a product area – it is something very special and will be functioning on a yearly plan. If you have an investment project and buy a company, this will make your life really easy, because, when you go to a client, they say "I need this, this and that", but when you do those things, they come up with something entirely different and you just burn money.
How was the idea of your company initiated?
I have been related to production for 19 years. I have bean also production CEO, at one point I understood the real problem: as a manager, I was responsible for taking every day important decisions, but they based only on peoples' opinions not facts. I understood that I am spreading decisions and praying that maybe something works. I decided to create a solution that will enable producers to make decisions with clarity and have this holistic understanding of what is happening in their factory.
What are the greatest challenges you have faced so far?
For a normal entrepreneur, the business has its ups and downs. If you are a startupper, then everything is amplified. The highest heights are high, the lowest is the lowest you have ever experienced. The first struggle I can think of that was very challenging was increasing the number of our paying clients – from the first 4 to 11, then 20, then even more. The second thing was conflicts with the co-founders. This can kill you, but it can also define who you are as a person. The third thing was raising money, the fourth challenge was how to build the sales process without a founder. During the early stages of the company, the main selling faces were the founders, because we have a specific type of energy, a vision, they can sell their products, especially when it comes to B2B where the connection between them and clients is important. But imagine if you have 10 000 clients – it is impossible for me to be responsible for all of them, to make connections and communicate with them. The process needs to be standardized, delegable, repeatable and then automated, this is constant challenge.
What are your plans and goals for the future?
At the moment, we are focusing on specific production areas and this is project-based metal production. For the future, our expectations are that we will focus more on that area. Of course, we will have other clients, but this is our main concentration because we have the biggest advantage compared to solutions existing on the market. Our plan is to establish dominance in the sector. We would like to expand worldwide. Our first goal is to find project-based metal production companies in the UK because the production environment there is similar to the one in Estonia. We have started with the UK expansion – we have some partners that are interested to work with us and we are boarding people who start making our solution demos in the market so that we can get the demo feedback and understand what is going on in that market – does it make traction, what are the needs of the manufacturers in that area somehow different than those of the producers in our country, etc.