hidden champion
FantasticStay: How This Startup Benefits Big Time from Airbnb, Booking & Co.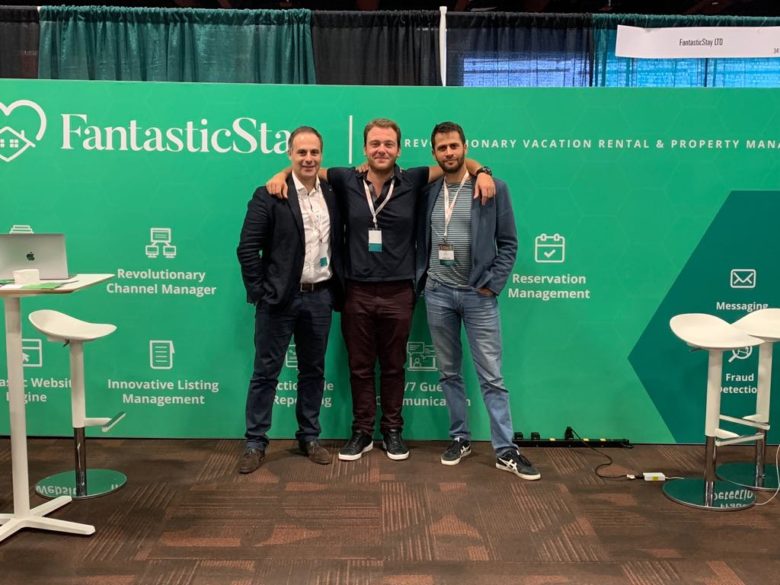 Ivan Nikolov was 18 years old when he acquired BG-Mamma, a rapidly growing Bulgarian internet forum for parenting bits of advice. Three years later he sold half of it to the internet entrepreneur Lyuben Belov and completely exited the business another four years later. Leaving the online business behind, Nikolov went for a sabbatical but that didn't last long as he discovered an new niche to conquer.
In no time Nikolov found himself managing more than ten flats in London. As everybody in his shoes would, he realized that he needed a tool to help him deal with the volume. So he started trying out different software solutions while the number of rentals under his management grew to 150 across Europe. An Israeli Airbnb management platform Guesty was one of the top choices for Nikolov's needs and he decided to send them some improvement suggestions on fine-tuning the product so he would stop losing on profits.
"They never answered…
…and this was their greatest mistake", Ivan Dimitrov, Chief Revenue Officer at FantasticStay, told Trending Topics. This was the moment Nikolov decided to take control over the situation and write himself the code that would serve his needs. The very same code he started writing alone in 2017 is today a Sofia-based company of 50 developers called FantasticStay. Furthermore, it is about to open two new offices in New York and Los Angeles by the end of 2018.
The core product of the young software company is a platform for management of vacation rentals (VR) across different channels like Airbnb, Booking, Homeaway, VRBO, etc. It allows the typical VR manager to use one instead of five-six different tools to serve his guests, synchronize his reservations, manage the maintenance personnel and of course, get the most out of it.
"There is no distinct leader in the vacation rental management software field and there's a multitude of platforms offering either calendar synchronizations, channel management, guest communication or site builders", Dimitrov explained.
The typical vacation rental software is a tool that enables the property manager to run leads, cash flows, distribution channels etc. It also offers an efficient point of sale system and increases automation in vendor payables system. All of these is what FantasticStay is offering plus integrations across different platforms and a robust suite of automations like A/B testing,arrival forms, automated messages that welcome guests, a system dedicated to managing the cleaning and maintenance teams.
Million dollars revenue
To develop the product Nikolov needed around a year in stealth mode. The platform is live since mid 2018 and according to Dimitrov, it already generates revenues from its around 30 customers. These clients in total manage over 20K properties across booking channels, Dimitrov added. This is also what matters to FantasticStay as part of the company's business model is related to this metric. An alternative to the widespread commission based pricing in this niche, they are going with what they think is a fairer for the property managers – flat fee per listing . "If we continue growing with the same rate we may surpass $1M revenues in 2018", Dimitrov claimed without giving details.
Unlike the competition, FantasticStay is trying to develop the product alongside with its customers and develops new tools and features on their recommendations. According to Dimitrov that is what will help them stand out in the market which is indeed a crowded one with at least 24 different solutions.  "We are hiring vacation rental managers to further develop the product. Our VP of US Operations was one of our customers", he added.
This on-demand development approach, however, requires some bigger team. According to Dimitrov, FantasticStay will need to grow to 100 people in the next months – primarily developers.  
A good old huge market
Now, if you think those business models appeared thanks to relatively new platforms such as Airbnb or Booking, stop. The vacation rental market has been a large business for close to two decades thanks to some older platforms such as the founded in 1995 VRBO, currently Homeaway. Newer platforms, however, made it all more scalable and the total addressable market is estimated to surpass $150B by 2019.
The VR managers, who are FantasticStay's target customers, are an important element of the market.  In the United States alone, there are close to 5K professional operators managing more than 600K units with a compound annual supply growth rate of around 7%. When smaller operators with less than five units are counted, the total number of managers reaches 20K. And this is only the US – 25% of the global market.
Bulgarian FantasticStay seems to be entering a huge and complex market where the one company that manages to connect all the dots a.k.a integrate the tone of rental platforms and all the stakeholders of the rental process will be the big winner. The Bulgarian startup is preparing to fundraise on both sides of the ocean in the upcoming months. It seems to have attracted the interest of US VCs, while according to our sources local investors are still a little skeptical.