Play to learn
Gemji: The Tesla of Board Games Created by a Bulgarian Designer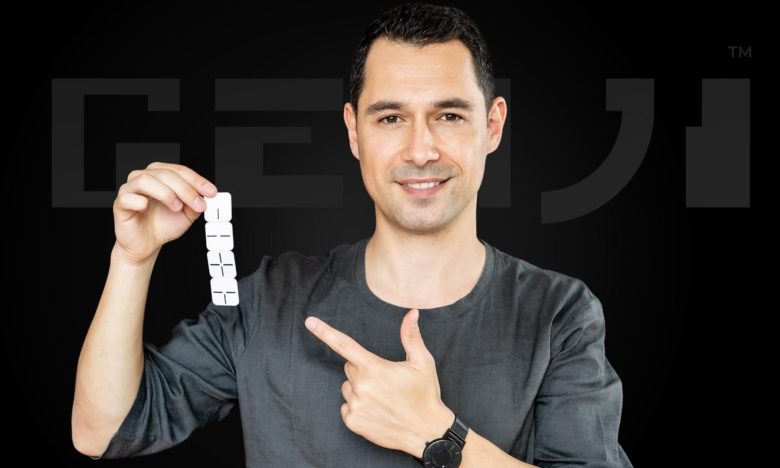 "When I started working on Gemji in 2016, as a parent I wanted to create a game that would educate and entertain my kids without keeping them in front of a digital device all day long. I also wanted it to be a game that's interesting for me to play, and not just to collect single-use plastic garbage that stays forgotten at home. So, we started working on a game system," shares Margarit (Mark) Ralev, the inventor of the Gemji Board Game System and also the founder of digital design agency Ralev.com.
After three years in research and prototyping in the fall of 2019, Ralev produces the first playtest batch of Gemji game sets and goes to the Spiel Messe in Germany, the world's largest board game fair. There, he officially validates the concept and gets positive feedback from both board game creators as well as hardcore players. One year later, Ralev is launching a crowdfunding campaign on Kickstarter and is targeting the global market. 
The game in a nutshell 
In short, Gemji is a modular game system made of magnetic tiles, which is designed so that everyone can use it in a different way to find something interesting for them to play – there are games for both kids and adults, for education, parties, team buildings, solo playing. Some can take less than a minute, while the strategic ones can go for more than an hour. New games will be constantly published on a web platform not only by the official Gemji creators but also by fans. So, the idea is that the game will continuously reinvent itself and remain enjoyable for decades. 
This huge flexibility is a key differentiator for Gemji, which is to be sold for 89 euro – two to three times more expensive than the average board game.  However, in just one easily portable box, players will get a plethora of options – there are 30 games currently available and in the long-term, with the help of the online updates, this number may reach several thousand. Ralev explains that all games fall within three main segments – some are original titles created by Gemji's teams, others are adaptations of classical games such as Dominoes, Bulls and Cows, and Mancala, and a third group focuses on helping kids learn subjects like mathematics, physics, and the basics of programming –  binary operations, sorting of arrays, and commands.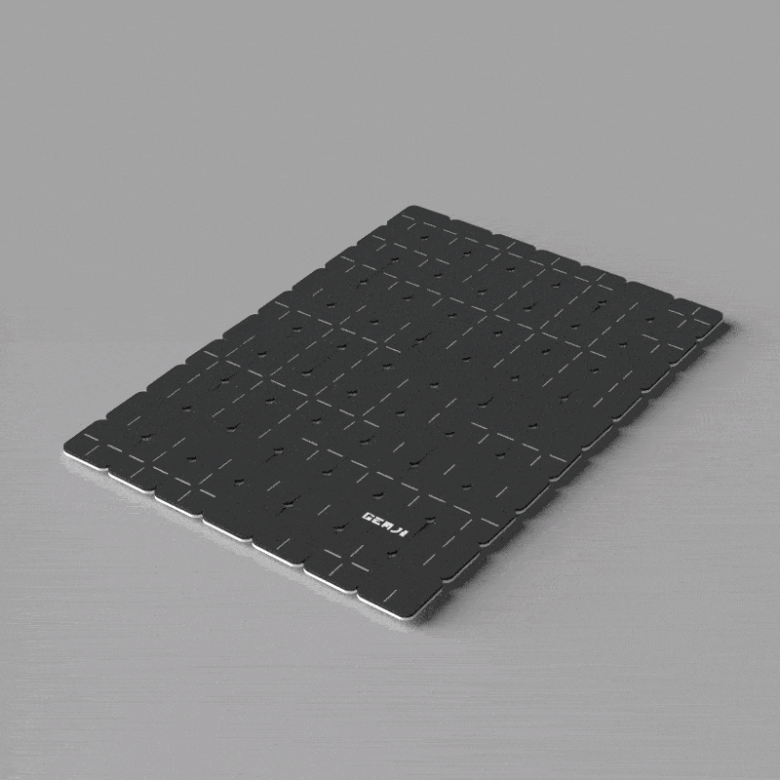 The Design
Similar to Tesla, the famous electric car manufacturer, design plays a big role in Gemji, which is not surprising given the background of its creator.  Of course, at the heart of the concept is the already mentioned suitability for everyone. The inclusivity goes to the lengths of making the system available even for people with impaired vision. This is achieved in three main ways – tactility, mechanics, and sound.
In addition, the pattern of the chips, white and black base with different numbers of lines that encode numbers,  is the thing that allows children to learn complex concepts and ideas. Gemji is highly portable – it comes in a A4 box, but the chips could be transported in a special travel pouch which puts the set together in a pocket. It consists of 70 magnetic tiles that are waterproof and washable.
The multiple purposes of Gemji go beyond the gaming world. It can be used for home decoration – for example, fridge magnets, wall artwork, and table coasters. The chips can also be used as a fidget for relaxation or as accessories for other games such as poker, chess, backgammon or RPG games (like Dungeons & Dragons). Interior designers can use the tiles to test different compositions and furniture configurations, while UX specialists might instantly prototype wireframes for website and app design. 
"My hope is that Gemji will become the most played game system for the next 1000 years. In terms of design, it currently seems possible. The biggest challenge is the optimizations of the costs in the manufacturing process as Gemji features multiple high-quality elements that are to survive for many years, " tell us Ralev. 
The software that makes the hardware experience better with time
One of the coolest things about Tesla is that Elon Musk's company rolls out new features all the time, thereby making the car better and better with each update (and with fewer bugs at the same time). For instance,  the self-driving Autopilot feature can enable a car to navigate a parking lot and come to its owner or their destination of choice. Other car software improvements so far have included an entertainment system integrated with all major platforms – YouTube, Netflix, Hulu; video security system, and location-based restaurant and landmark recommendations.
For Gemji, the software part relates to rolling out new games all the time, all of which to be played with the initial 70 magnetic tiles.
People who support Gemji's upcoming crowdfunding campaign on Kickstarter will receive a set of the hardware and free lifetime access to a web platform where each game will have a profile with detailed descriptions, rulebooks, pictures, videos, and reviews. "Outside of the campaign, we will launch a freemium model – there will be games that are available for everyone and games for which you would pay a small annual subscription of about 10 euro," elaborates Ralev. This reminds us of Tesla's offer to give the first buyers free lifetime access to its network of Superchargers.
Back to Gemji, on the platform, players will be able to filter the games by parameters like the number of players, difficulty, time to complete a game, type of activity – and the system will then generate personalized recommendations.  
The community element
Given Ralev's ambition to have thousands of Gemji-based games at some point in the future, it's clear his team no matter how big cannot invent and playtest them all. So, here comes the next piece of the growth puzzle – everyone will be able to create and publish new games or modify the rules of existing ones, launching modified versions. "If it turns out that your version of the game is more liked and played than the original one, then we will promote it and feature it in the next edition of the physical rulebook," states Ralev.
There is also an idea for the development of a teacher-authors community which will focus on creating educational games for kids and students.
What's next
Gemji's crowdfunding campaign launches on September 23rd and those interested can already sign up for it. First-day supporters will get a copy of the game for just 59 euro, 40% off the price after that. The ones who get Gemji through the first day of the Kickstarter campaign should receive it around Christmas as the Ralev and the team have already prepared part of the manufacturing components.
"We start B2C with the crowdfunding campaign but afterwards we are planning to work with distributors in Europe and North America. Our website and Amazon will also be used as a sales channel at a later point. We plan to cooperate with multiple partners, too.  In the long-term, we can either continue as a family business or if we are really successful, join efforts with the biggest game publishers in the world that have the distribution network to put Gemji in every home," concludes Ralev.