urban micro mobility
Hobo: The Bulgarian E-Scooters Provider That Offers Monthly Subscription Is Now In Town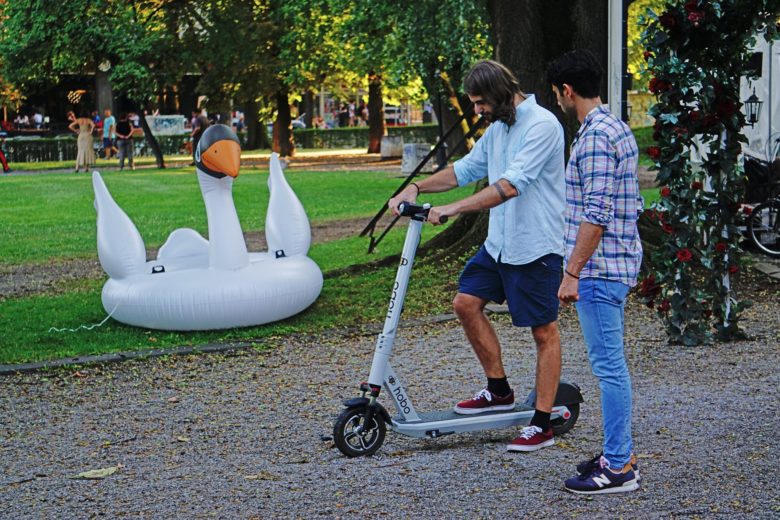 The Bulgarian shared e-scooters service provider Hobo just launched in Sofia with a fleet of 100 vehicles. The new player offers slightly lower prices than competitors Lime and Brum. What makes the service a bit different from what is already on the market is the option for users to purchase a monthly subscription which would allow them unlimited rides
The Bulgarian newcomer that has purchased the e-scooters from a US B2B e-scooter startup Acton, has so far attracted €100k of angel funding, is preparing to raise another round in November to grow the fleet in other cities and surrounding markets, tells us Georgi Brashnarov, one f the investors. 
The monthly subscription
One of Hobo's differentiators on the Bulgarian market is the price. The unlock fee will be 1.60 BGN (€0.8 – at the price of a single public transport ticket) and then every minute on the e-scooter will cost an additional 0.2 BGN (€0.1). As a comparison – Lime and Brum both charge the same unlock fee but cost 0.3 BGN per minute. The monthly subscription option is another interesting feature of the new service: for 60 BGN a month users can enjoy an unlimited number of rides. Each ride, however, shouldn't exceed 20 minutes.
Unlocking, riding and locking of a Hobo works the same as with other scooters – the user needs to scan a code to start a ride, and tap end on the app once done. What attracts attention is the a bit longer signing up process which unlike Lime and Bird requires mobile phone number and email.
Currently, Hobo operates mainly downtown Sofia and should be parked in marked areas. The team, however, has negotiated "exclusive Hobo spots" – in front of hotels, sports facilities etc., as founder Teodor Rachev tells us. 
A stable model for the streets in Sofia
Rachev and his co-founder Todor Todorov started working on the idea last August, after trying out e-scooters in several European cities. In the past several months they've been testing their pilot model of  Acton e-scooter and discussing regulatory framework with the Sofia Municipality.

One of the things Hobo's team is most proud of is the model of e-scooters they've chosen. They are produced by the San Francisco based company Acton, Rachev tells us. It's not a vehicle that could be found in stores, because it has a completely b2b and sharing model. "It's a bit bigger, heavier, but is also very comfortable. The inflatable tires make it perfect for the infrastructure in Sofia," slightly laughs the co-founder. 
The e-scooter can be unlocked and paid through an app, speeds up to 25 km/h and there will be around 120 zones in downtown Sofia where they can be parked. With a single charge, the model can go up to 50 km.
Read also:
Everything you need to know about Lime