Education Meets Innovation
Innovation In School Ep.3: Junior Achievement Bulgaria And The Skills Of The Future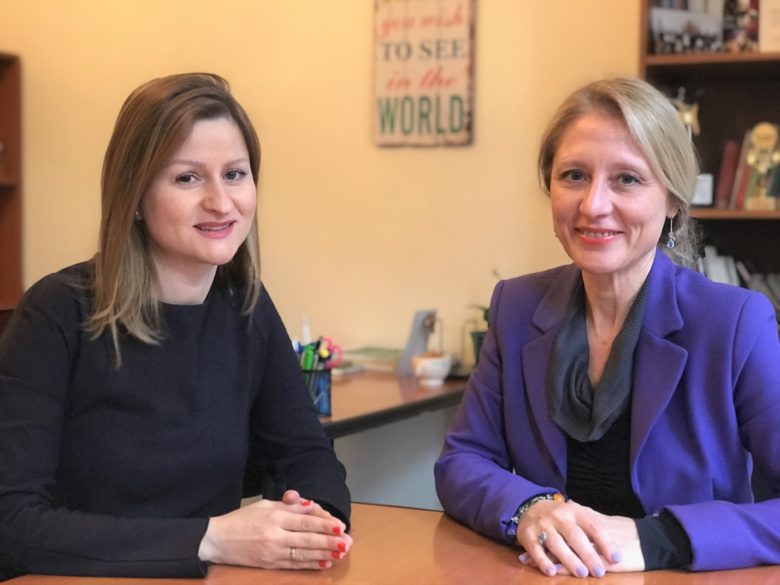 About the 'Innovation in school' miniseries:

Trending Topics has started covering initiatives that aspire to create a culture of innovation in Bulgarian schools and in one way or another prepare the next generation of entrepreneurs in the region. We seek to learn what are the topics that excite young people in Bulgaria, how are students learning about business and technology, and who are the people and organizations supporting them on that journey.
Established in 1997, Junior Achievement Bulgaria is among the pioneers of entrepreneurial education in the country. For the past over 20 years, its programs have reached over 350, 000 students in about 1100 schools from all over Bulgaria. Focused on delivering experiential learning in three domains – entrepreneurship, financial literacy, and job skills – today the local chapter of JA  has a total of 24 programs in its portfolio, including 'Manager for a day' and 'The Student Company'.
But how does an organization that promotes innovation and modern education go about innovating itself? What's next in JA's journey in Bulgaria? How can students even decide what path to pursue in today's rapidly changing landscape?
We first talked to Milena Stoycheva, CEO of JA Bulgaria, about vision, strategy,  priorities as well as the biggest gaps in the Bulgarian educational system and her craziest dreams. Then, Svetoslava Stoyanova, Head of Partnerships at JA Bulgaria and certified personal development coach, joined us with a few practical tips on how young people can approach decisions about their future, build inner confidence and develop creative thinking.
Trending Topics: What are the plans and priorities of Junior Achievement Bulgaria for 2020?
Milena Stoycheva: Definitely one of the priorities for us is what for a long time was called soft skills and should be already considered as core skills. They're becoming critical for everyone's existence and are the skills that differentiate the people who are able to advance. So, we've decided to put these skills at the center of the attention not only for our organization but also for our business partners and the educational authorities. We want to share this message with our entire network – train the teachers and work with business mentors to make them aware that this should be an integral part of the way we teach.
Another thing we have identified that is extremely important is the mindset – the position or perspective through which you look at the world. It's a thing that's fundamental for the way people develop later in life. When we talk about entrepreneurship, for us at JA, it's, of course, business skills, but much more importantly, the mindset. The entrepreneurial mindset is related to being able to look at yourself, to identify opportunities and to be able to also identify all of the challenges as a way to grow and to develop further. We should also make the point that development is not necessarily development for the bigger and more. Development should be seen as a process of improving. Anyhow, driving a different mindset in the younger generation is a big priority for us.
Lastly, we would like to see a new sustainable model being established in society. For that, I would use the label 'stakeholder capitalism', which is a big change from 'shareholder capitalism'. The current digital era and stage of society are characterized really by collaboration and partnerships. In order to do this, you need to build ecosystems and you need to build communities of practice around whatever you do, identifying the players ready to go along that shared vision. So, we have decided that we would emphasize the so-called constructive entrepreneurship. There are just too many economically successful entrepreneurs who don't have any positive impact on anyone besides those involved in their enterprises. This topic is becoming more and more important given the challenges our planet, society, economy, and we as humans are facing. Within the context of stakeholder capitalism, this means that you need to take into account your impact on all of the stakeholders, not just the ones who have vested interest like investors, employees, or customers. We have chosen to focus more on green entrepreneurship, circular economy, new opportunities in providing better well-being and health as well as material innovation and smart cities.
Okay, moving from vision to practice, can you elaborate a bit more on any of the new programs Junior Achievement has started recently in Bulgaria? 
M.S.: For the past over 20 years, we have developed many programs from the 1st to 12th grade, in three main directions – financial literacy, entrepreneurship, and the so-called startup mindset and skills, which are all expressed in some of our most established programs like 'The Student Company'. Then, we have our Startup Program, which has been a part of bachelor's and master's degree studies in universities since 2008. 
But now we look at it from a different angle. To really build continuation, we decided to add another layer – a pre-accelerator, which is a place where anybody 18+ can come and work in a very structured way on identifying and recognizing opportunities as well as carrying out the project and developing an MVP for it. We believe this is important because at the moment there are a lot of different initiatives. I am very happy that the startup mindset and entrepreneurial mindset and culture have really taken off in Bulgaria. 
On the other hand, this needs to be seen as something more than enthusiasm and excitement. We believe that without educational programs that are really structured, student startups cannot grow to the next level – talking about startups that are really successful and competitive on the international markets. On single occasions, some would manage to find their way but that wouldn't be the mainstream. 
In order to turn this into a national characteristic, it needs to be done in a very consistent way. So, our programs are now characterized by the progression model. We call the approach 'From ABC to PHD'. We build a certain level of competence in every age group, on which we build upon during the next programs we have. In the end, this becomes a process that leads to results.
As I told you earlier, we are following several trends – one is smart solutions for cities and communities, it is supported by Citibank. The second is raw materials and circular economy, here we are partnering with the European Institute of Innovation & Technology (EIT). The third one is digital innovation in healthcare, here we created a cluster where we currently have 26 companies where mentors come from, including big players in the pharmaceutical industry like Novartis, but also startups.
How is JA's pre-accelerator different than all the other accelerators around?
M.S.: Accelerators usually accept already created startups that go and later apply for funding. We have an educational program that feeds into an accelerator, which in other countries is done by universities. 
So, what are the biggest gaps you see in the Bulgarian educational system?
M.S.: Well, universities have a major problem – they are living in the past, in the Industrial Age. The whole approach to education for a lot of them needs to change. They need to open up to the rest of the world and cannot continue existing the way they're used to – applying old methods of teaching, applying old methods of testing, applying old methods of collaborating. What universities in Bulgaria currently provide as education is not relevant anymore.
We have this vicious circle: On the one hand, students are not motivated enough and say that what they're studying is not relevant. On the other hand, lecturers and professors say: "Well, students are not committed to their studies," and deliver the absolute minimum when it comes to teaching. 
There is the issue that those who teach at universities are paid very little. It's actually comparable to the compensation you will get if you're working as a bartender or a waitress. So, there is no reason for high-quality instructors to go and teach at the university.
Investment in research, which is the basis for innovation, is also lacking.
When you look at all successful entrepreneurial and innovation ecosystems abroad, there are educational institutions that drive the whole process. We are still missing this in Bulgaria. No matter how creative or innovative we are, if we do not put investment into the educational system, in high-schools and universities and if we do not update educational criteria, we would not be able to stay competitive.
How do you change a system that's been the same for so many years?
M.S. Simply because somebody has existed for many years doesn't mean they'll continue to exist. To change a system like this, you have to invest in what you believe is the right model, pilot it, do it well, and others will follow. It should be done in the same professional way, business is done and approached in the same committed manner as if you are creating a company.
There are two researchers I admire and have followed closely over the years – Clayton Christensen, who developed the disruptive innovation theory, and Henry Chesbrough, who invented the term 'open innovation'. They have said in the past and I agree that one of the sectors with most opportunities for disruption is education. 
Milena, your LinkedIn profile says that you're a crazy dreamer. What's your craziest dream?
M.S.: You know, I used to believe that I could be like a fairy with a magic wand who changes the world because she believes in something good. 
My craziest dream today is for more harmony in the world. For all of us to be in a little bit more harmony with ourselves. Because I think that nowadays, we are in such a rush to always do more, to always do better,  that we forget that everything is driven from the inside. And, if you have this harmony with yourself, you are much more likely to be happy. 
How can students actually decide what to pursue as a career after graduation?
Svetoslava Stoyanova: With support – from the environment, from parents and teachers, so that they can make the best decision for themselves. As adults, we often think we have something to give from our experience to the next generation. And the truth is, we can be more useful if we provide an environment full of curiosity, exploration, and freedom. After all, no matter what students choose as education or profession, today's 18-year-olds will change their professional field more than six times on average.
As a teenager, not being sure what you want for yourself is okay, but it's important to be guided by your own personal beliefs and values. While the environment (parents, friends) inevitably influences young people on their career path,  if the 16- and 17-year-olds are active participants in the decision for their own career choice, then they will be able to be more in balance with themselves throughout their lives.
From the perspective of personality research and coaching tools, I can share some questions that would support this personal journey of getting to know yourself.
What do I like to do in my spare time?

And what do I want to do all the time?

And what do I really like to do the most?

What inspires me?

What inspires me to take action?

Do I prefer to achieve results by myself or do I prefer to be with friends and work in a team?

Who am I  when I like myself, when I am proud of myself?
Are there any methodologies or exercises for building inner confidence? How can you remain courageous even in a difficult or worrisome situation in which you regularly find yourself as an entrepreneur?
S.S.: It is normal for a young entrepreneur to be anxious before meeting investors or a competition jury. In this case, detailed and careful preparation is the salvation. Of course, we can use techniques such as diaphragm breathing and intense physical activity, such as 10 jumps before we hit the stage, but they are the physical way to calm the excitement. The rest is all about preparation.
In general, inner confidence comes with experience, and experience comes with dedicated efforts and dedicated work toward the goal that we want to achieve. And all this with patience and step by step. If I had to formulate it as a recipe, it would look like this:
Choose what you want to do or achieve. Be aware of yourself and make a first-person choice – that is, make sure that what you aspire to is your purpose and desire, not the result of a tendency or recommendation of some authority in your life.
Make the time. Where focus goes, energy flows.
The ratio between talking about what you want to achieve and specific actions should be 10/90%.
And when you repeat this "exercise" several times, you realize at one point that you have accomplished many things and have developed a number of qualities, including confidence.
What is your perspective on the development of creative thinking? Where do you start, are there any specific activities that one can practice to stimulate creativity?
S.S.: I think we can designate Socrates as the father of creative thinking – he is known for giving answers by asking questions.  The most famous quote attributed to him also contains the overall concept of this philosophy: "True knowledge exists in knowing that you know nothing." 
Following his example, I would pull out the following rule for stimulating creativity – every time in a situation where you think you know the answer, instead of saying it, ask a question. This way,  you open your senses to another possibility that you might not have imagined or – at the very least, stimulate the creative thinking of the person next to you.