Next-gen innovators
Innovation In School Ep.1: Teenovator And The Future Bulgarian Entrepreneurs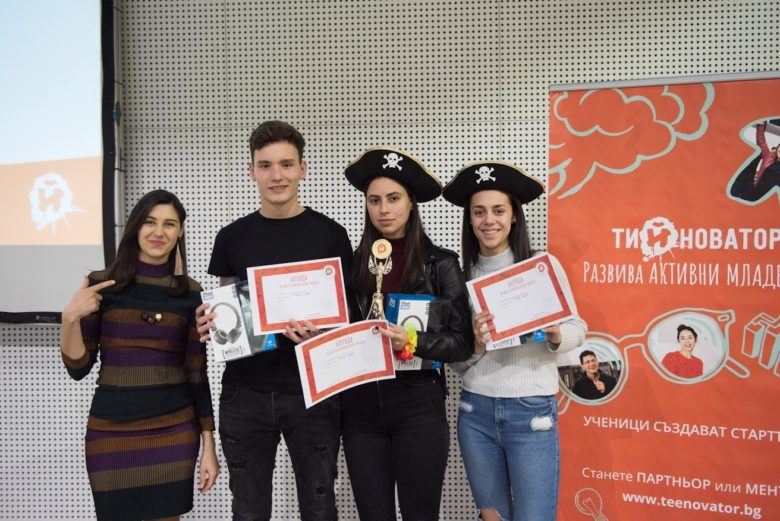 About the 'Innovation in school' miniseries:

Every week in the next few months, Trending Topics will cover initiatives that aspire to create a culture of innovation in Bulgarian schools and in one way or another prepare the next generation of entrepreneurs in the region. We seek to learn what are the topics that excite young people in Bulgaria, how are students learning about business, technology, and change-making, and who are the people and organizations supporting them on that journey.
During the past weekend over 200 high-school students from Sofia, Vratsa, and Varna gathered in The Innovation Forum "John Atanasoff" to take part in Teenovator Startup Weekend, a hackathon for the development of new business ideas. The young 'founders' had less than 48 hours to, among other things, find a team, do market research, build a prototype, and choose a business model. Then, on Sunday afternoon, all had the opportunity to present their ideas and progress in front of professional investors and business executives.
This event was part of the larger Teenovator program that aims to help tenth- and eleventh-graders cultivate the skills and mindset necessary for a successful entrepreneurial life. The curriculum is based on Stanford University's design thinking methodology and relies on extensive mentoring from people like Janet Todorova, director at the Sofia chapter of Founder Institute's early-stage accelerator, Sergey Petrov, founder and CEO at IoT beekeeping startup Pollenity, and Nikolay Martinov, Managing Partner at the investment firm Impetus Capital. Since its pilot edition in 2018/2019, Teenovator has expanded to 17 schools in three cities.
The passions of Bulgaria's young generation
On the second day of Teenovator Startup Weekend, 27 student teams pitched a very diverse range of ideas. Some presented potentially global solutions like AI recognition of drunk drivers and affordable robots for education, while others had chosen to pursue apps that would help them in their day-to-day life – e.g. with the delivery of healthy food at school and the discovery of mentors. Industry-wise, topics like Education, Sustainability, Arts, Food, Travel..and Partying were the most frequently mentioned on stage.
The Winning Teams
Although Milen Ivanov, founder at CEO Angels Club and part of the investor jury, made the point that in such a competition everyone is a winner, awards in ten categories were still given at the end of the day. So, here they are with a short description of their projects.
Best Team: Edu Bots, a team that's developing affordable and easy to understand robots for education. Their goal is to introduce robotics concepts to more young people (10-14 years old) and help them develop creative problem-solving skills.
Best Social Impact: Difender One, apparently building upon Pollenity's portfolio, these teenovators, had decided to build an IoT system with the ultimate purpose of saving the bees.
The 'Greenest' Business: This award went to Hemp Brand, a sustainable fashion project, aspiring to introduce hemp-made T-shirts and bags to reduce some of the negative environmental impacts of cotton production – such as the heavy consumption of water, pollution, and soil erosion.
The Craziest Idea: Pataklama Meme Art Gallery – this team of meme experts wants to foster offline communication and social interaction among teenagers by bringing meme art to real physical locations. Viktoriya Blazheva, identity and communications director at UniCredit Bulbank and another member of the jury, demonstrated interest in offering Pataklama a venue for their first exhibition.
The Audience Award went to Safe Drive, which aims to work with insurance companies and install cameras in cars that with the help of a computer vision software would detect drunk or fatigued drivers and prevent the vehicle from starting at all. This project is an interesting twist on the offering of Affectiva, a US company, provider of AI-based emotion recognition software and often cited on 'most innovative in the world' lists. Bulgaria still remains one of the countries in the EU with most deaths on the road per million people.
Best IT Project: Go & Meet, a platform to connect people with similar interests who can find a buddy for any given activity.
Best Presentation: Daskaloo, a platform to connect students who need private lessons and teachers who want to earn extra money outside of school.
Most Innovative Idea: The Quiet Place or the company that would sell 'silence as an experience'. In practice, this team aims to bring the Japanese capsule hotels to Southeastern Europe, seeing that affordable tourist accommodation (e.g. hostels) are often super noisy and stressful.
Most Sustainable Business Model: Short breaks at school, lack of healthy food options around – why don't we deliver food of higher quality straight to the classroom? This is Food Care's value proposition and their team had calculated good profit margins for the business to back it up.