CZECH REPUBLIC , HUNGARY , POLAND , SLOVAKIA
Innovation Map: Top AI startups in Europe's V4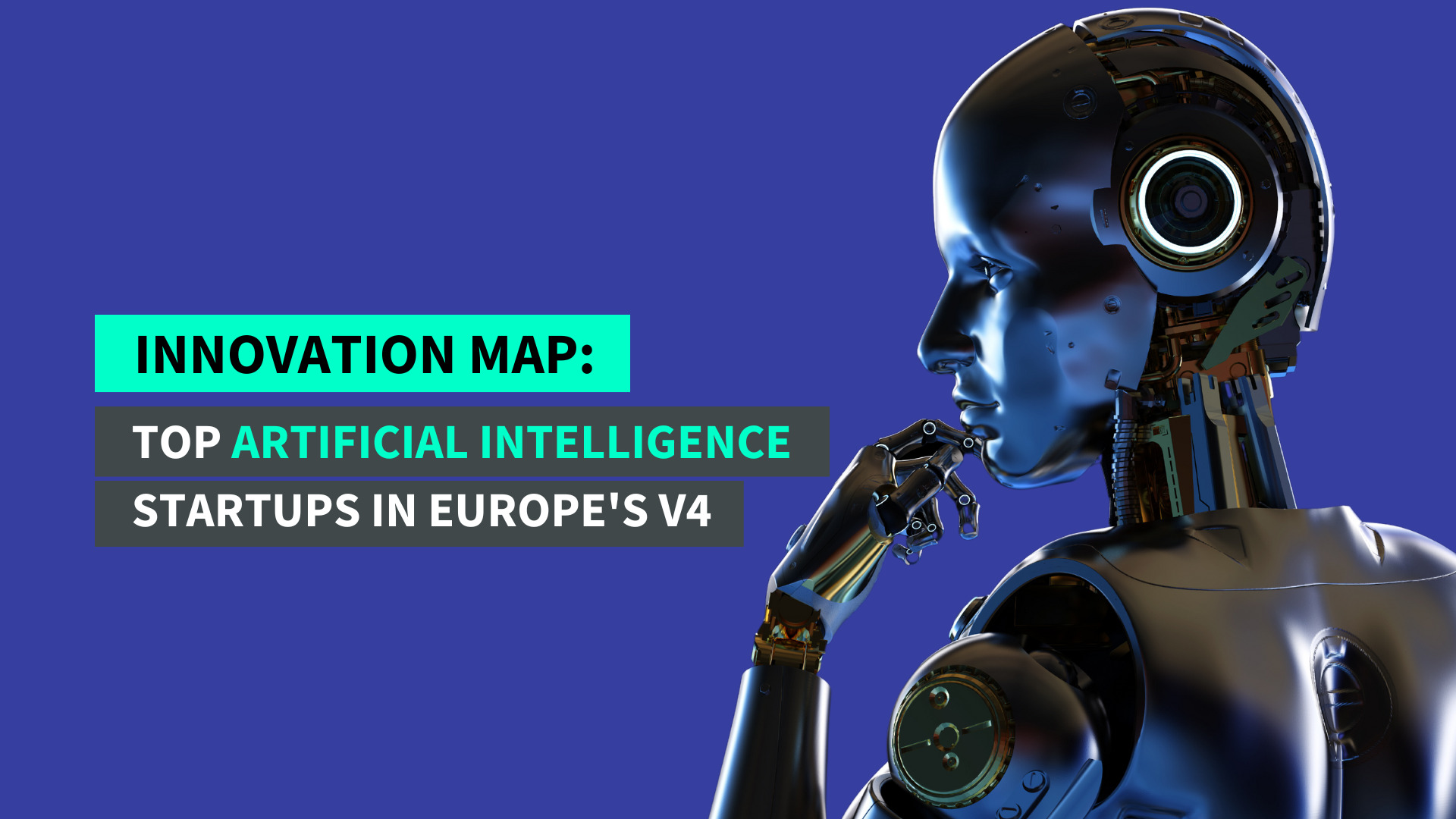 Artificial intelligence (AI) stands as a primary catalyst for global technological advancement today, permeating various aspects of our lives, from personal assistants and advanced medical diagnostics to automated work processes and enhanced customer understanding.
Despite facing challenges like political uncertainties, inflation, budget constraints, and layoffs, the AI market is projected to witness significant growth. According to the International Data Corporation (IDC) report, the AI market is anticipated to reach $191 billion by 2026, growing annually at a Compound Annual Growth Rate (CAGR) of 25%. The coming years are poised to witness substantial commercial adoption of AI software as organizations invest more in enhancing their agility, efficiency, and resilience.
The European Quartet 
The research interest in AI is rapidly growing in entire Europe. The CEE region is experiencing rapid growth in enterprise value and venture capital funding, with the V4 countries (Czech Republic, Poland, Slovakia, and Hungary) leading the way. Outside the European Quartet, Croatia also has a blossoming AI ecosystem.
The CEE – V4 region is garnering recognition for its vibrant and burgeoning AI startup landscape, driven by a talented and well-educated workforce and lower operational costs. With an increasing number of startups focused on AI, machine learning, and data science, our exploration will uncover the most AI-dense industries and verticals within the V4 region.
AI Startups in Central Europe
AI in Healthcare

Healthcare represents one of the most AI-tackled industries in the V4 region. AI solutions are utilized to improve diagnostics, enable personalized medicine, and optimize patient care, promoting safety and longer life expectancy. AI-powered technologies such as wearables, health monitoring devices, and diagnostic tools can collect and analyze vast amounts of data to help diagnose and treat medical conditions more effectively.
Infermedica
Infermedica (Wroclaw, Poland) is a digital health company specializing in AI-powered solutions for preliminary diagnosis and patient triage to minimize inappropriate use of medical services and misdiagnosis.
Founders: Irving Loh, Piotr Orzechowski, Roberto Sicconi
Highlight: The startup raised a Series B funding of $30M led by One Peak Partners.
Proteon Pharmaceuticals
Proteon Pharmaceuticals (Lodz, Poland) is a biotech company using microbiome protection to improve animal and human health, increasing environmental sustainability and eliminating unnecessary use of antibiotics.
Founder: Jaroslaw Dastych
Highlight: The biotech startup closed a €21M venture round in 2021 led by Nutreco and Aqua Spark.
Turbine
Turbine (Budapest, Hungary) develops a cell behavior simulation platform that understands the inner mechanisms of cancer, enabling the discovery of novel protein targets, precision biomarkers, and better translation to patients.
Founders: Dániel Veres, Kristóf Zsolt Szalay, Szabolcs Nagy
Highlight: In 2022, Turbine closed a €20M Series A round led by Merck Global Health Innovation Fund and Mercia Fund Managers.
Telemedi
Telemedi (Warsaw, Poland) provides a plug&play digital healthcare platform including modules like telemedicine, automated triage, AI, medical devices monitoring, and API integrations.
Founders: Paweł Sieczkiewicz, Piotr Słomian
Highlight: The startup secured a $6.6M Series A round in 2021.
Powerful Medical
Powerful Medical (Bratislava, Slovakia) is a medical AI solution that allows professionals to accurately diagnose and treat cardiovascular diseases.
Founders: Martin Herman, Robert Herman, Simon Rovder, Viktor Jurasek
Highlight: The startup raised €6.2M seed round in 2022 led by Venture to Future Fund.
Hilbi
Hilbi (Bratislava, Slovakia) is an AI-enhanced platform that virtually connects physicians and patients to save time and bring new possibilities in personalized healthcare.
Founders: Patrik Kmec, Roman Kučera
Highlight: In 2020, the startup closed a seed round of €5M.
Molecule.one
Molecule.one (Warsaw, Poland) is a pharmaceutical startup developing software for organic synthesis design to predict chemical reactions accurately for faster drug discovery.
Founders: Paweł Włodarczyk-Pruszyński, Paweł Łaskarzewski, Piotr Byrski
Highlight: Molecule.one closed a $4.6M seed round led by Atmos Ventures in 2021.
StethoMe
StethoMe (Poznan, Poland) is a telemedicine system detecting abnormal sounds in the respiratory system to assist parents with child care at home.
Founders: Honorata Hafke-Dys, Jędrzej Kocinski, Marcin Szajek, Paweł Elbanowski, Wojciech Radomski
Highlight: In 2020, the startup raised $2.5M Series A + a $1.2M grant.
Talkie.ai
Talkie.ai (Warsaw, Poland) provides scalable voice bot services to support medical contact centers using AI-powered virtual assistants pre-trained for healthcare services.
Founders: Ada Andruszkiewicz, Pawel Lipinski, Wojciech Przechodzen
Highlight: Talkie.ai closed a seed round led by NCBR Investment Fund and 4growth VC in 2022, raising €2.5M.
Diagu
Diagu (Poznan, Poland) evaluates the results of laboratory tests of patients and other collected data, such as medical history, previous diagnoses, or medications taken, to assess diseases and suggest further treatment.
Founder: Anna Rybka – Krysiak
Highlight: Diagu raised a $2M seed funding from FasterCapital in 2021.
Cardiomatics
Cardiomatics (Krakow, Poland) is a cloud-based AI ECG analysis technology to bring advanced cardiac diagnostics closer to patients.
Founders: Mariusz Masior, Rafal Samborski
Highlight: In 2021, the health tech solution secured a €1.9M seed round led by Czech KAYA VC together with a €850K grant from National Center for Research & Development.
AILIS
AILIS (Krakow, Poland) is a breast cancer prediction technology using Parametric Dynamic Imagining, AI, and telemedicine to detect cancer and predict the possibility of cancerous changes.
Founders: Jacek Gruca, Mateusz Moderhak, Michal Matuszewski
Highlight: AILIS closed a seed round of $1.6M in 2020 from National Center for Research & Development and a business angel and received a grant of $185K in 2021.
Aireen
Aireen (Prague, Czech Republic) is a non-invasive AI-based medical device company that screens chronic diseases by analyzing digital images of the retina.
Founder: Jan Hlaváček
Highlight: The startup was backed by tech-focused Czech VC Tensor Ventures in 2021, raising $1M.
AI in Finance & Insurance

Due to the ability to analyze vast amounts of data quickly and accurately and make predictions based on that data, AI has found extensive applications in the finance and insurance sectors. AI startups in Central Europe from the V4 region cover areas of fraud detection, risk assessment, and other sectors helping to increase efficiency, reduce costs, and provide better services.
SEON
SEON (Budapest, Hungary) is an online fraud prevention platform that detects and stops fraud in real-time through transactional data analysis using ML and human intelligence algorithms.
Founders: Bence Jendruszak, Tamas Kadar
Highlight: SEON is one of the most notable Hungarian startups, raising a Series B round of $94M in 2022, led by IVP.
Nethone
Nethone (Warsaw, Poland) is an ML-based fraud prevention SaaS company that allows online merchants and financial institutions to screen and understand their end-users to minimize risks.
Founder: Kacper Szcześniak
Highlight: In 2021, Nethone secured a $6.7M Series A round and was acquired by Luxembourg-based online payment company MANGOPAY in late 2022.
Self Learning Solutions
Self Learning Solutions (Warsaw, Poland) is a global technology company providing software for FinTechs to automate and organize business workflows with low-code/no-code solutions.
Founders: Karol Dziasek, Przemyslaw Kaminski
Highlight: The startup closed a seed round of $1M in 2022, backed by Polish WP2 Investments and SMOK Ventures.
Flowpay
Flowpay (Prague, Czech Republic) provides data-driven financial services for SMEs embedded within their platforms, offering lending through platforms such as point of sales, e-commerce & payment providers.
Founders: Daniel Hastik, William Jalloul
Highlight: In 2022, Flowpay secured two convertible notes from DEPO Ventures (€150K) and Techstars ($20K).
Tensorflight
Tensorflight (New York, US, but offices in Bialystok, Poland) is an InsurTech solution automating commercial property inspection, underwriting, and risk assessment via computer vision and AI.
Founders: Robert Kozikowski, Zbigniew Wojna
Highlight: Tensorflight raised a Series A round of $4.4M in 2021, led by Australian QBE Ventures.
Quantee
Quantee (Warsaw, Poland) is a SaaS AI-based platform for dynamic insurance pricing, helping insurers improve the accuracy of pricing models, deliver more targeted results, and enable instant deployment and monitoring in real time.
Founders: Dawid Kopczyk, Mateusz Gintrowski
Highlight: The startup closed its seed round led by Nunatak Capital in 2022, raising $700K.
AI in Cybersecurity

Artificial Intelligence has a significant role in cybersecurity, as it can help organizations detect, prevent, and respond to cyber threats. The Czech Republic has made its name in the industry with quite a developed cybersecurity sector and a globally-recognized company, Avast, originating in the country.
Whalebone
Whalebone (Brno, Czech Republic) is a cybersecurity startup developing zero-disruption products for Telcos, ISPs, and enterprises, providing seamless DNS security.
Founders: Lubos Cerny, Richard Malovic, Robert Sefr
Highlight: Whalebone raised $3M in a Series A round in 2021, backed by Hungarian Day One Capital.
ThreatMark
ThreatMark (Brno, Czech Republic) is a fraud prevention service provider delivering real-time client recognition solutions, enabling banks to build completely trusted and safe online banking systems.
Founders: Kryštof Hilar, Michal Tresner
Highlight: Deloitte listed the cybersecurity solution among the 2021 Top 50 Technology Fast 50 for CE. The startup raised $3M venture round from a Czech VC Springtide Ventures.
AI in Enterprise

Transforming the way businesses operate, AI plays a significant role in the enterprise industry. Some of the most common AI applications are automating repetitive tasks, enhancing customer experience, improving decision-making, or optimizing operations.
Rossum
Rossum (London, UK, office in Prague, Czech Republic) is an AI-based cloud document software for automated business communication, processing invoices, purchase orders, claims, and other documents.
Founders: Petr Baudis, Tomas Gogar, Tomas Tunys
Highlight: Rossum closed its last Series A round in 2021, raising £72M with a lead investor General Catalyst. The promising startup is on the way to becoming a unicorn.
Neptune.ai
Neptune.ai (Warsaw, Poland) solution helps companies manage model-building metadata, track experiments, register models, and integrate workflows.
Founder: Piotr Niedzwiedz
Highlight: Neptune.ai was named among the 2022 CB Insights AI 100 List of Most Promising AI Startups and raised $8M Series A in 2022 led by Almaz Capital.
Colossyan
Colossyan (London, UK, R&D center in Budapest, Hungary) AI-powered solution enables users to create videos from text using Generative AI focused on the learning & development sector.
Founders: Dominik Mate Kovacs, Kristof Szabo, Zoltan Kovacs
Highlight: Colossyan closed a Series A round in early 2023, raising a $5M investment led by Bulgarian LAUNCHub Ventures.
CodeNOW
CodeNOW (Prague, Czech Republic) is a software platform as a service enabling businesses to automate cloud-native software development lifecycle.
Founder: Petr Svoboda
Highlight: In 2022, CodeNOW closed a €3M seed round led by Czech J&T Ventures. The startup was named among the top Technology Fast 50 2020 startups by Deloitte.
MATSUKO
MATSUKO (Kosice, Slovakia) is a B2B software company bringing realistic holographic communication for virtual company meetings to revolutionize them using AR, VR, and XR.
Read more:
Coding the future of 3D creation: the story of GenZ-founded Kaedim
Founders: Maria Vircikova, Matus Kirchmayer
Highlight: The company raised €2.5M seed round in 2019.
Alphamoon
Alphamoon (Wroclaw, Poland) helps companies automate document processing and extract essential data using an AI-based platform.
Founders: Adam Gonczarek, Michał Staśkiewicz, Michał Walczak, Paweł Świątek
Highlight: The startup secured €2.1M seed round in 2022 led by Sunfish Partners.
Amio
Amio (Prague, Czech Republic) helps enterprises improve customer experience by implementing automation into customer support with a virtual assistant.
Founder: Matouš Kučera
Highlight: In 2021, Amio secured €390K pre-seed funding led by Business Angels Fund, raising a total of €490K in 3 pre-seed rounds.
SmartyMeet
SmartyMeet (Warsaw, Poland) leverages AI technology to enhance video meetings by creating automatic notes during calls and real-time language translation.
Founders: Monika Wyszynska, Rafal Fic, Slawomir Kroczak
Highlight: In early 2023, the startup raised a pre-seed funding of over €200K from LT Capital and Amazon Web Services.
Emplocity
Emplocity (Warsaw, Poland) is a deep-learning software company developing chatbots that combine virtual assistants' functionality and process automation platforms.
Founders: Krzysztof Sobczak, Arkadiusz Talun
Highlight: Emplocity is recognized in the CESA Awards 2019 as the Best AI/ Machine Learning Startup and cooperates with companies like DPD or ING.
AI in Retail & E-Commerce

AI technologies help retail and e-commerce businesses enhance the customer experience, optimize operations, and increase revenue. The applications include inventory management, personalization, pricing optimization, and chatbots.
Cosmose
Cosmose (Singapore, office in Warsaw, Poland) empowers retailers by synergizing offline and online for omnichannel, helping them understand offline consumer behavior, delivering predictive analytics for businesses to optimize their marketing strategies, and boosting revenue.
Founder: Miron Mironiuk
Highlight: Cosmose raised $15M Series A in 2020, led by Tiga Investments. The solution influences how 1B+ consumers shop.
Zowie
Zowie (Dover, US, office in Warsaw, Poland) empowers e-commerce teams with an AI-powered chatbot automating customer service to boost sales.
Founders: Maja Schaefer, Maciej Ciolek
Highlight: In 2022, the startup secured a $14M Series A funding led by Tiger Global Management.
Talk-A-Bot
Talk-A-Bot (Budapest, Hungary) is an IT company that provides an enterprise chatbot to corporate professionals, companies, and brands for consumer and employee communication.
Founders: Akos Deliaga, Gergely Kalydi, Laszlo Papp
Highlight: The startup closed a venture round earlier in 2023, raising €3.5M from Széchenyi Capital Fund Management.
Yosh AI
Yosh AI (Warsaw, Poland) is a deep tech company automating communication between enterprises and users with AI voice and text assistants.
Founder: Kasia Dorsey
Highlight: The startup secured a $2M seed round in 2021.
SALESmanago
SALESmanago (Krakow, Poland) is a customer engagement platform for e-commerce marketing teams using AI-driven solutions.
Founders: Grzegorz Blazewicz, Konrad Pawlus
Highlight: SALESmango raised $6M in 2016 and announced new client acquisitions in 2022, including Toys "R" Us and 100 new European brands.
Yieldigo
Yieldigo (Prague, Czech Republic) is a retail pricing tool based on chain-specific customer behavior captured from live transactional data and selected pricing strategy using AI.
Founders: David Klecka, Jiri Psota, Radim Dudek
Highlight: Yieldigo closed a seed round of €2M in 2020 led by J&T Ventures.
Inventoro
Inventoro (Prague, Czech Republic) is an Al-driven inventory forecasting, replenishment, and industry-standard inventory management.
Founder: Tomas Formanek
Highlight: In 2022, the startup secured a 20M CZK (~€850K) seed round investment from Czech VC Presto Ventures.
AI in Marketing, Media, & Sales

Technology has transformed the marketing field over the past two decades. In 2021, the global marketing tech market utilizing AI accounted for $15.84 billion, with projections to reach more than $107.5 billion by 2028. From advertising, promotion, content, experience, commerce, and sales to socials and relationships, artificial intelligence is often used for data analysis, content generation, Natural Language Processing, personalization, and automation of processes.
SentiSquare
SentiSquare (Pilsen, Czech Republic) is an AI-powered service for digital marketing managers using deep semantics to discover and summarize opinions hidden in multilingual content, reporting on the main issues customers face.
Founders: Tomáš Brychcín, Josef Steinberger, Peter Kesch, Stanislav Rejthar
Highlight: SentiSquare was founded as a university spin-off and raised €1M in a venture round in 2021 led by Fazole Ventures and IXPERTA.
AI in Manufacturing

Applications in predictive maintenance, quality control, production planning and scheduling, supply chain management, autonomous robots, and process optimization help to improve efficiency, reduce costs, and improve product quality, making AI an essential tool for modern manufacturing.
Photoneo
Photoneo (Erlanger, US, Slovak-founded) company provides robotic vision sensors and intelligence software, autonomously picking, consolidating, and dispatching orders. The company belongs to Photoneo Brightpick Group.
Founders: Jan Zizka, Tomas Kovacovsky and Michal Maly
Highlight: Earlier in 2023, Photoneo raised a $19M Series B funding led by Taiwania Capital Management Corporation, closing its overall Series B round at $40M.
Elmodis
Elmodis (Krakow, Poland) provides an IoT solution that improves electric-powered industrial machines' energy and operating efficiency, enabling clients to monitor machines' performance in real-time remotely.
Founders: Kamil Kozak, Marcin Swiech, Tomasz Hartwig
Highlight: Elmodis is used in over 40 countries and has raised $5.2M in 2 seed rounds.
ReliaSol
ReliaSol (Krakow, Poland) is an AI-driven solution helping manufacturers predict machinery failures and optimize production performance through input data such as operational, production data, and monitoring systems.
Founder: Mateusz Marzec
Highlight: ReliaSol closed a Series A round in 2019, raising €3M in funding from ICOS Capital Management and EEC Ventures.
Neuron Soundware
Neuron Soundware (Prague, Czech Republic) is an AI company using sound recognition for predictive maintenance, using audio analysis to detect broken machines.
Founders: Pavel Konecny, Petr Cernohorsky, Tomas Vacek
Highlight: Neuron Soundware closed its Series A round of €2.1M in 2019, led by Inven Capital and Lead Ventures. The solution was named "Idea of ​the Year 2016" in the Czech Republic.
Surveily
Surveily (Wroclaw, Poland) applies AI technology to increase safety in manufacturing plants, detecting threats through existing CCTV in real-time and allowing for early prevention and mitigation.
Founders: Wojciech Tubek, Wojtek Turowicz
Highlight: Surveily secured a €1M seed round investment in 2022, led by Kogito Ventures and SATUS Starter.
Pekat Vision
Pekat Vision (Brno, Czech Republic) provides solutions for automated visual inspection in manufacturing sectors, enabling manufacturers to detect and classify objects or anomalies through neural networks.
Founder: Petr Smid
Highlight: The startup closed its seed round in 2019, raising $750K from Lighthouse Ventures. Pekat Vision was acquired by Italian Datalogic for €16M in 2022.
AI in Logistics & Transportation

AI is a game changer for the efficiency and sustainability of the transportation and logistics industry, benefiting both businesses and consumers. The advanced technology can help identify which steps in the supply chain can be improved to increase revenue.
Nomagic
Nomagic (Warsaw, Poland) provides intelligent pick-and-place robotic solutions for order fulfillment that offer efficient item handling to pick from storage, sort, or pack a large variety of SKUs.
Founders: Kacper Nowicki, Marek Cygan, Tristan d'Orgeval
Highlight: Nomagic raised a $22M Series A round in 2022 led by Almaz Capital and Khosla Ventures.
VersaBox
VersaBox (Warsaw, Poland) is a smart robotics company that designs and manufactures autonomous, guided vehicles for industrial and consumer applications.
Founders: Jacek Królik, Jakub Michalski, Mateusz Wiśniowski, Michał Walęcki, Rafał Chojecki
Highlight: In 2020, VersaBox raised €2.5M in seed round funding led by FIDIASZ.
CosmoEye
CosmoEye (Lublin, Poland) develops a streaming system for warehouse management and enterprise resource planning, allowing companies to monitor large workspaces with AI and video cameras.
Founders: Kosma Kindlik, Kamil Dudek
Highlight: Founded in 2022, the startup has raised over €830K over pre-seed and seed funding rounds.
AI in Mobility

Making the mobility landscape more efficient, sustainable, and accessible, artificial intelligence spans in the vertical from autonomous vehicles to traffic management, ride-sharing services, and other areas.
AImotive
AImotive (Budapest, Hungary) builds an ecosystem to aid the deployment of automated driving, developing self-driving software, proprietary simulation tools, and neural network acceleration hardware IP.
Founder: Laszlo Kishonti
Highlight: The company raised $20M in Series C funding in 2022 and was acquired by Dutch Stellantis later that year. With total funding of nearly $70M, AImotive is one of the most notable Hungarian AI startups.
GoodVision
GoodVision (London, UK, R&D center in Prague, Czech Republic) is a B2B SaaS traffic analytics platform automating traffic data collection from existing camera infrastructure, providing smart city solutions for urban traffic monitoring, modeling, and control.
Founders: Daniel Stofan, Lukas Hruby
Highlight: GoodVision raised €2.7M venture round in January 2023, led by Hungarian Lead Ventures accompanied by Czech Credo Ventures and Bulgarian Sofia Angels Ventures.
roboGaze
RoboGaze (Szekesfehervar, Hungary) develops solutions to increase road safety by democratizing AI-driven driver monitoring systems, including face recognition, multi-factor driver fatigue monitoring, and real-time driver distraction detection.
Founders: Arpad Foldesi, Gergely Várhelyi-Tóth, Zoltán Csaba, Ábel Gábor
Highlight: In 2022, the startup secured a Series A round of $1.7M led by Bonitás Ventures.
Sternkraft
Sternkraft Telematics (Lodz, Poland) is an IoT-embedded software company that uploads Computer Vision algorithms on MVR CCTV, specializing in public transportation. Its advanced camera technology identifies, alerts, and deters human safety threats.
Founder: Marcin Lewicki
Highlight: The startup closed its seed round of an undisclosed amount in 2022.
AutonomyNow
AutonomyNow (Warsaw, Poland) develops autonomous hardware and software systems for the automotive bus and coach industry integrating multiple safety features in one system.
Founder: Konrad Sloniewski
Highlight: AutonomyNow raised over €200K pre-seed investment from Carlson ASI EVIG Alfa VC fund in 2022.
AI in Energy

With the rising importance of renewable energy and the currently significantly rising prices in the region, AI will play a critical role in driving innovation and enabling the transition to a more efficient energy future. With the ability to analyze large volumes of data, AI can optimize energy usage by predicting demand patterns and managing supply chain logistics.
Fuergy
Fuergy (Bratislava, Slovakia) provides solutions for energy optimization, developing its own modular battery system and software platform powered by AI, from smart energy storage systems and enhanced utilization of green energy sources to dispatch systems or automated energy trading.
Founders: Branislav Safarik, Radoslav Stompf, Rastislav Kuba, Vladimir Miskovsky
Highlight: The Slovak startup raised €16M in its first venture round in 2023, led by Pro Partners Holding, to develop and expand to markets.
Solwena
Solwena (Gdansk, Poland) is an AI-driven building energy management system that decreases energy consumption in buildings.
Founder: Edwin Dudziak
Highlight: The startup raised a 7.5M PLN (~€1.6M) seed round in 2022 led by EEC Ventures.
Industry-agnostic AI

Discover the industry-agnostic AI startups in Central Europe.
Synerise
Synerise (Krakow, Poland) is a deep-tech company providing advanced and proprietary AI and big data technology solutions in more than 30 markets. The platform allows clients to store and process all their heterogeneous data and automate data-related processes with an AI and a no-code/low-code interface.
Founders: Jaroslaw Krolewski, Krzysztof Kochmański, Miłosz Baluś
Highlight: The startups secured a $23M Series B funding in 2022 led by Carpathian Partners. Synerise is currently the fastest-growing Polish company in the tech sector.
Superface
Superface (Prague, Czech Republic) creates a new category of autonomous business integration as a successor to APIs, offering unified SDK and infrastructure for autonomous self-integrating applications available for CRM, ATS, payments, and more.
Founders: Radek Novotny, Zdenek Nemec
Highlight: The startup announced raising its seed round of €2.6M in 2022 with, led by Tera Ventures.
Filuta AI
Filuta AI (Prague, Czech Republic) offers intelligent automation services that enable faster development in hand-coded modeling, providing observability, scalability, A/B testing, continuous deployment, and testing out-of-the-box.
Founders: Filip Dvořák, Martin Dušek
Highlight: Filuta AI raised 56M CZK (~€2.4M) pre-seed round in January 2023, backed by Nation 1 VC, making it the biggest investment relative to the startup's early stage in the country so far.