event
It's Time For The Big Reset: A Solution-Oriented Online Conference Of The Innovation Community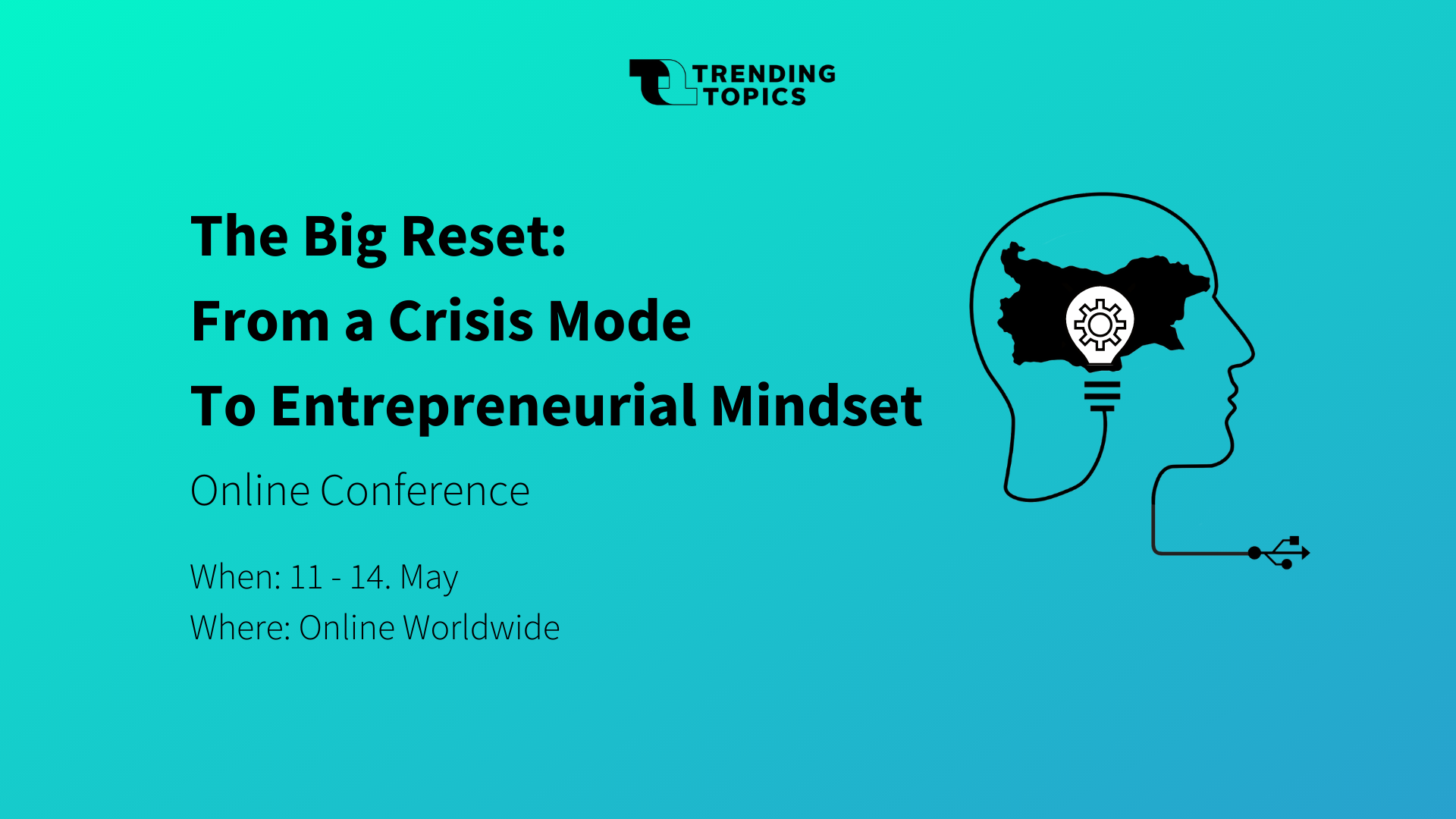 "When written in Chinese, the word crisis is composed of two characters – one represents danger, and the other represents opportunity," John F. Kennedy once said. We would like to explore the second option: could the current crisis be an opportunity for Bulgaria, and if so – of what kind?
Regardless of what we do and how we will go through the next several months and the different secondary crises related to COVID-19, one is clear – things we've taken for granted will inevitably change. Some for good. And some for better. Some things may come back to the old normal, but there will also be a new normal that includes the new learnings, models, and mindsets we are currently adopting. Historically, crises have always boosted innovation in one way or another. This is what we want to put on the agenda between May 11th and 14th 2020.
How can we use the momentum and turn our popular outsourcing destination into the Top Innovation Hub in CEE? 

What is the future of work? What lesson did we learn from the remote mode in the last weeks about leadership, productivity, and the skills we need to develop as IT professionals? 

What are the new business models that will change the game for startups, for corporations, social enterprises and why not – for the public sector? 
For four days in four major tracks, entrepreneurs, leaders, experts, community builders, and policy-makers will discuss and explore opportunities in various digital forms webinars and roundtables, online keynotes and fireside chats, analytical articles, video interviews and case studies, side events hosted by partners, a virtual expo. 
Who's in?
To discuss the practical side of turning Bulgaria into a gravity center for innovation in the region will join entrepreneur and investor Vassil Terziev, Progress Vice President Vessko Kolev, economist and co-founder of Center of Economic Strategy and Harvard graduate Assen Vassilev, Javascript community leader and Microsoft regional leader Mihail Mateev. More panelists will be confirmed in the next few days. 
About "the tomorrow" of work we'll talk to Todor Kolev, who's passionate about decentralized autonomous organizations (read more here), Radoslav Stankov, the head of Engineering of all remote company ProductHunt, performance couch Velina Getova. 
Business innovation is one of the inevitable side effects of the whole crisis. But what does it mean in practice, what are the solutions we need to be working on and how to approach new challenges. We'll talk to Stefan Zlatev from Breakthrough Energy Ventures, and Miroslav Gechev, an intrapreneur who spun off an IoT startup out of IT service provider Telelink. This track will also feature a keynote by Emily-Sidney Smith, who's been consulting some of the biggest brands you could think of on the matter of disruptive innovation (read more about her here).
Not least, after we saw the huge wave of hackathons oriented towards social innovation throughout Europe, we thought it's time to put this on the agenda next to hardcore business. So we've invited an experienced social entrepreneur – Bhushan Trivedi, who's built social ventures in India before moving to Sofia, and has a lot of interesting stories to share, and also to the point questions to ask to his panel. 
The community is joining
Trending Topics is a community-driven project. So is The Big Reset. Alongside the four panels and three keynotes, there are plenty of side events organized by our partners. Our sponsors will have their own booths where you can learn more about their companies and what they are currently up to. 
The Bulgarian Private Equity and Venture Capital Association (BVCA), the startup Association BESCO, the think tank MOVE.BG, hiring startup Noble Hire, upskilling academy Telerik Academy, The Bulgarian Fintech Association, Endeavor Bulgaria, the International Innovation Network InnovationOrbit, product community ProductTank Sofia, innovation agency Launchlabs – this is the list of partner event organizers that we are updating on the go. Wow, honestly, we were not expecting such enthusiasm from the ecosystem – but here it is and we can only say: Hold your breath as the guys are planning exciting events. You can keep track of the schedule and program here. 
Progress, the US company that acquired Telerik in 2014 writing the first big success story of the local IT entrepreneurship, is our general sponsor. Honestly, we couldn't have even thought of a better fit. 
So here we are now –  on the way to The Big Reset as a community and we invite you to join us on this journey.