interview
Mihail Durchev: I Want To Encourage Entrepreneurship And Failure. Beer Just Happens To Be My Tool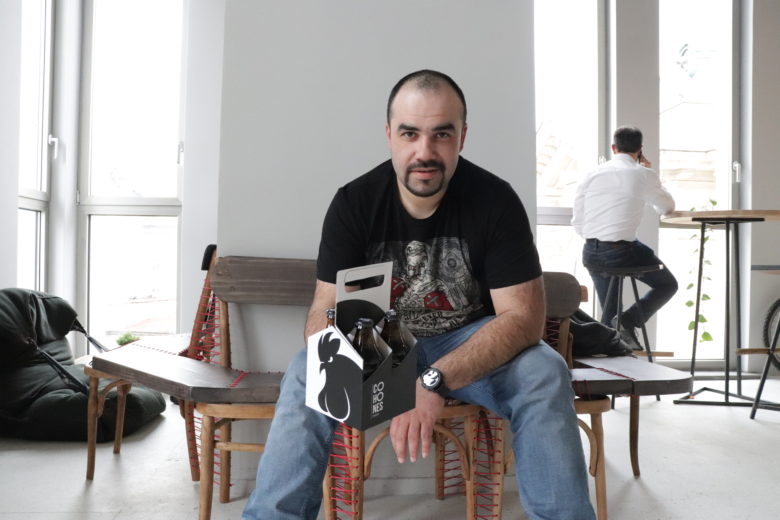 Mihail Durchev is a lawyer by education, an entrepreneur by calling, and spent the past ten years working in one of the major Bulgarian communication agency – All Channels. The idea of brewing a beer, however, had been on his mind for quite some time – ever since his studies in Berlin. And three years ago, it started coming into shape. 
Recently, brewing craft beers is gaining popularity in Bulgaria, and even the Union of the Brewers in the country started mentioning the segment since last year. And although it's accounted for around 1% of the whole beer market, it's growing with double digits and more and more companies are entering it. (Ok, not so many, there are officially around 10 craft breweries in Bulgaria – ed. n.) 
Durchev's Cohones (the Spanish word "cojones" is used as slang for boldness and literally means testicles) is one of the new brands on this market and is brewed in a 250 m2 small brewery in Sofia. Being launched last July, it's not just targeted at craft beer lovers but has a mission – to support bold people and encourage them to try and not be afraid of failure. He sees Cohones as a startup. Although it's not a tech business, it started like any entrepreneurial venture – with all the money he had, two loans, and some of his parents' savings. Durchev sees it as a scalable model, but more importantly … wants to be part of the startup community and be among likeminded people who dare to do things although they might be laughed at.
Cohones' bottles actually tell stories of entrepreneurs. Trending Topics has been partnering with the brand for several months now on identifying bold early-stage entrepreneurs who have failed or have been close to failure or have done something unusual. The stories could be accessed through a QR code on the beer bottles and in the "Cohones with Vision" series on our website. And we just thought it's about time to show the face of the proto-Cohones Mihail Durchev. 
Trending Topics: So what is Cohones and why do you refer to it as a startup?
Mihail Durchev: Cohones is a dream come true. With it, we don't want to just brew and sell beer, we want to create and experience, and bring a message across. We want to provoke more people to be bold, entrepreneurial, to overthink less, and drink proper beer, of course! 
At the end of the day, no one has succeeded by thinking about their ideas. Like with all startups, people are first laughing at you. People were laughing at me too. 
Why are we a startup? Well, besides the mindset, it's also an easily scalable and fast-growing business. On a global level, the market share of lager beers is going down and craft beers are gaining momentum. We are expandable and scalable because of the mindset of the craft beer consumers – they are constantly on the lookout for something new. Furthermore, we want to do things differently than they are done in the craft beer sector. 
What do you mean when you say you want to do things differently?
Well, the craft beer sector lives from collaborations – usually between different breweries that create new lines and tastes together. Our collaborations are mainly outside this sector – for instance the one with you, guys. I guess that's our innovation. We want to work together with people and brands that have our DNA, who have ambitions, tried hard, failed, stood up, continued. We don't want to be just the next beer on the shelf, but tell stories, inspire and encourage people. The beer is just the tool to encourage people to keep trying.
How did it all start? What's the story of Cohones?
The idea's been around for many years and three years ago it started taking shape. Back then I was still a production manager in All Channels Communication but was already convinced I wanted to brew craft beer. So, I gathered all the money I had, also some of my parents' savings, and loans (laughs) and went on looking for space and equipment. All Channels's team of creative leaders supported the development of the Cohones's visual identity and communication strategy. And once we had this whole idea perfectly packed and ready, along the way, and almost by chance, I managed to attract the two people – Maya and Todor, who decided to take this challenge with me. It all took us quite some time and many fuckups to launch the first beer. We had to wait for over a year for all the permissions we needed to open up a brewery. This is something we didn't expect. Then after we bought our first equipment, quite expensive indeed, we had to learn how to work with it. Believe me, the first beer we brew was… well, let's say it was strong enough to make a horse dizzy (laughs), and its taste was suitable for the same consumer too. We had to throw away some production, materials, and equipment along the way till we were confident we were doing the things right. We didn't have a name up until the last days before the presentation. Me and my brother who's head of the advertising agency I used to work for, procrastinated the name till the very last moment. 
Anyway, as a result, last summer we were finally able to introduce our first beer to the market. And here we are today, with three people producing 5 tonnes of beer monthly, and growing. 
Why is this focus on entrepreneurs, startup community and failure?
Because it's important for us and we feel comfortable among these people. The basic buyer is 20 to 40 years old, and people who'd understand us. They could be entrepreneurs, they could be people passionate about extreme sports, and everyone who'd understand us. At the very inception of the brewery, we wanted to get across a message – dare and do. 
As of failure, well, we want to promote this idea and concept because that's how entrepreneurship works and the only way you learn. Everyone who's trying to develop something on their own deals with fuckups on a daily basis. I cannot even count the situations we had since we started with Cohones. We've failed every step of the way for the three years we are in the game. 
Most of the startups test the product on the local market (if at all) and then go abroad. What about you?
Well, the local market is small. The craft beer culture came last to Bulgaria. Romania, Greece, and Serbia are much more developed markets. In Serbia for instance, there are over 40 craft breweries, whereas in Bulgaria there are ten.
Expansion abroad has been part of the plan since the very beginning, of course. We wanted to export and to put Bulgaria on the craft beer map.