Interview
mySugr after the deal: "We want to become the biggest diabetes brand in the world"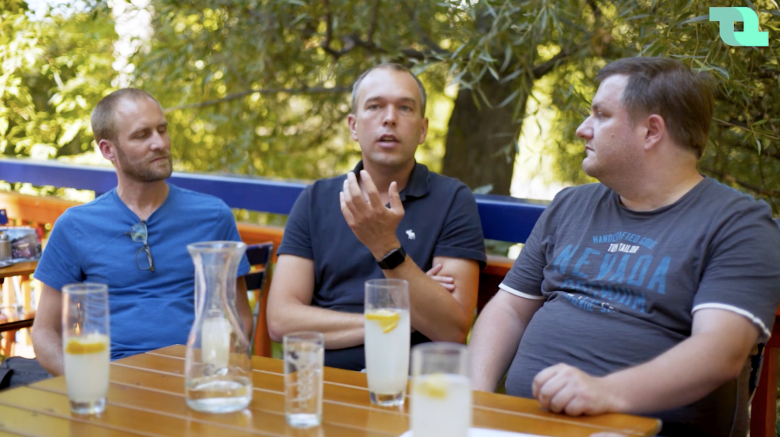 On June 30, 2017, a new era began for the Viennese diabetes startup mySugr. The Swiss Pharma giant F.Hoffmann-La Roche AG (revenue of 50 billion euros in sales in 2016) secured 100% of the fledgling company via its subsidiary Roche Diagnostics. The price tag is estimated to have been around €80 million, bringing the 40-heads strong team around Frank Westermann, Gerald Stangl, Michael Forisch and Fredrik Debong into Roche's fold.
Just one week after the deal, the founders announced that they would distribute one million euro to their employees, as loyalty bonus (Trending Topics reported exclusively). We met the founding team last week for an interview on corporate identity, new markets, competitors and data protection. Here is the whole talk on video (in German):
TT: What are the strongest recollections you have from the months before the successful exit?
Gerald Stangl: I always have certain situation in my head: Before we communicated internally the loyalty bonus, we had given our employees two hours' time to pepper us with questions about the exit. Only when the first were about to leave, and the atmosphere had shifted from insecure to positive, Frank said: "There's one thing we forgot to tell…" They simply couldn't believe they would personally profit from the deal. Us four founders had tears in our eyes when we saw how happy our employees were.
Michael Forisch: I for one finally have time to sleep again. The biggest part of the management team was busy with due diligence for an entire half year.
TT: mySugr cultivates a special corporate culture based on transparency, flat hierarchies and optimism. Did this identity change as a  result of the exit?
Gerald Stangl: It's not yet long enough to feel concrete consequences or changes. But in fact, one of the decisive factors for Roche to buy us was our corporate culture. Even now, Roche keeps asking us relentlessly about how we organize everyday work in our firm and how we lead our employees. There is a desire to learn from us. Yesterday, the boss of Roche Diabetes Care visited us and our people quickly noticed that they have real interest in us.
Michael Forisch: The way I see it, Roche does not want to impose their culture on us, but rather encourages us to bring our culture to them and to the whole group.
TT: What's the cooperation within such a huge company like in the daily business?
Frank Westermann: It's getting ever more intense. Roche is an immense company with processes and branches in many countries. For us, the learning curve is steep, particularly about new opportunities in the future. As of now, we're still in the honeymoon phase – it already lasts two months, though, and we hope it will last yet a bit longer. At the moment, you just see happy faces at mySugr and we hope it will stay that way.
TT: Which new markets can you develop thanks to the cooperation with Roche?
Frank Westermann: The mindset is completely different. Roche operates with the self-confidence of a global multinational. We focused on our core markets Europe and the U.S. before the exit, and were more than busy with that. Now, suddenly, we've got this new perspective to bring mySugr to interesting markets like China, Russia or Australia. But of course, with that we also encounter new cultures and new problems we did not face yet in this way – these will be the challenges of the future for us.
Gerald Stangl: Talking about visions and thinking big: For us, the perception people in our industry get from us is paramount at this juncture. We want to become the biggest diabetes brand in the world and that is no pipe dream anymore. Everybody in the company believes in that goal and Roche also thinks we are capable of pulling that off.
TT: mySugr announced they want to grow to a size of 200 employees in Vienna. Are there enough talented specialists in the field available here in Vienna?
Michael Forisch: We've got a gigantic hiring plan for this year. Some positions are already advertised on our webpage. Between 10 and 20 new hires will join us in the next couple of months. However, it becomes ever more difficult to find the right international specialists which we need in Vienna. Last year, we already helped several highly qualified people to move to Vienna, because we did not find talents of this caliber here.
TT: How do insurances, customers and producers approach you now, after the deal?
Fredrik Debong: I am going to many conferences and there you really build strong personal relationships. I have the impression that those who were anyway our friends already, have remained our friends. And those who did not know us before have read about us in the last couple of weeks. Some time ago, I attended a big diabetes conference in Minneapolis. There, I met a couple of businessmen who approached me due to the Roche deal and wanted to get into business with us. After the conference, I was invited to visit the Roche plant in Minneapolis. This place is just enormous. And in the industry, they really respect this company, Roche.
TT: Which parts of the company will be merged?
Gerald Stangl: Operationally, we will stay independent. Our repositioning allows us to create an open ecosystem together with Roche.
Frank Westermann: In fields like legal affairs, where it doesn't make sense to duplicate matter, we will certainly do things together. However, it is very important that we remain an independent company. We do not relay data to the Roche backend. Integration and mergers will happen in fields where we see potential synergies and where we can save costs. But we are not taking any steps affecting our customers or putting our platform's openness and independence in question.
Gerald Stangl: In the last meeting with Roche, we also agreed on how we want to manage communication flows and there as well, we will not change things. Solely on the level of the owners we will act together if we want to communicate something externally, but even that is happening quite rarely.
TT: You are now directly competing with Sanofi and Google, who work the same market with Unduo. Do you feel up to the task of taking them on?
Gerald Stangl: They also put on their trousers one leg at a time. When we founded my Sugr, many big names out there, some in Silicon Valley with a lot of money, had a similar model to ours. They are all gone today. Back then, we were the small fish from Vienna and now we tackle this new challenge with the same ease as we did back then.
TT: Could you imagine to also invest in other startups, like the founders of Runtastic and Shpock did after their respective exit deals?
Frank Westermann: Our personal focus remains one hundred percent on mySugr, but one day we want to feed some of the money we got back into the ecosystem. On our path, we definitely made one or another interesting experience that we would like to pass on to new founders, who are just starting their journey. Not everybody needs to repeat the mistakes we made. We certainly have some tips to pass on.
Gerald Stangl: Encouraging and promoting entrepreneurship in Vienna lies particularly close to our heart. We want to share our experience with mySugr, free and open.
TT: What is your opinion on the growing ecosystem in Vienna? This year, two major new hubs, weXelerate and Talent Garden, will open their gates here.
Gerald Stangl: Everything that provides new infrastructure and strengthens the perspective, that founding a company is an exciting and enriching experience – and that also failing is something completely normal – makes the city more attractive and the people more courageous. Each and every initiative is welcome.
TT: There are concerns that a fusion of technology and medical markets may leave patients and their data at the mercy of companies. Are you affected by this debate?
Gerald Stangl: We care about the value we can give to people. And if data helps to improve the product, we will use it. Certainly, we need to exercise utmost caution to protect this data. We find all complex business models based on using data in questionable ways in the background to be dishonest and reject them.
Michael Forisch: The benefit for the customer is paramount. We will not collect data for the sake of collecting data. It would not be possible to convey this to the customers either. Hacks are a big risk. We have now finally emerged on radar screens and are not the small startup from Vienna anymore. We also let hacker groups regularly hack our system to be prepared for anything. But it's a constant arms race.
Fredrik Debong: We hardly get any inquiries about data protection. We've had 70,000 conversations with our customers. About 150 had questions about privacy and its protection, and almost all of them came from Germany.  The world still has to learn that privacy is important, and the Germans have already learned that."
TT: How do you benefit from data?
Frank Westermann: We deal very openly with our users. One time, we made a precarious mistake in a calculation and immediately apologized to the users as well as told them how we fixed the glitch. If a user has confidence in a company, he or she can help the company a lot. In medicine, data collection helps detect errors and optimize therapies. But everyone needs to decide for themselves how to deal with this issue. Yet anyone categorically disagreeing with all of this stands the risk of being excluded from technical progress. It's a deeply personal issue and everyone has to decide that for themselves. That's how our world works.
Fredrik Debong: Privacy and automation are two sides of a coin. The exact angles, the perfect configurations, must be found by everybody individually. That's where we should be heading to as a society.
Michael Forisch: We need to be grown-up and deal responsibly with this issue. Customers should learn what happens to their data and what it means for them when a service is, on the surface, free of charge. But most people don't really care."
TT: What could be the state's role in the area of data protection?
Frank Westermann: It is very important that the legislator drafts a set of rules to make clear what can and can't be done with data, and even more importantly, that these laws are actually executed. We currently have a lot of laws, but no one is looking at whether they are actually being followed. As a small company, we always wanted to act in compliance with the law, but it is a competitive disadvantage if you strictly comply with the regulations. Companies that do not comply should be prosecuted by the authorities.
Michael Forisch: Data protection has long been a toothless paper tiger. The changes currently planned and enacted until next year instead replace the current small administrative fees for non-compliance with penalties reaching €20 million or four percent of turnover. The tiger suddenly grows a set of teeth.
Frank Westermann: Solutions must be found, even for companies based in other countries. Whoever wants to become active in the European context must also abide by the rules ".
TT: What goals are you pursuing for the future development of the app?
Gerald Stangl: For us, the app is just a door opener. With the app, we secure our place in your pocket. In fact, though, we offer a complete set of holistic diabetes management. The real value is created by other things. For example, a real, trained diabetes coach who gives advice via the app. Blood glucose test strips that are automatically delivered to your home without the customer having to go to a doctor or to the pharmacy. The insulin calculation penned by the doctor. All this is sent free of charge when you register with an insurance company with which we cooperate. That's our way: Via the box, which provides everything automatically, so that the customer doesn't have to worry about anything else anymore.
Frank Westermann: Out of a piece of software, we developed a company where you can easily interact with real people, get answers to your questions, and manage your data in a lucid way. mySugr has become a comprehensive, all-encompassing service for diabetics.