Crypto
Pollenity: Bee Smart Technologies Comes Back With New Brand and Fresh €700K
Bulgarian startup Pollenity, better known with its earlier brand Bee Smart Technologies, is coming back after almost two years of silence as the second most heavily funded beekeeping tech company worldwide. With fresh €100K from local fund Eleven Ventures and €600K from the European Commission, Pollenity is planning to bring beekeeping to everyone and build a whole ecosystem around its smart beehive. The startup has also decided to add a cryptocurrency layer to stimulate good beekeeping practices and collect data meanwhile.   
The problem that Pollenity is addressing is the continuous honey bee colonies losses, which are potentially devastating economically. Bees annually contribute about $174 billion worth of pollination to the agri-food industry only in the US a year, playing an essential role in global food production.
The Pivot
In its first years, the founded in 2014 company was working on a combination between hardware devices and software solutions to help beekeepers remotely monitor the health of their colonies. BeeBot, a smart sensor-equipped device could be put in the beehives to collect data such as temperature, humidity, movement etc. and transferred it in an understandable form to the beekeeper's dashboard. The system could also send alerts when something is wrong in the hive like for example the queen bee missing.
In its early days the BeeBot was a less well designed 7 kg box of electronics and was meant for commercial beekeepers who made their living through pollinating crops. Pollenity's business model back then relied on device sales and software subscription. This was the model that got the company its first funding of around €500K (from angels and NEVEQ) and a spot among the finalists of the social entrepreneurship contest Chivas The Venture in 2016.
Most of this has changed, as it appeared the market is far from ready to accept that.  
The new concept
"We had the dream to create a sustainable future for beekeeping. We figured out that the best way would be to offer technology to the commercial beekeepers, the ones that have 96% of the bees. We went to the US so many times and pitched the idea and the product. Yet it was not received that well. What happened? 99% of our customers are the small and hobby beekeepers", explained Sergey Petrov, founder of Pollenity. His company is now rebranding to a B2C business to address a completely new target group, while waiting for the B2B segment to mature. This is also what Pollenity will use the funding from Eleven for.  
Petrov and his team came up with the idea to develop a smart hive with integrated device. This in their opinion would make it easier for wannabe beekeepers to start it up and would meanwhile allow the beekeeping tech ecosystem to collect data and develop smarter solutions.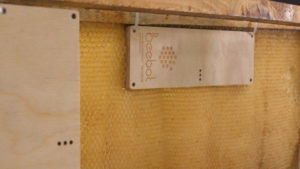 Crypto and Satellites? Data!
Speaking of data, Pollenity comes back also with a whole new set of partners that would allow the company to collect data from more sources and leverage on it in the near future. While penetrating the consumer market, Pollenty seems to still keep an eye on the B2B market and explores diverse applications of its tech. "Even after four years, we still need to gain knowledge in the area, so we started several strategic collaboration", Petrov explained.
The startup has started a partnership with open source blockchain and crypto project BuzzCoin, and they will be the key tech provider for it. Simply put, together the companies will turn hives into cryptocurrency miners, will collect data about the colonies behaviors and reward beekeepers who take good care of their bees. According to Petrov, the company is also partnering on data processing with Austrian telecom provider A1 and might be part of Oracle's World Bee Project, which aims to collect information from a network of smart hives and better understand bees.
In order to be able to source data over long distances Pollentity has started also another partnership – with Dutch company Hiber,which is launching satellites to create an IoT network of devices that communicate over very long distances. "We are partnering to create the first bee analytical ecosystem that speaks to satellites", Petrov told us.
Last but not least, in April Pollenity, together with five European universities, led by the University of Graz, is starting to work on an academic research project called Hivopolis. The Bulgarian company has received €600K financing from Horizon2020, the deep tech investment vehicle of the European Commission, for the project. "The aim of this is to create the hive of the future and we're the only tech provider. I expect a lot of new tech spin offs out of it", Petrov explained.
With all those new features and partnerships, it seems that the company is only temporarily shifting its sales focus on small and hobby beekeepers while perceiving something bigger. Anyway, we could only theorize what Pollenity might be preparing for. But they are probably looking for alternatives as there is already competition on the playground. Last year the Irish agritech startup ApisProtect even closed a $1.8M seed round with a product very similar to the one Pollenity is offering.