interview
Product Marketing Expert: A Chatbot Could Sell Two Times Better Than a Landing Page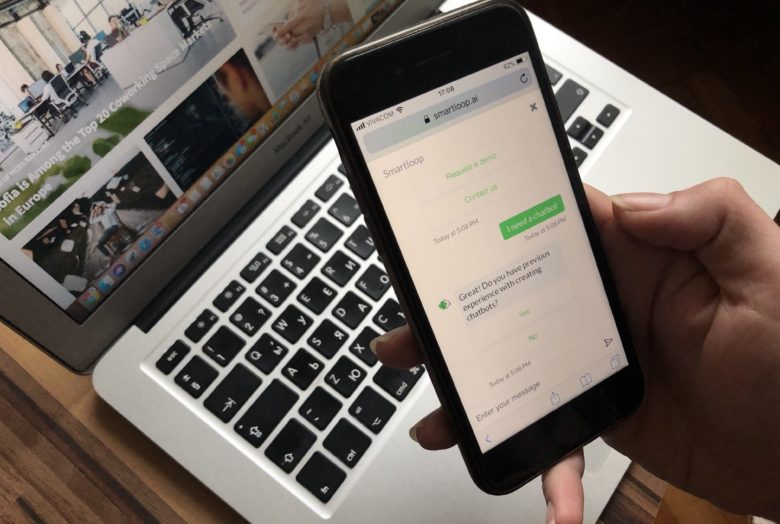 While chatbot sounds so trivial that nobody really considers it an innovation anymore, in reality, it turns out that there's a lot of talk on the matter, but not so huge adoption or at least not huge utilization. Moreover, a major part of the chatbots we know today has less to do with AI than users might think. The major difference – AI-powered bots can answer a set of simple questions that users type in, because they recognize different, while bots that don't use AI would require you to tap on a preselected set of questions and answers.
Vassil Petev is the co-founder of Smartloop.ai, (already former co-founder – update April 2020), a company that has developed a platform for smart chatbots that has received $500K funding from Vassil Terziev and other business angles. His team of four works between Palo Alto and Sofia.  Petev was the second employee and the sixth team member of Telerik, and he has seen the most successful Bulgarian IT company going through the whole process of development. Together with Terziev, he established the support system of the company – the whole help desk. He then switched to product management and product marketing positions – a rare specialization in the local IT sector. Today Petev specializes in chatbots, especially AI-powered ones.
The market for AI digital assistants is estimated to grow to $2.2B USD by 2024, and the technology will further develop. This seems to be related to a lot of uncertainties. We sat down with Petev, to explore what are chatbots really capable of now, how are they changing business processes, will they replace human and what's the potential of the technology.
Trending Topics: The Facebook experiment of chatbots starting to talk to each other in their own language have gone public resulting in uncertainties regarding what chatbots and AI are really capable of. So where are the smart assistants in their development actually?
Vassil Petev: Actually, chatbots are on the rise. This experiment was a hiccup in this journey, but it also proved that AI is capable of handling today's customer needs. There are more than 300K chatbots deployed in Facebook Messenger alone and 8B messengers are being exchanged between businesses and people every month. Yes, it is true that most of the initial Facebook chatbots are not maintained anymore, being created as experiments by early adopters, but the biggest brands already have chatbots. We are witnessing an ever-increasing interest in the technology. There are also other platforms, which support chatbots, such as Viber, WhatsApp, Telegram, Skype, web sites… As a matter of fact, we are seeing as much interest in Viber-based chatbots as in Facebook Messenger. Some industry experts predict that as much as 80% of customer service will be handled by automated conversational agents by 2020.
How much AI is there in chatbots and what is it used for?
Unfortunately, in most of the cases, chatbots don't really use AI. Most of the chatbots today do simple tasks such as sending the user to a landing page or providing the user with a predefined conversation flow, where the user needs to click buttons or answer simple questions to move to the next step.
AI-powered chatbots, however, together with NLU (Natural Language Understanding) and some simple integrations are capable of actions that are much more complex. For example, AI and NLU can be used to answer questions such as "What should I pack for my trip next week?". In this case, the chatbot can check the user's calendar and schedule, to see that the user is going to London for a business trip, and offer an answer: "It will be chilly with a chance of rain in London. In addition to your suit, pack a raincoat and don't forget your umbrella."
What are chatbots currently mostly used for?
So far, companies use chatbots mostly for marketing campaigns and user engagement. It works especially well with consumer products. Last Christmas, we had a campaign with Coca Cola that led to over 1M user interactions with their bot. We have clients that sell physical products via trivia games within the chatbot like National Geographic. We have also a chatbot of an actor who uses it to engage his fans.
Can you give practical examples of how chatbots are changing marketing?
Sure, first of all, they seem to be much more effective than email marketing. The open rate of a push message sent via a chatbot reaches 80% while open rates of email messages are just 25%, so user engagement is much higher. The click-through rate (CTR) in a chatbot is close to 30% while CTR in email is only 3%, i.e. chatbots achieve 10 times more engagement than email. A chatbot is able to "sell" service or a product two times better than a landing page. Users find chatbots more engaging and fun to play with, and as a result, are more willing to provide their credentials. For instance, the chatbot on our website collects three times more information from potential customers when compared to our old "Contact Us" form.
What about customer support? There are many discussions around AI replacing support jobs.
Providing customer support is another area where chatbots excel. The bots are however far from replacing the humans. I can give you an example from our practice and website: my email load was reduced by close to 70% after we published our bot. We use it for automation and for lead qualification. It handles inquiries related to pricing and demos, and only the most complex inquiries and the most qualified leads land in my mailbox. This means that support and sales jobs won't be completely replaced by chatbots.
In my opinion, chatbots won't be a real threat to these people in the next 4 to 5 years. In order for chatbots to replace support agent's jobs, they need to be "smart" and powered by AI and NLU. Today's NLU is quite advanced, but AI technology still lacks the needed skills to assess support questions properly. Once AI engineers figure out how to make algorithms understand the context and intentions of the users, probably 25% of support agents will lose their jobs.
Which are the sectors where this technology offers the greatest opportunities?
Healthcare is an interesting case, also legal and accounting counseling, as well as public administration. Basically, everywhere people ask questions all the time and communication is mostly via email or phone. All this information could be fed to our system and it will be capable of giving answers within seconds and reduce the workload of employees. We believe that around 60% of the incoming queries could be automated until the point where a human is needed, either to answer a more complicated question or to accept some paper documents from the user.
There's huge interest also from banks and financial organizations but there are some security concerns, which need to be overcome. We now have an interesting project with an insurance company, which wants to directly sell insurance products through the bot. There's, however, again the challenge with the legislation requiring paperwork.
You say adoption is still limited and particular markets are challenging. Why is that?
Based on my experience, "artificial intelligence", "natural language processing", similar terminology sound complex and turn companies down. When someone talks about AI, it sounds too futuristic, there is some mystery around the technology and companies are left with the feeling that they might not be able to stay in the control.
This is not true, of course. Chatbot platforms, such as ours Smartloop exist to simplify the process of creating chatbots, while taking care of the entire underlying and needed infrastructure. The whole idea of chatbot platforms is that the clients don't need to understand the whole mechanics and the technology behind the chatbot to use them. If an actor can maintain a chatbot, then everybody can (smiles).