INTERVIEW
How Romanian Metabeta will transform the startup investment market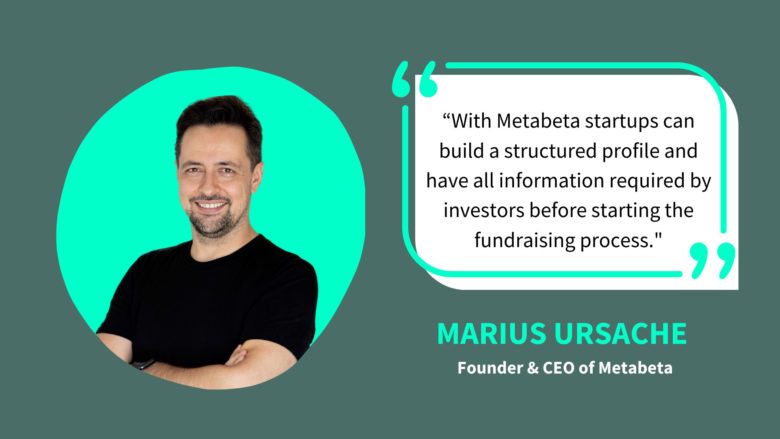 There has never been a better time to be a startup founder in Europe. In the first quarter of 2021, there were new records for investments in European startups and scale-ups. The growing interest in innovative startups, however, requires startups to stay on track and optimize the ways they present their ideas. After all, investors want numbers and traction.
Metabeta is a portfolio management platform for early-stage startups and investors that aims to bring together startups, investors, and accelerators, then give them the data and tools they need to collaborate faster and smarter. In an interview, Co-Founder and CEO Marius Ursache shares in detail how startups can ease the funding preparation process by implementing Metabeta as a tool.
Trending Topics: Can you give our readers some insights about how the EU investment market works at the moment – from an investor and from a startup perspective – and how Metabeta is going to transform it?
The EU investment market is booming. According to Dealroom, EU startups have raised €49 billion in the first half of 2021, a 2.9x increase from the same period in 2020. It's currently the fastest-growing market for startup investments, outpacing both the US and China.
Despite this, the processes and tools used are, in most cases, the same as 20 years ago, at the height of the dotcom boom: warm intros, pitch decks, Excel files, and many decisions driven by gut feeling and the fear of missing out.
Most startups don't know how to approach fundraising, don't have the right network, so it takes them on average 6 months to raise money. On the other side, accelerators, angels, and VC firms are struggling to get better deals and have to process most information manually.
Trending Topics: As there are more and more investors and money on the market, do you see a power shift from investors to startups?
In a dynamic and streamlined marketplace, this would be normal and it is true for the best startups. But the rest of the early-stage startups still struggle to connect with the right investors, speak the same language with them, and fundraise faster to get back to building their business.
Trending Topics: Can you describe the AI & Data part of the solution? What kind of data do you collect, where do you store it, how do you address data security and privacy?
We're collecting structured data about the startups (the problem they are solving, market sizing, traction, usage or financial metrics, and other details). On the investor size, we help them define a quantified investment thesis (sectors, geographies, and business models they invest in, other company selection criteria, investment sizes, and terms, etc.). Then we have built an algorithm that is more effective than a warm introduction in generating qualified matches between investors and startups.
Trending Topics: How does Metabeta help investors? Which kind of investors do you target (angels, VCs, public funds, etc).
We are building an investment marketplace that does not only help investors find the right startup deals, but also the tools to manage dealflow, diligence, and later portfolio management. We started at the top of the dealflow funnel (accelerators) and now are adding angel groups and VCs to our customer list.
Trending Topics: How do you measure real-time startup metrics? How many startups should an investor have in the pipeline so Metabeta makes sense for him/ her?
The startups can connect Metabeta to their analytics, financial, and CRM platforms (such as Stripe, Hubspot, Xero, Quickbooks, ActiveCampaign, and more) to get data in real-time. This way, they can share their metrics with investors, both during fundraising and post-investment (to manage the investor relationships).
Any early-stage investor can right now use our dealflow management tools to manage incoming deals, invite third parties during the diligence process, and then get portfolio startup updates.
Trending Topics: What is the value for startups?
Startups can build a structured profile and have all information required by investors before starting the fundraising process. Then, we match them with the investors based on our algorithm, and we let them control which information is shared with the investors throughout the whole fundraising process. Our goal is to reduce the fundraising duration by 50%.
Trending Topics: Can you provide us with some KPIs? How many startups are currently on your platform, how many investors and accelerators?  Do you focus on specific regions like CEE, or does Metabeta cover entire Europe in the same way?
We currently have 5,000 startups (with completed profiles), 25 accelerators, and 50+ investors with quantified investment theses (adding more investors every week). We're focusing on expanding the marketplace in CEE and Europe (on the startup side) but also accept investors from anywhere in the world who invest in this geography.
Trending Topics: You raised 500K, what are your plans for the future?
I think we're at a tipping point for the tech investment sector, where the funds available will grow, supported by public policies and legislation—and Europe is leading this growth. But the current tools and processes need to improve to support this dynamic. If we look at the top VCs, they are building their internal technology to solve scouting, dealflow, or portfolio management by processing data.
Our end goal is to disrupt how startup investments are made by growing into the largest marketplace in this field, then moving into the larger segment of SME financing, where there is a 1.5 EUR trillion gap only in Europe.