Analysis
There has never been a better time to be a startup founder in Europe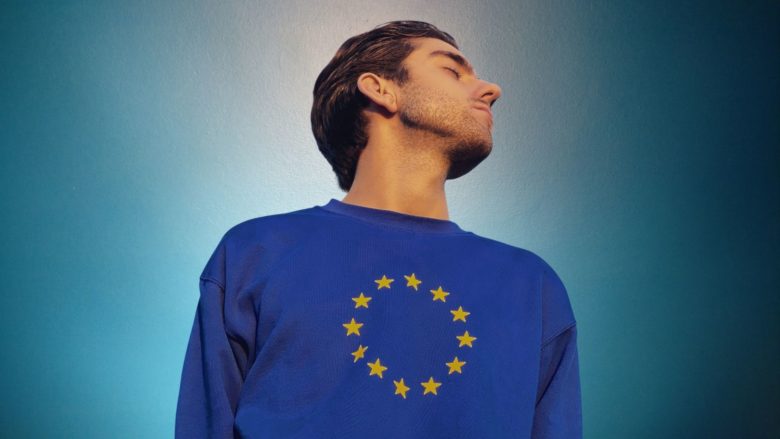 "At the moment things are almost perfect, we've never had such good figures," said Oliver Holle, CEO of the Vienna-based VC Speedinvest, who knows the numbers and trends in the startup business like no other.
For the Austrian venture capitalist, business is currently running smoothly. Tier Mobility, WeFox, and Bitpanda, for example, are in the portfolio – so three freshly baked unicorns that are still a long way from reaching their zenith. But how is it for the rest of Europe? "Now is the best time ever to be a founder," says Holle.
Things are actually going extremely well for Europe's startups and scale-ups. The feared bankruptcy wave caused by the COVID pandemic has not materialized, the narrative of accelerated digitization benefits the industry across the board – from mobility to healthtech and fintech.
In the first quarter of 2021, there were new records for investments in European startups and scale-ups. EUR At 17.6b ($ 21.4b), more money than ever was pumped into the sector. While 2020 was already a record year, 2021 will be even stronger. "2021 is definitely stronger than 2020," says Holle. "There is a lot of free capital that is looking for returns."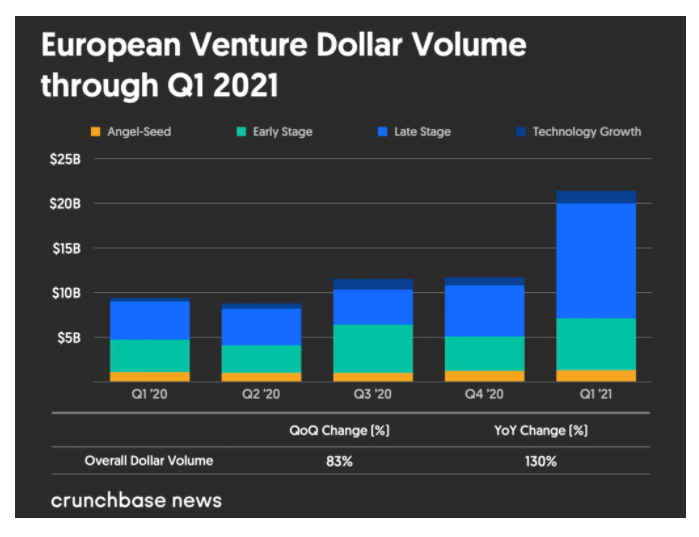 But where does the money come from that is currently turning European scale-ups into unicorns one after the other? There are several answers. Overall, Europe should finally adjust to the investment normality of the North American and Asian markets, which have already produced tech unicorns on the treadmill in recent years. The number of European unicorns has grown from 60 at the end of 2020 to more than 70 at the beginning of June 2021.
1. US investors
While a few years ago reports that a European startup was able to get money from the US made headlines, this is something normal today. The big names on the US West Coast and East Coast are currently pumping enormous amounts of capital into the European tech sector. One reason is the gradual maturing of European startups, but there is alo the fact that VCs and other investment vehicles have raised huge money in recent years and now need to spend it. There are really good deals in Europe right now. Here are some examples:
Goldman Sachs has invested in Northvolt, Tier Mobility, Back Market, Starling Bank, and Scalable Capital
Tiger Global has invested in more than 15 startups in Europe, including Checkout.com and Wolt
Peter Thiel is busy cheering on the next fintech wave with Valar Ventures and Founders Fund (e.g. Trade Republic, Bitpanda)
2. Asian investors
The money comes to Europe not only from the West but also from the East. Two names stand out: Tencent and Softbank. Tencent (the online giant behind WeChat) is always involved in big rounds.
Tencent, for example, invested in Scalable Capital and Gorillas
Softbank shows new ambitions to invest in younger startups in Europe with a diverse background. With the Vision Fund, there have already been a number of unicorn investments in Europe
3. Update of the old economy
In Europe, still a very rich continent, the money flow has significantly improved when it comes to tech investments. This can be seen on the one hand among corporates that are in dire need of innovation and want to be part of European unicorns, and on the other hand, increases in pension funds from North America and Northern Europe that invest:
Volkswagen invests in Northvolt
Allianz and Axa join Stripe
Ontario Teachers' Pension Plan (OTPP) invested in KRY and GraphCore
Ontario Municipal Employees Retirement System (OMERS) invested in Northvolt and Wefox
Swedish pension fund AMF invested in Northvolt
Danish pension fund ATP invested in Northvolt
From investor market to start-up market
Overall, this abundance of very large investors means that good founders and companies can now choose their sponsors. In the industry, people already say that an investor's market has transformed into a start-up market – the money-holders, kind of, pitch to the founders and not the other way around. "In any case, the abundance of capital means that every deal becomes more competitive," says Holle.
But who jumps on the train in the end? The founder photos alone,  accompanied by the constant cheers about unicorn financing rounds, show that it is still young, white, and well-educated men who lead most of the scale-ups. Anyone who is well-known in the relevant networks and has already successfully started a startup can now raise millions in a short time in video calls with a simple pitch deck.
+++ Challenges of Female Entrepreneurs in Tech and Beyond Vol. 1 +++
This is one of the reasons why Softbank and Speedinvest want to use the Emerge Accelerator to specifically promote diversity in startups. "As an industry, we are missing out on diverse perspectives that drive real innovation due to a lack of representation," says Catherine Lenson of SoftBank Investment Advisers. In the future, it will not only be a question of how much money flows, but also of how diverse a start-up team is that it receives.
The largest fundings of 2021 at a glance:
| | | | | |
| --- | --- | --- | --- | --- |
| Company | Funding | Investors | Vertical | Founded in |
| Northvolt | 2.26 billion euros | VW, BMW, Goldman Sachs, Baillie Gifford, OMERS, AMF, ATP, Baillie Gifford, Baron Capital Group, Bridford Investments Limited, Compagnia di San Paolo, IMAS Foundation, EIT InnoEnergy, among others | Batteries | 2016 (SWE) |
| Klarna | 820 million euros | Silver Lake, Sequoia Capital, Bestseller Group, Atomico, VISA, Ant Group, Permira | Fintech | 2005 (SWE) |
| Celonis | 820 million euros | Durable Capital Partners, T. Rowe Price Associates, Franklin Templeton, Splunk Ventures, Arena Holdings | SaaS | 2011 (DE) |
| Trade Republic | 740 million euros | Sequoia Capital, TCV, Thrive Capital, Accel, Founders Fund, Creandum, Project A | Trading | 2015 (DE) |
| Flixmobility | 533 million euros | General Atlantic, Permira, TCV, HV Capital, Blackrock, Baillie Gifford, Canyon Partners | Mobility | 2012 (DE) |
| Wefox | 533 million euros | Target Global, TLV, Ace & Co, LGT, Lightrock, Partners Group, OMERS Ventures, G Squared, Horizons Ventures, Mubadala Capital, Salesforce Ventures, Speedinvest, among others | Insurance | 2015 (DE) |
| Wolt | 435 million euros | Iconiq Growth, Tiger Global, DST, KKR, Prosus, EQT Growth, 83North, Highland Europe, Goldman Sachs Growth Equity, EQT Ventures, Vintage Investment Partners | Delivery | 2014 (FIN) |
| Checkout.com | 370 million euros | Tiger Global, Greenoaks Capital, Insight Partners, DST Global, Coatue Management, Blossom Capital, Endeavor Catalyst, Singapore Sovereign Wealth Fund | Fintech | 2012 (UK) |
| Hopin | 330 million euros | Andreessen Horowitz, General Catalyst, IVP | Online events | 2019 (UK) |
| Back Market | 276 million euros | General Atlantic Generation Investment Management, Goldman Sachs Growth, Aglaé Ventures, Eurazeo, daphni | E-commerce | 2014 (FRA) |
| Blockchain.com | 246 million euros | DST Global, Lightspeed Venture Partners, VY Capital, Google Ventures | Crypto | 2011 (UK) |
| KRY | 262 million euros | CPP Investments, Fidelity, Ontario Teachers' Pension Plan. | HealthTech | 2015 (SWE) |
| Gorillas | 238 million euros | Tencent, Coatue, DST Global | Delivery | 2020 (DE) |
| Volocopter | 200 million euros | BlackRock, Avala Capital, Atlantia SpA, Continental AG, NTT, Tokyo Century, Geely, Daimler, DB Schenker, Intel Capital, btov Partners, Team Europe, Klocke Holding | eVTOL | 2011 (DE) |
| Senender | 197 million euros | Baillie Gifford, Accel, Lakestar, HV Capital, Project A, Next47, Scania Growth Capital, Earlybird, Perpetual | Logistics | 2015 (DE) |
| Bitpanda | 180 million euros | Valar Ventures, DST Global, Saurabh Sharma, David Chreng-Messembourg, Yoann Turpin | Neobroker | 2014 (AUT) |
| Scalable Capital | 150 million euros | Tencent, BlackRock, HV Capital, Tengelmann Ventures | Neobroker | 2014 (DE) |
| EnergyNest | 110 million euros | Infracapital | ClimateTech | 2011 (NOR) |