Smule Bulgaria: Inside The Creative Studio Of The MusicTech Startup With 40 Million Users
Designing a new set of in-app stickers for the product design team to review in the morning, call with The Voice of Germany producers before lunch, Graphic Designer candidate screening, a video shooting in the afternoon, design approvals for a new community campaign in the evening. This is what the Creative team's schedule looks like on a casual Wednesday. 
But that's far from the whole scope of the team of 18 people that consists of music engineers, product designers, motion graphics specialists, graphic designers, video producers, and digital storytellers. "On a daily basis we make decisions and prepare campaigns that affect millions of users." says Teodora Amova, Creative Team Director at Smule Bulgaria. "It is an interesting challenge to continue making the right choices, especially across multiple markets and timezones, each of which has its own cultural and geographical specifics," she adds. Even though Teodora works for a software company, and sometimes tests new products and features, her job is to find new ways to tell engaging stories to people who would use their products. 

Smule, an eleven-years-old company from San Francisco, which opened up an office in Bulgaria last year, is developing applications that allow people from all over the globe to sing together and build a community around their passion for music. As strange as it may sound, there are already 40 million people spending couple of hours with the most popular app each month, and huge opportunities to attract and engage more. This is what the teams in Sofia and San Francisco are after.  
Inside the creative heads and their challenges
Smule's creatives talk to partners like Disney, Facebook, Apple, and Google and work with the Silicon Valley team of Smule on customer acquisition, as well as customer retention content. On a weekly basis, the Creative team creates content for users on four-five different markets worldwide. It could be videos of famous partner artists, such as Jessie J or Rita Ora, singing with people from the community, or new ways to animate gifting stickers in the Smule app, or whatever their data may tell them is relevant. "Each piece of content needs to be authentic to resonate on an emotional level with our users, regardless of where they are," explains Vera Angelova, Video Team Lead. And in a company that is working with users in Japan, as well as in Brazil, Germany or Indonesia, this could be quite a creative challenge. 
"In terms of know-how and equipment, the video team has the capacity to create and experiment with any type of video content," adds Vera. "This gives us the opportunity to test bolder ideas and fine-tune according to the results." For example, the studio in Sofia produces, on a regular basis, 40-60 videos a week to fuel the user acquisition digital funnels of marketing while in the meantime, they sometimes, organize concerts that are then filmed, edited and spread across the local community. Seems like there is no dull day in Smule's creative studio.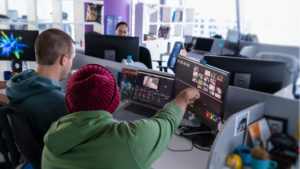 "Several months back, we were given the opportunity to "crack" the Japanese market for user acquisition advertising," shares a case Teodora. "On that market, the company has had a winning creative formula for the last 2+ years, the metrics of which we had not been able to beat with new content". The team did deep research on the Japanese karaoke culture and came up with several fresh video approaches, which were able to beat the previously best-performing ad video. As a result, this opened a larger business discussion on the potential for cultural localization of ad creatives, as well as in-app innovations across different markets and further embedding culturally relevant content within the essence of the brand.

Currently, the Creative team is working on a product design refresh project related to another iconic app for the company – AutoRap, which turns speech into rap and lets users create thir own rap on popular beats. The team in Bulgaria is responsible for designing new features for the app and for a refresh of the brand and value proposition. 
But no artwork without data 
"Music and singing have been a part of who I am since I was little – from choirs to musical performances and theater groups, it has always been my creative outlet. On the other hand, I fell in love with marketing and content creation and have focused my career in digital storytelling through visual artwork," explains Teodora. For her, similarly to almost everyone in her team, Smule is where her two passions meet and where she can put in practice her knowledge and experience.
Despite being creative souls, they all know that no art should go out of the studio without data validation. "At Smule we don't assume anything, we base our communication on research, insights, and data," tells us Kristina Marinova, Creative Visual Lead. "While communicating marketing request and campaigns in a clear, holistic and visually engaging way, our visuals should trigger the user's emotions constantly! We strive to 'speak' universal language via aesthetically-pleasing meaningful designs," adds Kristina. And while creatives do have freedom to express themselves, the marketing department, as the business owner, guides them towards the "why" of each design and the potential business impact it may have.
But the creatives don't work only with the marketing units. They also have to collaborate with the product team on testing new hypothesis of potential features that can go in the app. They work with the Content Marketing group in the US, with the user acquisition teams in both the US and in Sofia and produce content, which is used for advertising purposes across different markets and channels, such as Facebook, Instagram, Google, App store promos, etc. And just to keep things more interesting, they work on integrated campaign visuals whenever one of Smule's apps launches a new communication in the app – whether to announce a new feature, a new integration or to engage the global community through a contest or an activity. 
Famous artists and everyday artists
"We have partnerships with brands, such as Disney and more than 500 global partner artists like Ed Sheeran, Shawn Mendes, Demi Lovato and many more. All communication related to partner artist campaigns, as well as music arrangements of the tracks, is also going through our department and on a weekly basis we release between 5-6 new artists in the Smule app, whether globally or for specific markets," explains Teodora. And adds, that all of this requires careful monitoring of the weekly production schedule and collaboration across team members in creative to make it happen.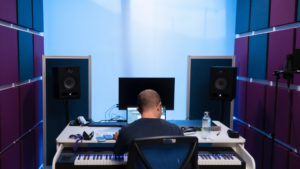 Now having said all this and bearing in mind that the Smule Sofia office is just one year young and planning ambitious growth, the team keep expanding: "We are searching for fun-loving, spirited individuals who are not afraid of challenges and are proactive enough to find creative solutions to problems that may pop up daily." 
This may also interest you:
Smule: The Silicon Valley Musical Tech Startup That Chose Bulgaria For Its First International Office
Smule Bulgaria Develops a Rapping App and Is Looking for Software Engineers
Smule's Open Positions in Sofia