Guest Post
Solid State Battery: The race for the "Holy Grail"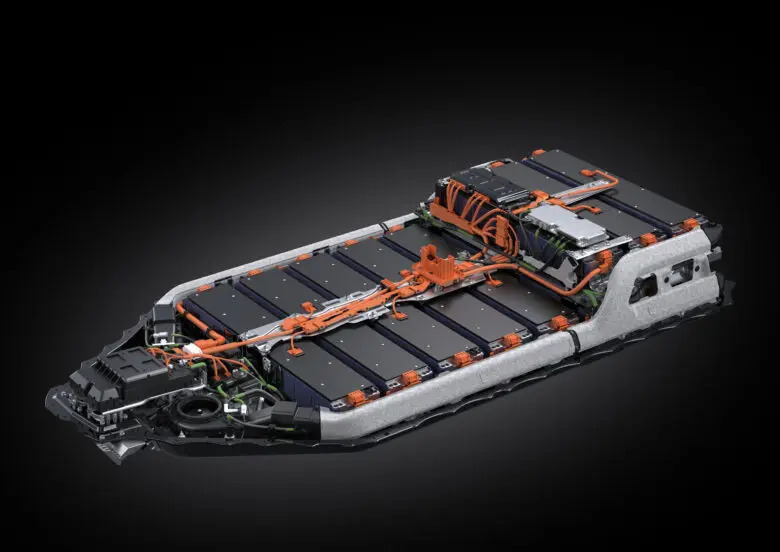 Xiaoxi He is Research Director at the market researcher IDTechEx. In this guest post, she addresses the market and developments around the solid-state battery, which is often regarded as the "Holy Grail" of mobility. 
Ever increasing popularity of solid-state batteries
The announcement claimed by Toyota that it had a "technological breakthrough" to resolve durability issues and "a solution for materials" for a solid-state battery (SSB) powering EVs in July 2023 has triggered another wave of interest in SSBs, in addition to the continuous efforts from companies such as BMW, CATL, Ford, General Motors, Honda, Hyundai, LG, Mercedes-Benz, Nissan, Panasonic, Samsung, Volkswagen, etc.
SSBs have had strategic importance in multiple countries and regions. For instance, Germany earmarked 1 billion Euros to support a consortium looking to produce electric car battery cells and plans to fund a research facility to develop next-generation solid-state batteries. In the UK, a 30-month collaborative project, "PowerDrive Line," develops a lithium-based solid-state battery for EVs and PHEVs and establishes a pre-pilot line for this SSB cell technology. The Japanese government has created the Consortium for Lithium-Ion Battery Technology and Evaluation Center (Libtec) to push forward with research into solid-state batteries. In South Korea, the three largest battery manufacturers, SK Innovation, LG Chem, and Samsung SDI, promote joint research on next-generation battery fields, including solid-state batteries. US SSB companies have attracted investment from global battery vendors, car makers, and venture capitals, with continuous reported progress.
By replacing the flammable organic liquid electrolyte with solid-state electrolyte (SSE), SSBs enable improved safety and abuse tolerance. The SSE can also be paired with lithium metal anode and high-voltage cathode, leading to potentially higher energy density. The special features of SSBs make them possible to be connected in series and in parallel within a cell, resulting in flexible packing designs. In addition, the innovative pack design enables higher assembly efficiency, helping further increase the energy density and decrease cost at system level.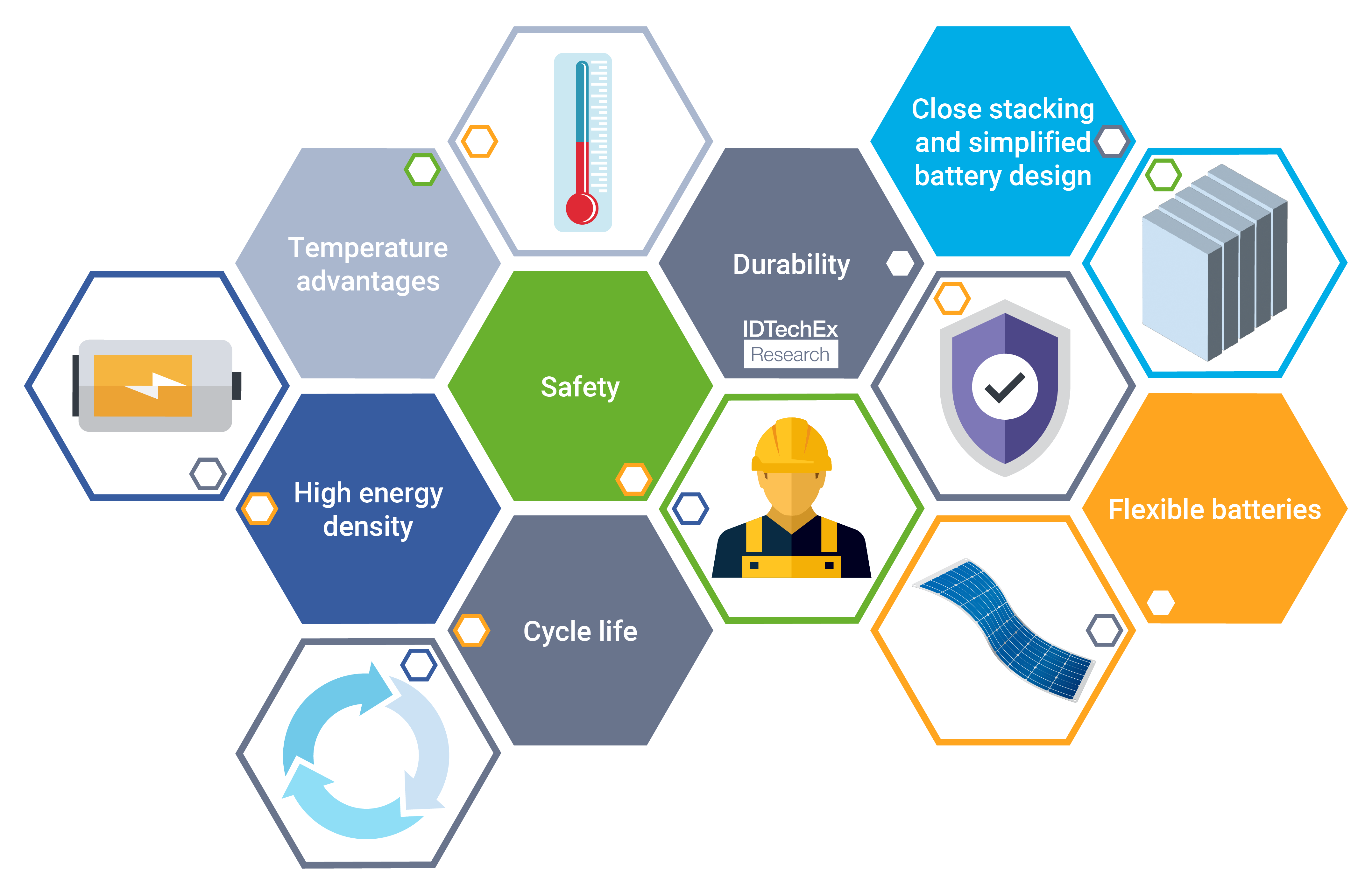 Value propositions offered by solid-state batteries. Source: IDTechEx
The unique value propositions have led to SSBs being pursued by academic researchers, battery developers, automotive OEMs, investors, material and component suppliers. In addition, the conventional manufacturing of Li-ion batteries has traditionally been dominated by East Asian countries, with notable contributions from Japan, China, and South Korea. However, a significant shift is underway as the United States and various European nations are competing in the race, effectively redirecting the creation of added value away from East Asia, with a strategic emphasis on establishing battery manufacturing facilities in closer proximity to the application markets.
This evolving landscape is marked by the exploration of new materials and components, and the re-evaluation of manufacturing processes. These provide the potential to reshuffle the battery supply chain. From both a technological and business perspective, the development of SSBs has emerged as part of the next-generation battery strategy. It has evolved into a global endeavor characterized by regional interests and substantial governmental support. Opportunities will be available with new materials, components, systems, manufacturing methods, and know-how.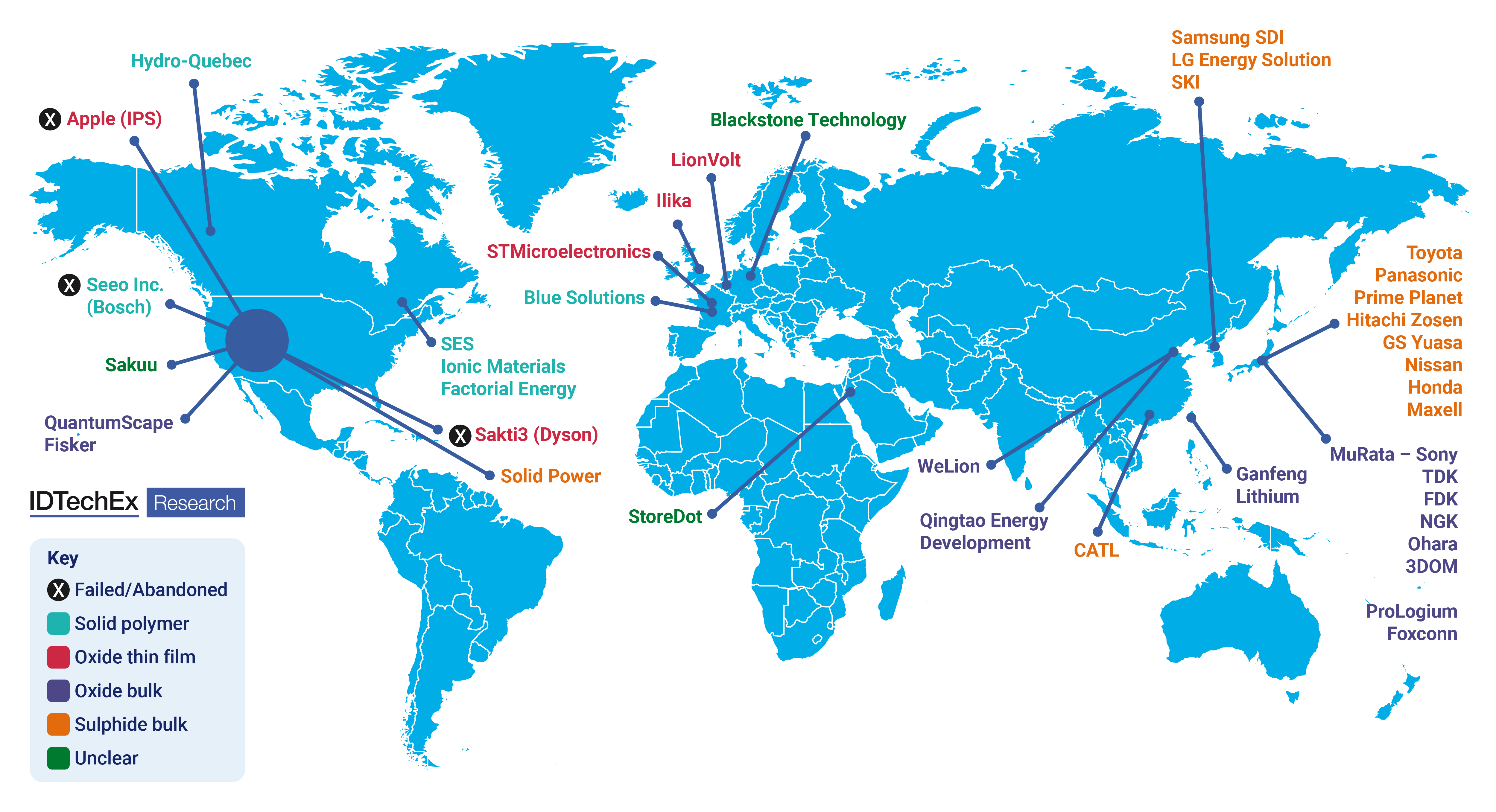 Global major solid-state battery players. Source: IDTechEx
Commercialization of SSBs
Polymer-based SSBs are already available in the market, such as in the case of the Daimler eCitaro. Semi/hybrid/pseudo SSBs are undergoing trials, continuously testing their samples for the OEMs. Meanwhile, ceramic-based all solid-state batteries (ASSBs) remain firmly in the realm of developmental pursuits. Most of the commercialized SSBs and those are going to be commercialized soon are hybrid semi-solid batteries, meaning they may contain small amounts of liquid or gel. Strictly speaking, they are not all solid-state batteries (ASSBs). From the end user's point of view, they do not care what technology is deployed as long as batteries provide the required features for them. Therefore, semi-solid technologies can act as a good transition between the already commercialized polymer-based SSB technology and future sulfide-based SSB technology. As technologies are becoming more and more mature, we can move to ASSBs seamlessly.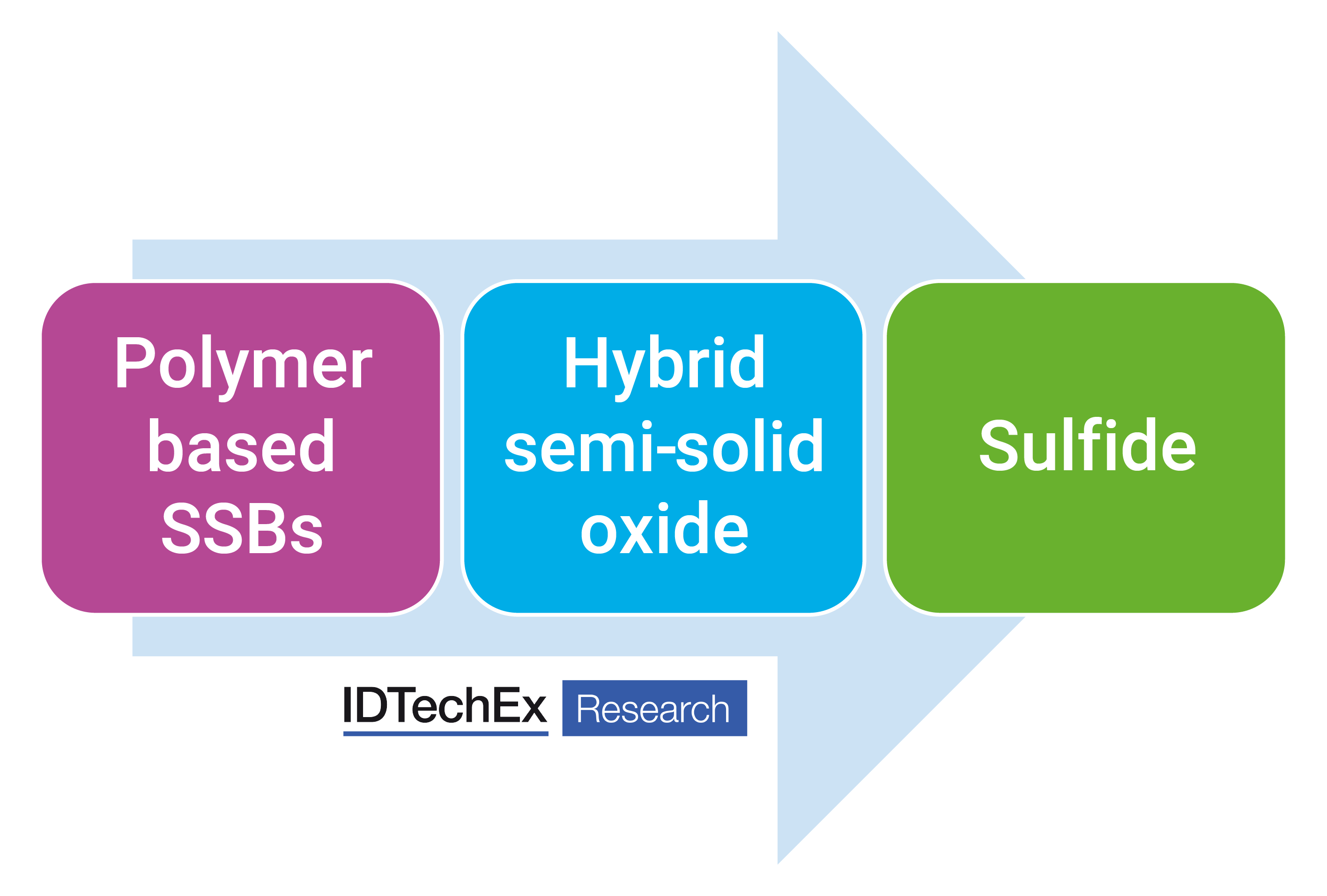 SSB battery technology development roadmap. Source: IDTechEx
As the largest potential market, automotive is the target for almost all SSB vendors. In the meantime, niche applications that require more abuse tolerance and are less sensitive to price can be the lower-hanging fruits for SSBs.
Solid-state battery addressable market size. Source: IDTechEx
Further efforts for SSB commercialization
Toyota's announcement again emphasized the importance of continuous material development. Therefore, further material exploration, device optimization, and battery degradation mechanisms are still required. In the meantime, development focuses should also be put on cell validation and system design. Examples include cell-to-pack (CTP), thermal management systems, and mechanical designs.
CTP is not a new concept, and it can be found in designs based on Li-ion batteries such as BYD's blade battery and CATL's CTP designs. CTP concept will become more important due to the better safety and bipolar stacking possibility of SSB cells. Battery safety means a more flexible pack design and fewer electronics and components used in the battery modules/packs. For example, the bipolar design enables closer packing and higher energy density, leading to potentially higher energy density and comparable cost at system level.
The thermal management system cannot be eliminated for SSBs but may be operated in a way to target different safe operating areas. Therefore, the ideal temperature required for SSBs may differ from Li-ion batteries.
In addition, further efforts need to be put in equipment utilization, factory footprint, supply chain establishment, and manufacturing yield improvement.
Overview of lithium-ion batteries, various solid-state battery technologies, analysis, and benchmarking
Technology and manufacturing timelines, roadmaps
Manufacturing methods
Market analysis and forecasts
Cost and energy density analysis
Solid-state battery hype vs hope analysis
Player activity tracking & evaluation
Supply chain analysis
Regulations and recycling
For more information on this report, please visit 
www.IDTechEx.com/SSB
, or for the full portfolio of Energy Storage research available from IDTechEx, please visit 
www.IDTechEx.com/Research/ES
. IDTechEx also offer access to the full portfolio of energy-related research through bespoke subscription services – visit 
www.IDTechEx.com/Energy
to find out more.
This article is from "Technology Innovations Outlook 2024-2034", a complimentary magazine of analyst-written articles by IDTechEx providing insights into a number of areas of technology innovation, assessing the landscape now and giving you the outlook for the next decade. You can read the magazine in full at
www.IDTechEx.com/Magazine
.