Supporting people affected by the war in Ukraine
Support for Ukraine: Welcome to Digital Vienna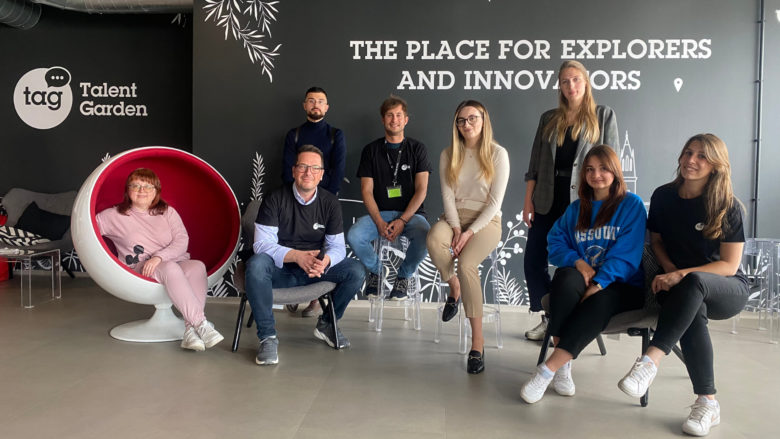 In March 2022 Trending Topics and Talent Garden wanted to offer support for Ukraine. Both Organizations wanted to give back a little bit of normality in times of terror and uncertainty. While Talent Garden Vienna and Martin Giesswein, as partners of the initiative, have been offering free campus memberships and regular orientation mentoring in order to support integration and social network, Trending Topics has been offering free of charge job postings for European countries via the Trending Topics Jobs Platform for job seekers fleeing the war in Ukraine.
But what happened since then? Together with Martin Giesswein, Raphael Jochmann, Talent Garden Vienna Head of Campus, Sandra Besga Palop, Head of Marketing Talent Garden Austria, Sonja Voss, Project Manager Trending Topics Jobs, and Valentyn Vihandt, Veronika Bodashko, Iryna Pukhova and Anastasiia Panchak from Kyiv, we sat down and talked about the undergoing situation and the best support for Ukraine we could offer.
Trending Topics is now arranging jobs for Ukrainian talents free of charge
"Modern, digital, and very comfortable. It really feels like home"
"Talent Garden has the same spirit as we had in Kyiv: friendly people, celebrating, busy around the clock, and very digital," says Valentyn Vihandt. He shares a desk with other war displaced in Talent Garden Vienna. Valentyn is active in job placements. He aims to connect Ukrainian job seekers with companies, especially in the hotel and gastronomy branches.
Sonja Voss, working closely with Valentyn, is leading the Trending Topics job platform: "Since March, when we first started offering free of charge jobs for all European companies for people affected by the war in Ukraine, we have onboarded around 350 companies and 570 job offers are displayed on the website, providing access to various industries such as Tourism, Innovation jobs or jobs in construction. It was initiated as an ad-hoc project for the Ukrainian job seekers, but in the future, we will support all displaced or migrating persons from all countries. Our main goal is to be inclusive of every displaced individual. We not only want to connect them with welcoming companies but also guide and support them along the way."
Veronika Bodashko and Iryna Pukhova, employees of Arzinger, a Ukrainian law firm, are using the platform to look for local temporary jobs for their colleagues scattered around Europe. Veronika originally is the HR head of Azinger and Iryna is the office manager. "We are happy to have Talent Garden Vienna as a place to work and connect. Because of the war, we are in difficult times. But the Talent Garden community makes it so much easier for us, we feel a little bit like home here."
Their friend, Anastasiia Panchak, is an antitrust lawyer with Arzinger. "Thanks to Martin and Raphael, who offered free memberships not only for me but for other displaced Ukrainians too, Talent Garden Vienna became a perfect place to work since my very first days in Vienna. Moreover, it reminds me of Arzinger's office in Kyiv: modern, digital, and very comfortable. Thus, it really feels like home," says Anastasiia. Anastasiia is about to start her work for one of the Vienna law firms. "The blue card combined with the job platform as well as with the help of my personal friends in my job search made it possible," she adds.
"Talent Garden Vienna is open for more international Taggers"
Raphael Jochmann, Head of Talent Garden Vienna, and his colleague Sandra Besga Palop initially offered 5 free memberships for displaced persons in Talent Garden Vienna. Now they are already overbooked: "There are no numbers when it comes to helping. Talent Garden Vienna is open for more international Taggers", as they call their campus members. "We want to contribute to a little bit of normality, so please share the information with your communities."
One of the very new Taggers is Kyrylo Diachenko, also from Kyiv. "We all meet here with Martin Giesswein, former co-founder of Talent Garden Vienna. Martin holds 1:1 orientation sessions and we generated the idea of offering my legal and business development experience to the start-ups in Talent Garden." Just like Veronika, Anastasiia, and Iryna, who are setting up meet-ups: They all want to give back.
Networking with Taggers at the Innovators Week 2022
A good opportunity to network with the new Taggers is the Talent Garden events and especially the upcoming Talent Garden Innovators Week 2022. The entire ticket value will be donated to CrisisFUND Human Rights Ukraine-Russia, managed by Amnesty International Austria.