TECH GIANTS
The ChatGPT attack on Google and the effects so far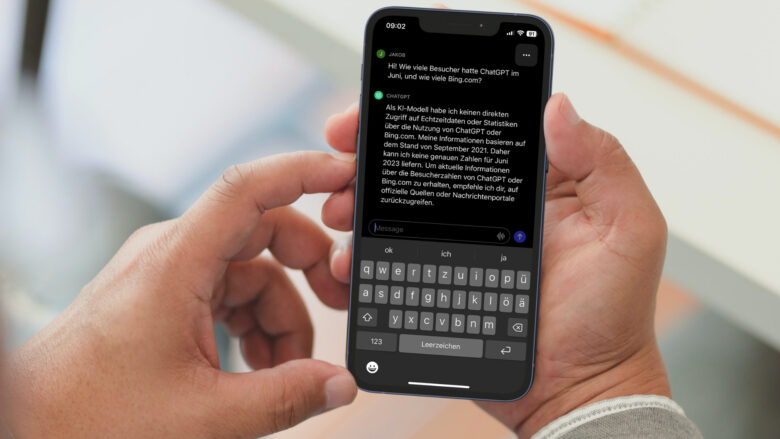 AI Chatbots will change Internet search forever. ChatGPT is the biggest threat to Google's online supremacy; and Microsoft has a new AI secret weapon to strengthen its own Bing search engine against Google.
Such forecasts and analyses could be heard and read in abundance in the first half of the year. After the launch of ChatGPT in November 2022, there was said to have been a "red alert" at Google's headquarters in Mountain View. Microsoft, the major investor in OpenAI, tried to integrate the disruptive technology into as many of its services as possible. The Bing search engine, the Edge browser, the Azure cloud, and Windows 10 and 11 have all been equipped with ChatGPT or GPT-4.
But could Microsoft really make Google dance, as CEO Satya Nadella put it? After a few months on the market, it is certainly too early to give a definitive answer, but an interim conclusion can be drawn. And it looks like this:
1. The rise of ChatGPT is a fact. 
With around 1.8 billion visits per month, it is one of the 20 largest websites in the world. Nevertheless, the Similarweb analysts report that something like saturation has set in after the peak in May. "Worldwide traffic dropped 9.7% and unique visitors were down 5.7% in June ChatGPT no longer looks like it will keep growing until it's the most-trafficked website in the world. In other words, Google is in no danger of being eclipsed by the OpenAI tech demo site that turned into a cultural phenomenon," reads the blog post.
2. Bing could only benefit in the short term. 
Microsoft hoped that GPT 4 integration would significantly strengthen its Bing search engine, which had languished in the shadow of Google for many years. This succeeded in the short term, and the first results came in March. At that time, people were publicly rejoicing that Bing had exceeded the mark of 100 million daily active Bing users. But after March, when the ChatGPT hype was in full swing, user interest leveled off again, although bing.com has so far remained above pre-GPT 4 integration levels. However, the curve is currently not pointing upwards.
3. ChatGPT is bigger than Bing. 
Most people will probably ask themselves: why should I go through Bing when I can use ChatGPT directly on their website. This is reflected in the access figures: ChatGPT, available at chat.openai.com, has been larger than Bing.com since February 2023. This is the month GPT-4 was integrated with Bing.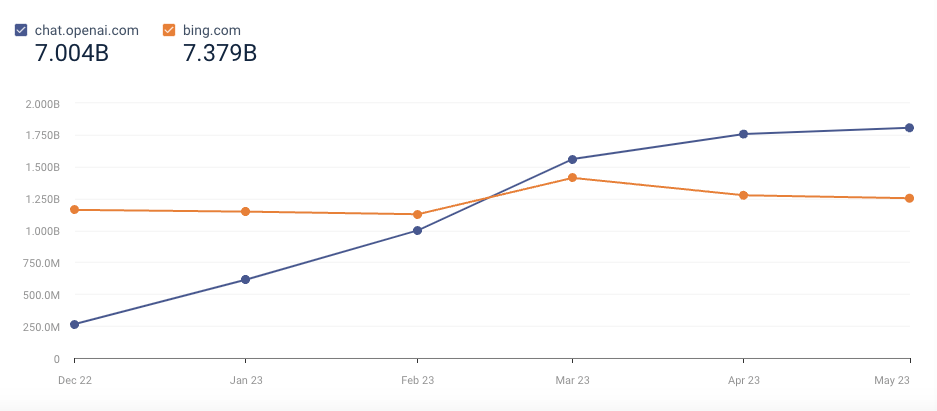 4. The Edge browser stays small. 
With the Edge browser, which Microsoft launched many years ago as the successor to Internet Explorer, the integration of GPT-4 was aimed at addressing new users who might be leaving Google's Chrome or Apple's Safari behind. But this also shows: Edge was able to gain slightly, but the browsers from Google and Apple are not in danger because of this – they are still too deeply integrated in the usage behavior or the Apple operating system.

5. ChatGPT is a problem for Google Bard. 
In February, Google tried to steal the show from ChatGPT, OpenAI and Microsoft with its own AI chatbot, Bard. So far, however, this has not been successful. Bard is much smaller than ChatGPT and doesn't show steep growth curves either. One of the problems: for data protection reasons, Google Bard has not yet been able to launch in the EU, which is after all the second largest market in the world for Google. Meanwhile, ChatGPT is being used happily in Europe.
Overall, however, it can be said by mid-2023 that apart from the communication level, which is quite important for stock prices, Microsoft's ChatGPT attack on Google has so far not been able to shake the search giant. Things are certainly different in the cloud business. By bundling the Azure offering with OpenAI services, Microsoft has an exciting range for companies – but they can also go directly to OpenAI to tap GPT-4 and Co. there via APIs.