hidden fintech champion
The New Generation of Digital Debt Collectors That Comes From Sofia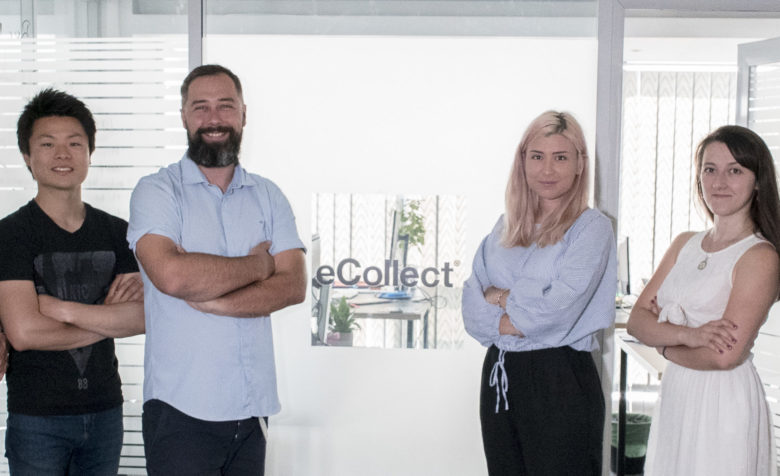 Tough men with large biceps knocking on the door ready to beat you up, or obnoxious female voice on the phone reminding of the loan the conversation partner had forgotten to return… That's how most of us imagine a debt collector. Yet, in the center of Sofia, on the fifth floor of a modern office building, a team of 25 hipster people in sneakers, t-shirts, and jeans, also collect debts. They rarely call to disturb debtors or late payers, and use other channels to communicate in a more human manner. They also use a lot of data science and automation to collect what their clients would've considered a 100% write-off.
This is the main dev and operations site of a Swiss fintech startup called eCollect and it has been growing in the heart of the Bulgarian capital almost unnoticed since 2017.  
"The company was started with the idea to change the receivables management business in two ways: to make the communication with debtors less unpleasant, but also make the smallest debts collectible thanks to the way we calculate fees. We do all of this through automation," explains CTO Boyan Petrov.
The sweet spot in an unpleasant sector
Ever since eCollect was founded in 2014, the main service has been similar to typical debt collection. eCollect takes over debts for its clients as a usual debt collector. The company works among others with large enterprise clients, that have a significant volume of transactions, and are not specialized in collecting small receivables from private people. "We are a b2b2c platform. As the debts are too small, companies usually look at them as write-offs," explains Yuliana Lefedjieva, corporate communications officer. 
The slightly different component is technology, through which they do all this automated and which allows them to be active in many markets. "One of our major USPs is our ability to collect receivables cross-border, unlike the typical agencies that would service the local market themselves and cooperate with partners abroad. Due to code-driven compliance, we automatically adjust to local legislations, currencies and other country specifics," says Lefedjieva. eCollect could, for example, collect speeding fines from other countries. 
To "wake up" those fallen into oblivion "leads" that are usually not perceived as someone who would pay their debt back, eCollect uses sets of data, enriched from any available public source. For the companies, they work with and whose receivables they collect, the service is free. eCollect receives a debt collection fee from the debtors, which varies depending on the national legislation in the respective country. "We turn complete write-offs into 100% gain. On average, we manage to collect 40% of these late payments," explains Stefan Bazhdarski, project manager at the company. 
Exploring the customer behavior to keep the retention
Leveraging on the technology they've developed, and of course, the market niches, eCollect now start to offer another service called Invoice2Cash. It's mostly focused on digital businesses – e-commerce, subscription services such as Spotify or Netflix etc., and businesses that want to keep a long term relationship with their customers. The startup wants to take over the whole process – from issuing the invoice to reminding the clients in case they've forgotten to pay to the prelegal collection. The technologically optimized process decreases the cases to a minimum when we need to take a debtor to court," says Lefedjieva. "We use machine learning to analyze the behavior of our clients' customers so we can adjust the processing and the communication to their habits," explains Petrov.
The new product Invoice2Cash is an all-in-one solution that clients can integrate into their own platforms and let the system manage the whole receivables management process. "This is a huge market, as the European Commission will ban the paper invoices in the next few years. We are talking about thousands of billions of invoices here. The core of this service is customer retention – our clients such as eCommerce platforms or subscription services would like to keep their clients and treat them accordingly," explains Bazhdarski.
Vision: The pan-European debt collection platform 
Actually, back in 2014, when entrepreneurs Thimo Seidel, Marcel Kopper, Robert Grünwald, started the company, no one believed that they could make the business work with such a business model – taking flat fees, the local team explains. The investment came completely from the founders, who had previous entrepreneurial experience. Now the company, which has meanwhile managed to grow to a team of 45 people across Bulgaria, Switzerland, and Germany, is raising its seven-digit Series A, and applying for licenses to be able to offer additional digital services.  
In Bulgaria, eCollect was established in 2017 and has grown to 25 people. The company is also a member of the Bulgarian Fintech Association. Unlike many fintech companies, eCollect perceives Bulgaria also as a market. It already works with local clients helping them with cross-border debt collection. "Actually, the big goal is to become the leading intermediary platform for receivables management in whole Europe," says Boyan Petrov.