⭐CEE STAR OF THE WEEK⭐
The Slovak Deep-Tech Powerful Medical Revolutionizes Clinical Treatment with AI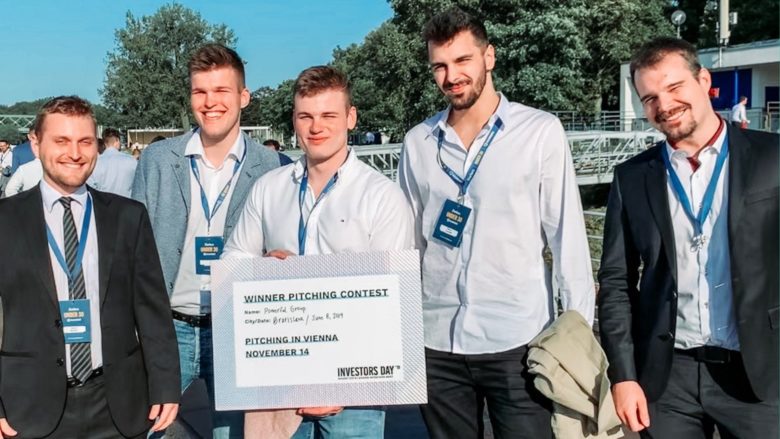 "CEE Star of the Week" is our weekly series of short stories where we present a company from Central and Eastern Europe that has recently achieved something significant – closed an investment round, won a prize, successfully launched on a new market, made a prominent hire, etc. The stories can be found both on trendingtopics.at and trendingtopics.eu.
Health, medicine, and wellness technology solutions have surely been in the spotlight during the last year. And as some people believe in the power of traditional treatments and therapies, others seek to revolutionize the industry and augment the expertise of doctors and physicians with the power of AI. In reality, even though there are huge advancements in medicine, much of the medical equipment used does not fully take advantage of the new understandings in the fields of anatomy, pathology, and genetics. 
One such example is the electrocardiogram (ECG) devices that measure the electrical activity of a patient's heart to allow cardiologists to evaluate their patients' cardiovascular condition. And similar to other medical equipment devices, the ECG equipment found in most modern hospitals today comes from a variety of manufacturers and uses different formats which makes analysis, processing, and storage across multiple formats difficult or sometimes even impossible. One Slovak startup has taken the mission to solve these problems with the help of innovative technologies and AI is the deep-tech Powerful Medical that develops life-saving technology helping doctors with the diagnosis and personalized treatment of cardiovascular diseases. The vision of the founders of the startup – the brothers Martin and Robert Herman, is to aid the transition from human-made clinical decision-making to decisions augmented by technology in order to make it possible for more people to benefit from the latest cardiological advancements. "Doctors will always have the last word, but we want to provide them with technology that will allow them to evaluate a much larger amount of data in a much shorter time. With the help of AI, they get a broader picture of the patient's health condition and treatment options, simply packaged in a mobile application, which ultimately benefits the patient in particular," notes Robert Herman. 
Who is the team behind Powerful Medical and how was the idea of it born?
From a very young age, both of the co-founders have shown that they have a huge passion for technology and medicine. Martin was only 14 when he started developing mobile applications and since then he has been engaged in the development of a couple of ventures – the social startup Droppie, the blockchain platform for sports betting Bethereum, and the creative software studio Powerful Digital. His brother Robert Herman is a physician and computer programmer, and when the idea of Powerful Medical was born in 2017 he was only 18 years old. Robert shares that after some projects and research opportunities, he was able to identify some technological gaps in modern medicine such as the lack of ECG data standardization, the low availability of digital data, the low implementation of clinical guidelines, and the limited number of first care responders who have gone through advanced training for ECG interpretation. During that time his brother Martin was running a software development company so they decided to join their skills and expertise and establish a company focused to solve medical problems with technology. 
How does their AI-powered clinical assistant work? 
PMcardio, the main product of Powerful Medical, is a smartphone app for general practitioners, cardiologists, and nurses. The complex AI-based technology of the clinical assistant helps doctors diagnose and treat cardiovascular diseases through ECG digitalization. First, doctors scan an ECG recording and upload it in the app so that the clinical assistant of Powerful Medical can digitize and analyze it. Doctors then fill in more information about the patient in the digital anamnestic form such as their basic info, behavior patterns, additional diseases, blood pressure, heart rate, and so on. Based on the ECG and the form, the AI-powered algorithm evaluates and suggests clinical practice guidelines with a number of therapies with all the specific drugs that doctors can prescribe and their respective doses. 
How can the solution be put into practice in the real-world healthcare system?
If the analysis is carried out by a general practitioner, he or she can send the report to a cardiologist for an online consultation. The latter can confirm the report within a few minutes and can immediately issue an electronic prescription if necessary. In simple cases, the patient saves valuable time since he does not have to visit a cardiologist. In addition, what makes their solution unique is the fact that it is compatible with virtually any ECG device or manufacturer, doesn't require any expensive hardware updates for implementation, and is portable on any smartphone device. 
Who are the investors in Powerful Medical? 
As of now, the startup has one seed investment from the early-stage Slovak Venture Capital firm Zero Gravity. Powerful Medical is currently concluding a convertible note investment with a 6x rating. 
And what is the team of Powerful Medical working on right now? 
The startup is currently developing another solution Medannot which uses AI in radiology for the analysis of medical images such as X-rays and magnetic resonance. Medannot is basically a web-based medical imaging data platform with AI-based diagnostics and annotation. "We'll probably run out of ECG potential soon, so we have to go for medical images, then maybe genetics awaits us," reveals Robert Herman. In addition to their new project, the team of Powerful Medical is working to get their solution officially approved as a medical device.
What are the next steps for Powerful Medical?
The team of Power medical expects that in the very near future the analysis of ECG recordings that their platform conducts will expand to include radiological imaging. Market expansion is also on the map as the startup plans to open branches in Israel, Austria, and Germany. Taking their AI-powered medical solution one step further from ECG, in 2021 the team plans to move into the field of genetics.