MedTech
Bulgarian Prosthetics Solution Provider ProsFit Wins Toyota's Inclusive Mobility Awards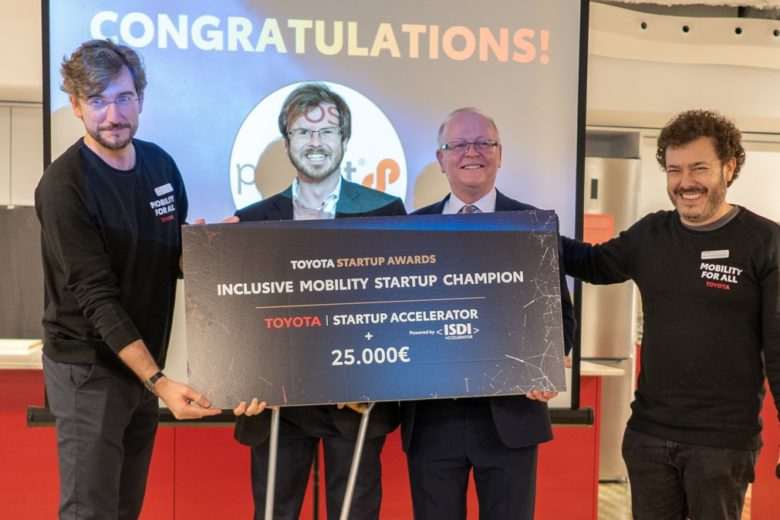 ProsFit, a company with solutions that enable the fast, accurate, and cost-effective provision of prosthetics sockets is one of the four big winners in the first edition of Toyota Startup Awards. The Sofia-based venture had the opportunity to present its products in front of Toyota executives in Barcelona, on the 24th and 25th of February.
The winners will receive €25k in equity-free cash and a fast track to the new Toyota Startup Accelerator. "For us, the main benefit of being involved is the on-going relationship-building with Toyota," shared Christopher Hutchison, CTO at ProsFit.
At the beginning of ProsFit's journey in 2013, the founders Alan Hutchison and his son Christopher, himself a double lower-limb amputee, invested €160k of their own savings to get things started. Since then, the company has attracted €4M in funding. The Bulgarian VC firm LAUNCHub participated in the first round, after which the four subsequent rounds have been financed by a group of international and local private investors. By February 2020, ProsFit's valuation has reached €15.9m.
Health economics
Through the years, ProsFit set foot in the prosthetics industry with an end-to-end solution that includes a cloud-based design and expert system called PandoFit. Every hospital or clinic that has a scanner, WiFi, and a prosthetist trained to use the software, can create a custom socket for a patient. After the design is ready, through a network of certified partners, ProsFit also takes care of 3D printing and delivery, so the clinic does not need to invest in manufacturing equipment.  The sockets are regulated as medical devices.
According to Alan and Christopher, their solution increases the rate of comfortable first-time fit from 50% to over 90%.  Customers are not missing either – these include a major hospital in Ontario, a European Military rehabilitation center, as well as some clinics in Singapore, Australia, Japan, and South Africa. ProsFit has also provided its solution for projects in Togo and Madagascar, and well as in a conflict zone in the Middle East.
Once the economic gains of increased mobility are explained, apparently even governments are ready to listen. "Chris built a robust economic model. We are able to show to governments in low- and middle-income countries (LMICs) that £1,000 spent on prosthetics can return  £10-12,000 to the economy. Suddenly, the conversations we were having changed. The case for investing in prosthetics provision becomes feasible and beneficial," says Alan Hutchison, CEO at ProsFit. The company is currently launching a strategic "capacity building" project in Kenya, in partnership with the German prosthetic provider Ottobock.
Prosthetics anywhere and the synergy with Toyota
Now ProsFit is pioneering a franchise formula for a modular, easily configurable, and affordable prosthetic clinic solution – PandoPoint or 'clinic in a box'. The goal? Move prosthetics provision closer to the user, also allowing community-based rehabilitation in remote areas way more achievable than currently possible, especially in LMICs.
According to data from the World Health Organization, from 2015 to 2020, the number of amputees around the globe increased from 9m to about 14m and is projected to reach 33m by 2030. With the number of prosthetists not rising in proportion, ProsFit's team thinks it's time for a significant increase in productivity.
Here a partnership with an automotive company like Toyota can take the mobility concept to a whole new level, including by putting wheels on such a clinic and enabling it to rapidly move wherever it's needed. This has the potential to be a low-investment and cost-effective way to improve health outcomes in even more distant regions.
At the moment, Toyota is driving a transformation into a 'mobility company', going beyond automotive – something that includes solutions that empower people with physical impairments to move around more freely in their daily lives. It looks like the Toyota Startup Awards and Toyota Startup Accelerator program are supporting their move into this direction.
The future growth
"Essentially, our goal for 2020 is to grow and expand, most likely in collaboration with one or more partners – either in the industry, or from outside. In fact, we believe that new companies coming into the industry, collaborating with ProsFit, are more likely to drive what we believe are the necessary changes," comments Alan Hutchison.
ProsFit already has a big-name partner to help the company scale. HP supports the prosthetics innovator with the set-up of manufacturing sites all over the world. There is also a collaboration with BASF on the development of a 3D printed flexible inner-socket.
Currently, ProsFit is also in talks with a major global cloud services provider – the focus, in this case, is on virtual training – to help more prosthetists learn how to use the PandoFit software more effectively and deliver improved outcomes for prosthetic users.