TRAINING
ABLE Activator to hold Weekend Startup Crash Course in Burgas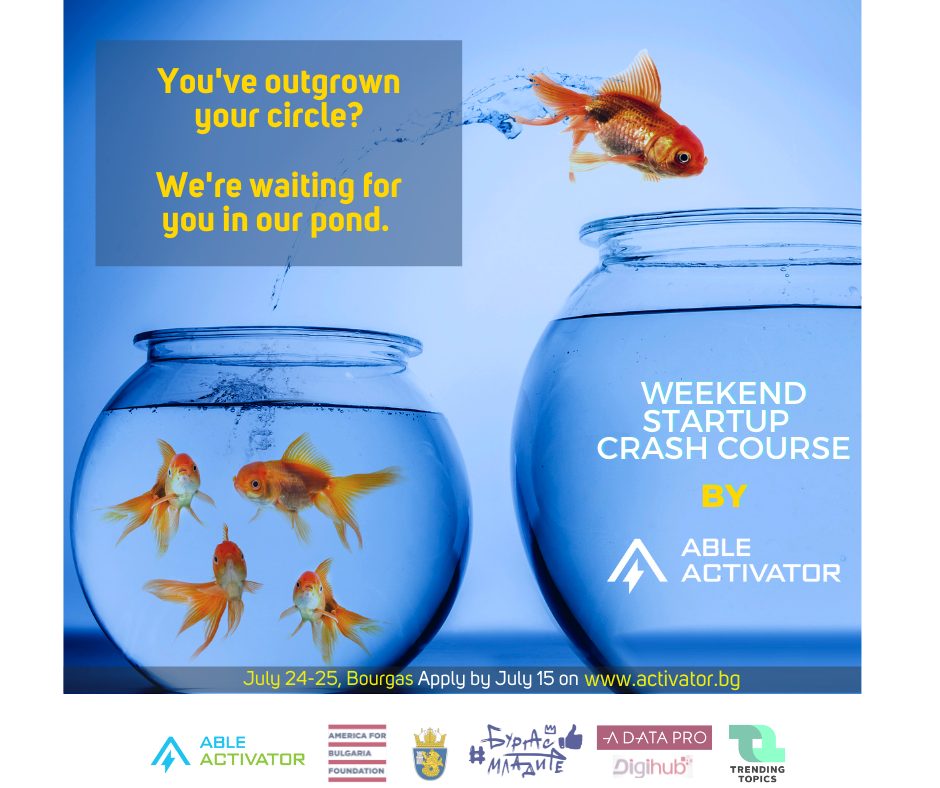 On July 24-25, the entrepreneurial program ABLE ACTIVATOR will present its new weekend entrepreneurial challenge – develop an idea into a working business project within 36 hours!
What is Weekend StartUp Crash Course
ABLE Activator has a three-year track-record of three successful editions of its main, two-month entrepreneurship course behind its back. This summer, for the first time ever, they decided to kick-start a new, shorter entrepreneurial program – Weekend StartUp Crash Course. The aim of the initiative is to ignite the interest of 30 participants aged 16-35 in entrepreneurship and teach them to apply different startup methodologies and techniques so they can start to view everyday challenges as potential business opportunities.
At the time of registration for the course, applicants do not need to have a specific business idea that they want to develop. Starting with team formation, idea analysis, interviews with potential clients, business plan development, presentation and negotiation skills, within 36 hours the course will cover all the necessary steps to lay the foundations of an entrepreneurial or intrapreneurial project.
Speakers, mentors and jury
All activities will be carried out under the guidance of a lecture panel consisting of Ognyan Vassilev (Coach and Business Development Manager at Salesforce, BCG, Accenture), Yordan Atanasov (Co-founder of Sofia Startup) and Yvonne Lalova (Business Development and Go-to-market strategist at Salesforce and BCG). In addition, an individual mentor will be assigned to each team to monitor and support their work.
Mentors in the program are Georgi Mitev (Sales and Marketing Expert, A Data Pro and creator of the BG Startup podcast), Estel Vasileva (Chief Accountant at Nestle Bulgaria), Ivan Sharlandzhiev (Trade Development Expert at Eurotronics), Hristo Hristozov (Cultural and Business Consultant at the Cinema House and The Business Institute), Julia Ivanova (Co-founder of POdLEZNO and YUYA Consult).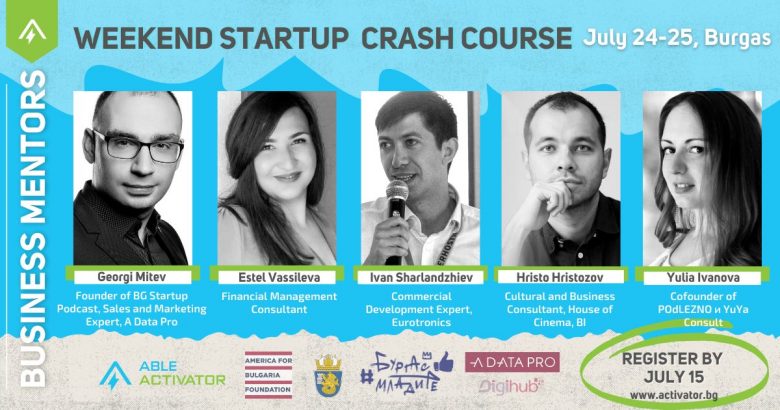 On Sunday evening, the teams will present the results of their 2-day work, and with the help of a jury and pre-set evaluation criteria, a winning team will be announced, which will be directly admitted to the final stage of the selection process for the upcoming autumn season (October 15 – December 5, 2021) of the entrepreneurship course ABLE Activator.
The jury panel for the Demo Day consists of Boris Kolev (serial entrepreneur and winner of the World Business Hall of Fame of JA Worldwide), Petko Georgiev (chairman of ICT Cluster Burgas), Yordan Atanasov (co-founder of Sofia Startup), Pavlina Yanakieva ( Executive Director of Bulgaria Innovation Hub) and Vesna Baltina (Deputy Mayor for Strategic Development and Ecology, Digitalization and Adaptation to Climate Change, Municipality of Burgas). The project is made possible with the general support of America for Bulgaria Foundation, the Municipality of Burgas, DigiHub Burgas, Bulgaria Wants You, A Data Pro and many others.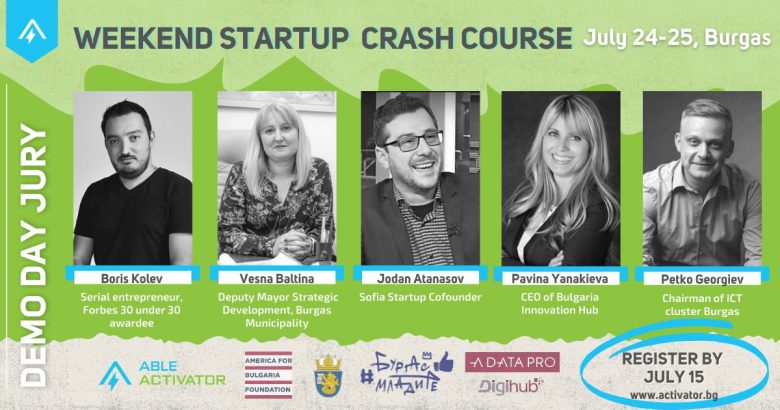 When and where
The event will take place over the weekend of July 24-25 in Burgas, Bulgaria. The training modules will be held at the NHK Cultural Center, and the Demo day at the open stage of Hashtag PAVILION positioned next to the city's most emblematic symbol – the Burgas Bridge.
How to apply
Weekend StartUp Crash Course is suitable for:
People with ideas who are looking for business advice and mentorship to learn what the first steps towards their realization are;
Young professionals who are looking for know-how to apply and develop new innovative projects in the companies they are currently employed in;
Ambitious individuals who are considering starting their own business or social venture, either full-time or on the side;
Students who want to develop in the field of entrepreneurship and gain first hand experience from proven professionals and experienced industry leaders;
Go-getters from all over Bulgaria, who want to expand their personal and professional networks with like-minded people and successful entre- and intrapreneurs.
The places in the course are limited. Candidates need to fill a registration form and book theirs by July 15 at: https://activator.bg/weekend-startup-crash-course.