Act not React vol.2 with Escreo: Pivoting and Growth During a Pandemic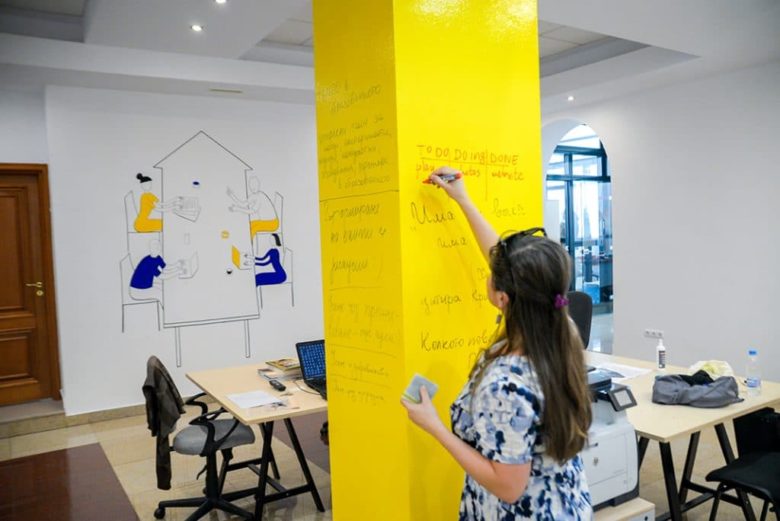 Building and saving cash reserves and cutting expenses or scaling up and fueling team and product growth? Is retraining employees and maintaining remote work capabilities better than slowly returning to the offices? Six months after the pandemic began, it looks like it is far from over and businesses will have to prepare to navigate through its second phase. We talked with founders from the local ecosystem in order to find out how startups from various industries are proactively planning to face the challenges of the second Covid-19 wave.
No doubt that the Covid-19 pandemic and the transition to home offices are posing a challenge to the most important aspects of work – team and individual productivity, collaboration, and creative thinking. Even though the main concern for managers remains the decrease in overall productivity which causes companies to delay major campaigns and initiatives, employees feel more concerned about the decrease in their creativity and idea generation. The mission of Escreo, the home and office productivity and creativity startup, is to solve both of these concerns by supporting businesses and individual employees to best adapt to the new normal and boost their levels of creative thinking and efficienceness. 
Taking on the market opportunity for more home office productivity solutions that the pandemic has caused, the team of Escreo not only managed to stay relevant during the first lockdown but also recently received a €100K investment to meet the rising demand and keep innovating. As we are in the middle of a second lockdown, we reached to one of the co-founders of Escreo, Elena Nikolova, to see how the startup has managed to pivot, what were the main hurdles that the team had to overcome, and what are the main lessons learned that help them to navigate through the second wave of the pandemic. 
Trending Topics: How did you respond to the crisis during the first big wave in March 2020?
Elena Nikolova: We changed our offering and instead of selling products to offices we began targeting end-users – employees who had to adapt to working remotely and parents with students who had to get used to online education from home. We started offering Home Packages with discounts on selected products and boosted up our marketing campaign to retarget customers instead of businesses. Interestingly, in March we saw a surge in our online sales numbers because many people prepared their home offices. 
What was the biggest challenge you faced? What is the most valuable lesson you learned?
From a personal perspective, the biggest challenge was that we had to part ways with one of the long-time employees in our marketing department. We continue to work together on a freelance basis. When it comes to marketing, we need to minimize our budgets and limit the number of resources invested in promotion and advertising. We reduced our salaries to keep the whole team and until July we managed to keep the whole team together.
From a business perspective, we realized that when push comes to shove, things that we thought would take a lot of time to happen, and things that we were postponing for quite some time, actually took a lot less time to get done. We had often criticized ourselves that we weren't experimenting as much and as fast as we should have and because of the pandemic we became more courageous to try out new ideas and take risks. In this regard, I can say that the Covid-19 crisis opened our eyes to see that there is no point in waiting – now the crazier the idea, the better. 
In what way the crisis has affected your clients and the market that you are operating in as a whole? What emerging trends have you observed? 
Offices would never be the same because work will never be the same. The office will be a mix of remote office and the traditional office space where collaborative and creative work will happen. For a long time, the maintenance of offices and facilities was a major part of the costs incurred in every organization. After people had to switch to working remotely, many of the big companies understood they can save on the high facility expenses. Some companies transformed their offices into a flexible working space. At the end of the day though, managers know that in order to keep companies' values and build real teams, physical communication is a must. It's interesting to follow how Airbnb adapted to the new reality – they started offering their space for long-term lease, for people who can find some personal space.
In the first months of the pandemic, I conducted interviews with our clients and most of them shared that there was no decline in the overall company productivity levels. However, I believe that this trend will change during the second wave as it's not easy to work and take care of their children, some don't have the space itself. Stress and anxiety due to Covid-19 do not help either. Some companies provide their employees with Home Packs which include products and services to assist their work from home and make it more efficient.
What was the trajectory that your business went through in terms of demand from March until now? How do you expect demand to change in face of the second wave?
Through March and April, we managed to keep our sales steady but after that, there was a drastic decline in demand, especially in the UK, where we rely more on B2B sales than B2C sales. Even though throughout the last couple of months sales have increased in terms of numbers, the average order value is considerably lower. This comes from the fact that our biggest projects are with office buildings and when such projects are put to a standstill, the sales that we make to end customers, even though being quite a few, are not as profitable as the sales we were making with business clients. We started fundraising and just closed a 100K EUR deal. Our main goal will be creating a one-stop-shop for creativity and productivity solutions and developing a multi-product portfolio.    
What is your advice for planning a successful pivot strategy? 
Crises in general have the tendency to make people more observant and likely to question the patterns that they had been used to. For us as a team, this meant organizing many meetings and having lots of discussions between ourselves regarding the purpose of Escreo and our vision for the future development of the company. We reflected a lot about the path that we have gone through from the beginning up until now and this raised questions about how we imagine getting where we were headed for. 
We often sat and brainstormed together on various topics ranging from what we are best at, what we can do better, and what we don't want to do at all. Besides brainstorming, we analyzed old data and gathered consumer insights and feedback which helped us to discover new market potential and realize that we need a new value proposition.  
Something central to the pivot was the mutual agreement that we should spare ourselves all the logistical issues that come from shipping and storage. Our strength is in developing partnerships, creating new products, marketing, and selling them to new markets – that's why we switch to e-commerce. And just hired an Amazon development person to help us develop Amazon as a sales channel. 
What would you advise startup founders who are unsure how to navigate through the second wave of the crisis?
Referring to the well-known novel "Hitchhiker's Guide to the galaxy", my advice is very short – don't panic.