IMPACT
Air pollution apps track toxic air resulting from wildfires in Southeast Europe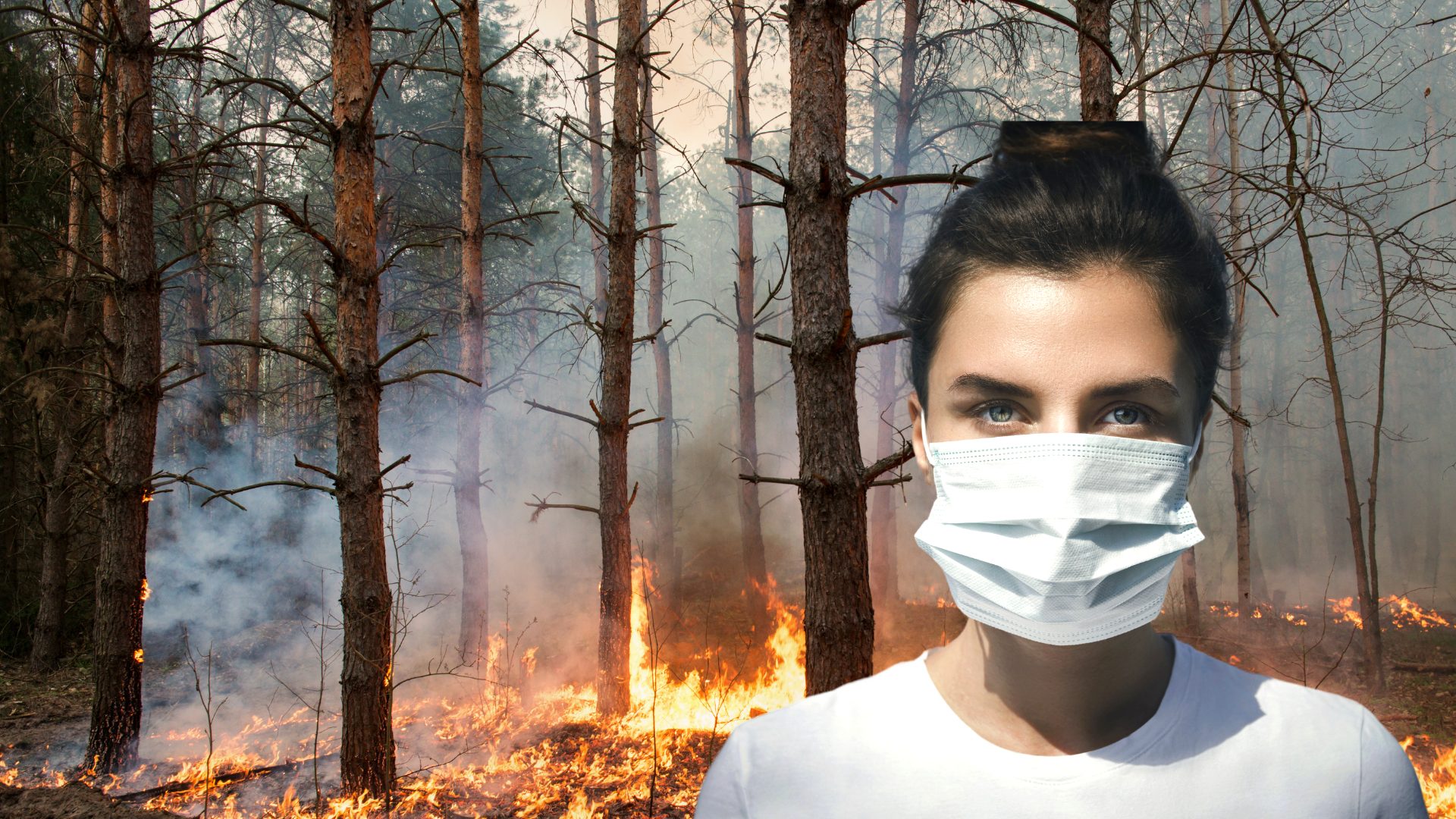 Europe is burning. Wildfires rage in Greece, Bulgaria, Albania, Turkey, Italy, and other countries across the continent. According to European scientists, the Mediterranean had turned into a "wildfire hotspot" in recent days, reported Reuters.
The temperatures in Southeast Europe (SEE) get higher and higher, reaching record values of over 48 degrees Celsius. The heatwaves and massive wildfires cause a "disaster of unprecedented proportions", leaving hundreds of people without a home and setting a deadly footprint on the environment. According to the European Forest Fire Information System (EFFIS) almost 200,000 hectares of forests, farms, and land turned into ashes in the past 14 days in Greece and Tukey alone.
The dark plumes of smoke that take over the cities as a result of the wildfires contributed significantly to the increasing emissions in the air. It is no secret that persistent exposure to air pollution is associated with respiratory problems and various diseases.
Avoiding Air Pollution
The innovation and startup ecosystem in SEE has set as a goal a long time ago to provide solutions for important social and environmental issues. There is still no quick fix for raging wildfires and irresponsible human behavior but a few local companies offer a solution by helping people avoid air pollution resulting from the rising temperatures and raging wildfires.
AirCare – The mobile app "AirCare" (МојВоздух) allows its users to track air pollution and air quality in real-time. The app provides also push notifications to alert for changes in air quality and is equipped with a world pollution map, providing updated information from around the globe.
Founded in 2015 in North Macedonia, AirCare strongly stands behind its agenda that "breathing clean air is a human right". Over the course of the past five years, the company has won over 20 awards on national and international levels.
"AirCare has three main goals: to inform, to educate and to encourage action. The main focus of AirCare in the following period, apart from the expansion, will be to encourage action among citizens through various innovative unique approaches", shared founder Gorjan Jovanovski for Trending Topics SEE.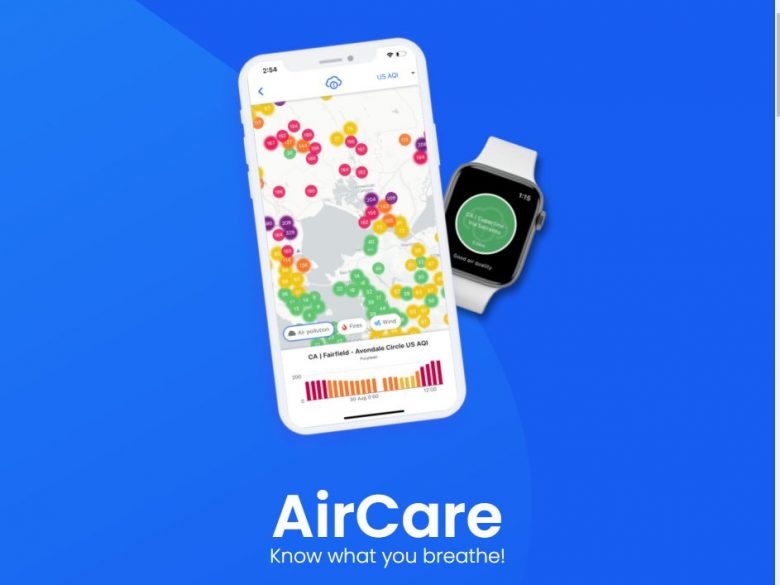 AirLief – AirLief is a Bulgarian startup that fights air pollution with innovative protection masks and a mobile app. Founded in 2017, the startup develops an application that monitors air quality and how it affects people. It provides pragmatic tips and information regarding air pollution and its connection to asthma and other respiratory illnesses, heart disease, and premature death. As of today, the app has more than 50,000 users in 71 countries.
At the end of 2019, Airlief also introduced to the market an innovative mask against dirty air. Made out of recycled cotton, the mask's interchangeable 5-layer filters were created to safeguard not only against fine particles but also pollen, bacteria, and larger particles of dust.
"We are not doing this for the money. Somewhere between business, research institution, and an NGO, AirLief is focused on solving a very big and very complicated problem. We are going to develop new products and features only if it makes sense in the context of the fight against air pollution," shared founder Peter Zhivkov for Trending Topics SEE.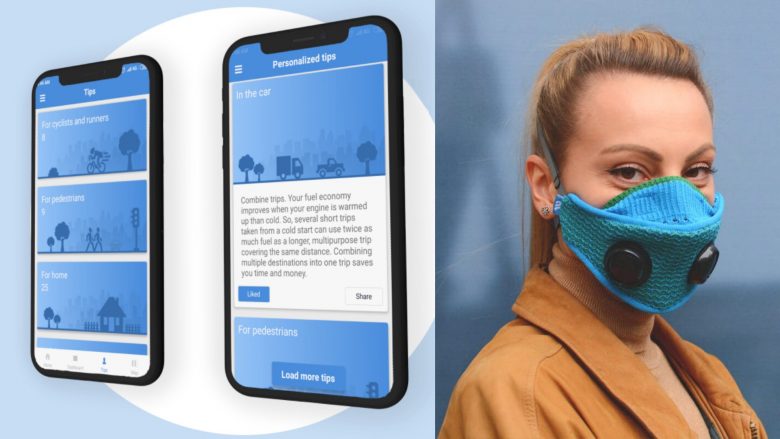 Airly – Airly is a Polish startup that addresses the air pollution crisis by providing local and accurate predictive air-quality data to governments, companies, and citizens. The main goal of the company is to make air quality visible and help people understand the impact of the air they breathe.
Founded in 2016, Airly aims to #RepairTheAir by increasing social awareness, inspiring behaviour change, democratizing air quality information and improving data accuracy. Currently, the company provides a variety of services and products such as a mobile app, sensors, forecasts, reports, and others.
"We want to become a single source of air quality data, globally until 2025. We hope to reach places over the world, where the problem of air pollution is the most pressing. And help communities around the world to solve their problems," said CEO and co-founder Wiktor Warchałowski in an interview with Trending Topics SEE.
The current air quality as a result of the wildfires across Europe can be checked on a regular basis on the MyAirly map.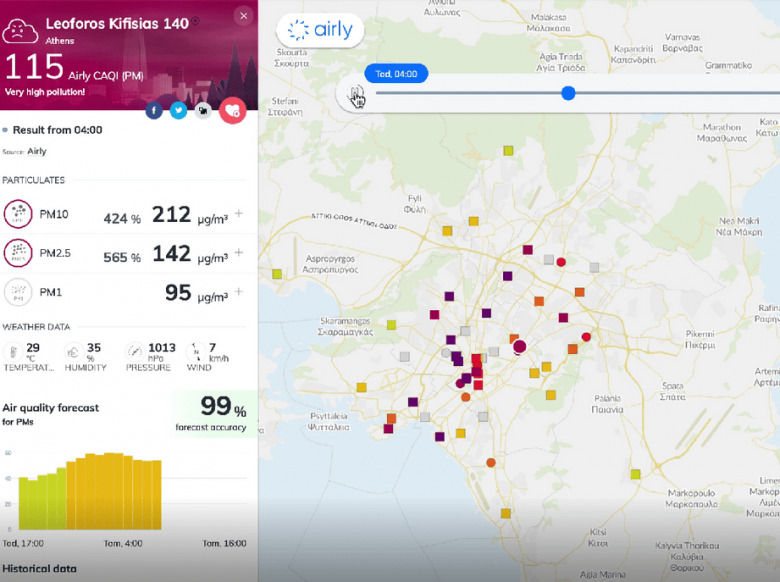 Te Pema T – A group of young people from Kosovo launched the project "TE Pema T" (By the tree) as a response to the pressing need for cleaner air in the region. Unlike air pollution tracking devices, TE Pema's tree benches are actually installations that filter air by taking pollutants coming from chimneys, power plants, cars, and other environment polluting agents. They have a system that collects rainwater, which is then filtered and used to automatically water the plants. One installation replaces 70 ordinary trees, saving space in a city that suffers from a serious deficit of green areas.
"In order to ensure everyone's well-being and security, we need the right infrastructure, so our goals are to have smart and green cities. Not only the population but also the infrastructure of the city should be "alive" and react dynamically," said Dion Deva, CEO & Founder, for Trending Topics SEE.