PLEASE STAY FOCUSED
Belgian developer uses AI to detected lawmakers distracted by phone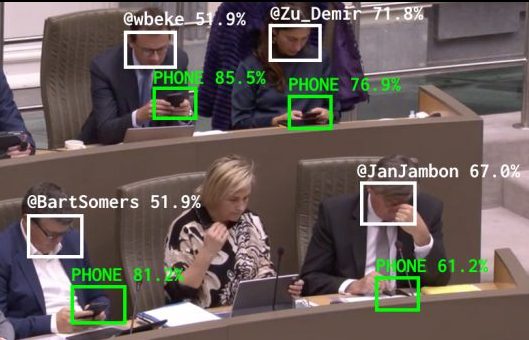 Belgian speaker and developer of the Die With Me app (a messenger you can only use when you have less than 5% battery) Dries Depoorter has created an AI-based tool that counts the time Flemish politicians spent looking at their phones during parliament sessions. He also publishes videos exposing the MPs on Twitter and Istagram, TNW reported.
Depoorter's software called The Flemish Scrollers uses machine learning to spot smartphones in the hands of politicians in footage from the Flemish parliament sessions, and recognize their owners.
Obviously, the developer publishes the videos to expose politicians distracted while at work, but his tool has one weak point – there is no way of knowing why people are using their gadgets (work-related or just for fun).
How it works
The program is coded in Python and uses machine learning (ML) to detect phones and facial recognition to detect the distracted politicians.  This is possible due to the fact government meetings in Belgium, the home country of the developers, are livestreamed on Youtube.
The twitter bio of the project (@FlemishScroller) says the following: "Automatically tagging distracted Belgian politicians when they use their phone on the daily livestreams. This with the help of AI."
The project was accepted with open arms by the public, and the internet as a whole. There are users who asking the code to be made open source so politicians in other countries could be exposed as well.