awards
CESA: OfficeRnD Is Startup Of The Year In Bulgaria. Here Are The Other National Winners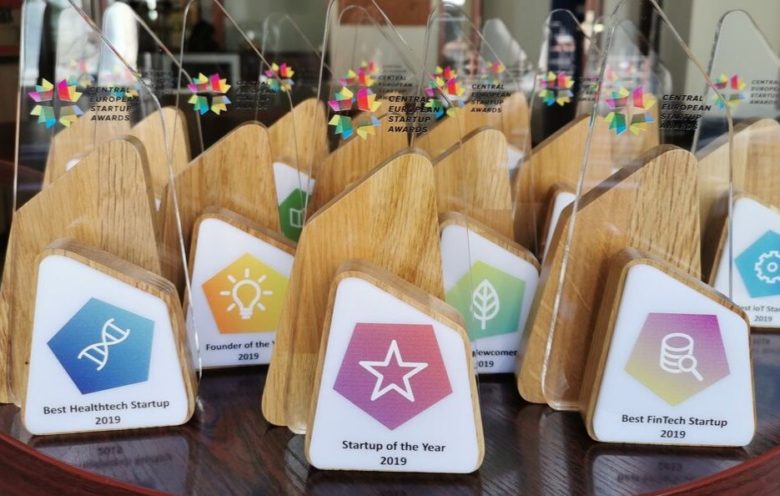 For the fourth year in a row, the Central European Startup Awards gathered the entrepreneurial community and celebrated the ones who've done their job well in the past 12 months. Sixteen companies and individuals were honored for their contribution during the special ceremony organized by the Association of Bulgarian Leaders and Entrepreneurs (ABLE) in Sofia. 
All of the national winners are going to the regional finals in Bucharest in November and will try to convince the regional jury and the audience of the potential of their ventures.
The winners
The big winner who received the Startup of the Year award is the company behind the coworking space management system used in over 1000 locations globally – OfficeRnD. They were chosen by the audience and the jury among 90 nominees and five shortlisted companies. Spacetech disrupter Endurosat, robotic verticalization system for disabled people I Rise Mechanics, smart spendings management card Payhawk, and VR streaming player QuarkVR were also nominated.
Good financial performance, growth, and impact on the whole ecosystem – these were the criteria in this category. Earlier this year, the company also received a Coworky award for being the best tech to run space at the international Global Coworking Unconference Conference beating another 13 competitors from all over the world. But what is so special about this startup operating in a highly competitive space?  Four years on the market, €1.5M funding, 1000 locations around the globe, $100K monthly recurring revenues– these are all the relevant figures one needs to know about the OfficeRnD.
+++ OfficeRnD partners with the largest coworking space platform Coworker+++
The company was started by Miroslav Nedyalkov and Miroslav Miroslavov in 2015 with the idea to change the way coworking spaces are managed by automating part of the tasks and leaving more space for community management and communication.
Тhe other game-changers
This year more than 600 companies have been nominated, and 65 were shortlisted for the public voting, said ABLE's leader Kremena Dervenkova. Here are the winners: 
Startup of the Year

OfficeRnD

Coworking and Flexible workspace management platform.

Best Newcomer

LogSentinel




LogSentinel is an information security company that keeps critical data safe at scale. Their innovative solutions keep all logs, data and documents protected by blockchain technology. Their advanced AI detects malicious activities and alerts in real time so you can take prompt action. All your business activities are aggregated and displayed on their intuitive dashboard, which gives you full control over your data, combined with advanced business intelligence capabilities.

Best Smart City Solution

Parknshare





Parknshare connects people who are looking for a parking spot with all off-street and on-street parking spaces such as businesses, municipality parking, airports and etc., providing real-time information via their mobile and web applications. With Parknshare, drivers can find parking spaces of the private owners and reserve them in advance.

Investor of the Year

LAUNCHub Ventures

LAUNCHub Ventures is an early-stage VC fund, investing in the seed space. Their criteria for investing in a company, including initial traction and founding team composition. As a fund, they have a tendency to invest in digital businesses, but prefer to remain sector agnostic. Their portfolio companies are in the fields of SaaS, Enterprise Software, Health-tech, E-commerce, Mobile, IoT, but they are not limited only to those areas. In terms of geography, they are based in Bulgaria, but are not hesitant to invest outside of Southeastern Europe.

Best Health Tech Startup

Printivo




Biotec is a startup eager to create human organs. It employs 3D-bioprinting technology to fabricate bioprinted human tissue grafts. Printivo is young biotech company working in the field of biofabrication and tissue engineering. They are using the cutting-edge technology of 3D-bioprinting to create their products. Their team has developed a unique bioink formula capable of sustaining cellular life and proliferation. Currently,they are developing a multi-organ on a chip, combining 3D bioprinted neurons, bone marrow and liver. Their aim is to provide the pharmaceutical industry with state-of-the art decision for preclinical testing of drug molecules. They believe that their chip has the potential to substitute the animal testing and to make drug discovery process faster, cheaper and most importantly more accurate.

Founder of the Year

Iskren Mitev

Mitev is one of the three co-founders of Escreo, a company that designs and manufactures creativity and collaboration boosting tools. They have specialized in functional paints – magnetic and dry-erase, and solutions for dynamic work environment – modular movable walls.

Best IoT Startup

Develiot




A corporate spin-off from Telelink Group, established as a separate venture in January 2019. A thrifty innovator, specializing in the development of world-class Industrial IoT products and solutions that deliver true value to customers. Their focus is the development of the most practical and optimal industrial-grade devices to gather data, while developing the complete customer journey and the business case for the end-customers. Then they empower partners to provide end-to-end solutions and replicate them globally. As of today they have three business cases and hardware devices that fit that description: Air Quality Monitoring Station, Remote Water Meter Reader, Remote Water Level Monitoring Station (in validation process)

Best Fintech Startup

Phyre




Phyre is fintech brand part of the Paynetix group. It has developed a mobile wallet that allows users to pay at any POS terminal around the world via smartphone. Users can also generate cash-back, get vouchers and deals from selected retailers, instantly send money to friends with no fees, etc. In the next 12 months, the company will be adding more services to the app –  loans, insurance, local services and features such as utility bills management, parking, and public transportation, cryptocurrencies are on their list.

Best Coworking Space

Campus X

Campus X, a project by the former Telerik co-founders,  is the place where great tech companies come to give life to innovative ideas and accelerate on their path to growth. Labeled as the unicorn factory, the hub is providing all key elements for tech companies' success under one roof. Hub – stellar office spaces and services. Capital – bridge to funding and leading mentors. Talent – access to Telerik Academy's master juniors. Community – a melting pot of movers and shakers.

Best Accelerator or Incubator Program

Dare to Scale by Endeavor




Endeavor is a global organization leading the high-impact entrepreneurship movement. Endeavor equips entrepreneurs with the resources needed to succeed through a series of programs and services designed to increase access to markets, talent, and capital. Launched in 1997, Endeavor has established a presence in nearly 40 markets across the world. Endeavor Bulgaria was launched in 2015. Endeavor Bulgaria's Dare to Scale is a made-to-measure growth program for high potential Bulgarian companies striving to become global players. The 4-month intense program is led by been-there-done-that leaders and features workshops, 1-on-1 mentorship sessions, and networking events.

Best AI/ Machine Learning Startup

LogSentinel




LogSentinel is an information security company that keeps critical data safe at scale. Their innovative solutions keep all logs, data and documents protected by blockchain technology. Their advanced AI detects malicious activities and alerts in real time so you can take prompt action. All your business activities are aggregated and displayed on their intuitive dashboard, which gives you full control over your data, combined with advanced business intelligence capabilities.

Female Role Model of the Year

Irina Encheva





Irina Encheva is a Manager at Endeavor Bulgaria, a non-profit supporting scale-ups with access to global markets, talent, and capital. Irina is responsible for identifying Bulgaria's high-impact entrepreneurs and helping them scale more efficiently and effectively. Additionally, Irina leads Endeavor's local mentorship program as well as the Growth Program for earlier stage companies. Irina is passionate about the evolution of Bulgaria's entrepreneurial scene and in supporting women-led companies. 

Best Blockchain Startup

Evedo

Evedo is a blockchain based platform, consisting of B2B & B2C Marketplaces. It unifies all businesses and participants involved in organizing events. Their aim is to build a marketplace and a true ecosystem that will help the $850+ Billion event industry grow by connecting all parties without unnecessary middlemen.

Best Software Development Partner



Dreamix





Dreamix is a software development company located in Sofia, Bulgaria with more than 13 years track record of successful projects. They  provide quality end-to-end software product development services following the highest enterprise standards with even higher devotion. With 98% retention rate they have been recognized as a reliable partner from enterprises, institutions and startups. Stability, quality and security are guaranteed in a partnership as to only take part in projects that are in their  field of proficiency and always strive to provide the most effective solutions. The adept knowledge of their developers helps them provide services that are classified beyond technology. They can guarantee quality in Custom Software Development, Machine Learning & Industrial IoT, Enterprise Integration and Business Analysis & Architecture.

Best Social Impact Startup

I Rise Mechanics 357 LTD




Rise Mechanics 357 is a high-tech company engineering and manufacturing OMNIBOT – robotic verticalization mobility device for people with motor disabilities. It will improve their health, independence and social inclusion.

Digital Nomad / Freedompreneur of the Year

Maggie Nazer




Maggie Nazer began her "career" as a social entrepreneur when she was only 9 years old, and organized charity campaigns for a sick boy from her neighborhood. She is the founder of the social enterprise called "Immersion Academy Bulgaria", which offers one of a kind residential language programs

that

bring together individuals from diverse backgrounds, and offer 24/7 English immersion through diverse activities, which helps participants not only improve their English skills, but also their critical thinking and leadership skills.