REPORT
Recap: €100 billion brought almost 100 new unicorns to Europe in 2021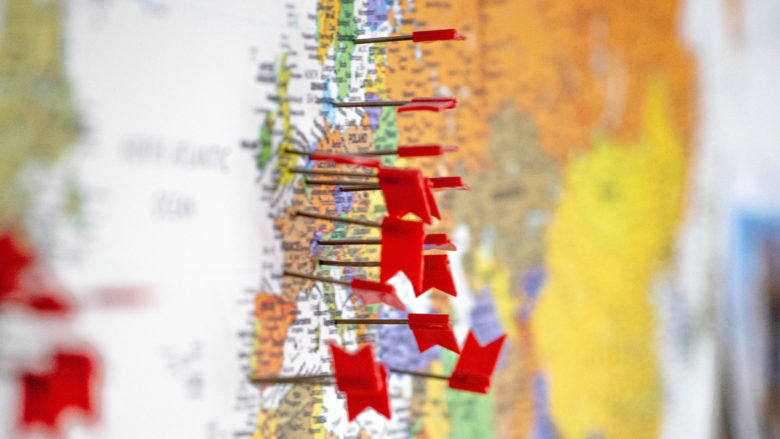 The message is crystal clear: Europe no longer has to hide. 2021 is a turning point for the "old" continent. Startups, scale-ups, and, above all, the VC industry have ensured that the European tech industry has grown faster than ever before. The latest figures from the "State of European Tech" report that the venture capitalist Atomico publishes every year with a number of partners are impressive – but they continue to show deficits in the European ecosystem.
Here is an overview of the most important results:
Europe is firmly positioned as a global tech player in 2021, with a record $100 billion in invested capital, 98 new unicorns, and the strongest startup pipeline of all time, now leveling with the US. The European tech industry creates value in a very short time, namely $1 trillion in just 8 months. There are still geographical differences in the degree of maturity, but the mobility of the talent and the distributed success are what drive the newer centers.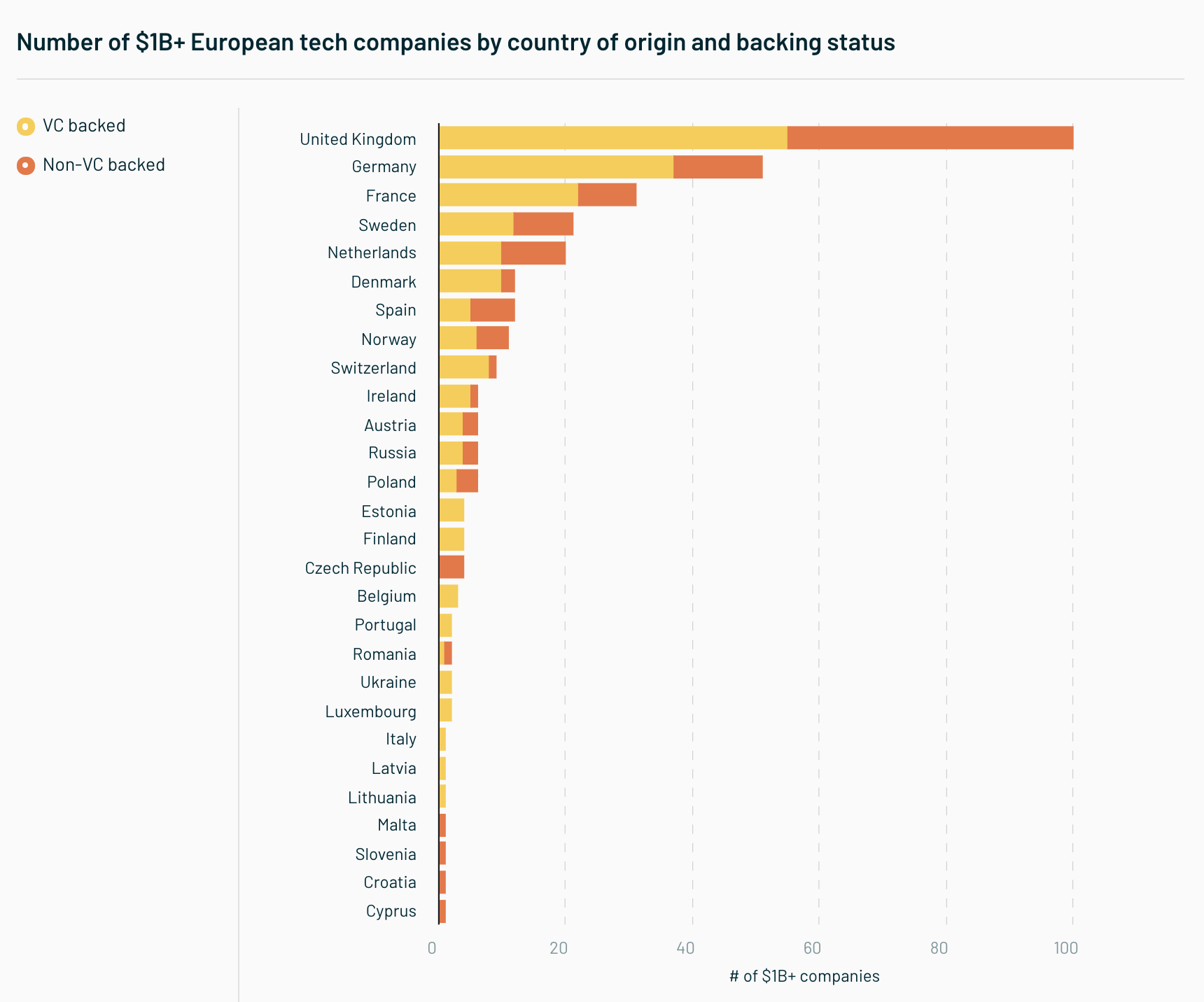 A total of around $121 billion (€107 billion) was invested in European tech companies in 2021. That is tripling compared to 2020.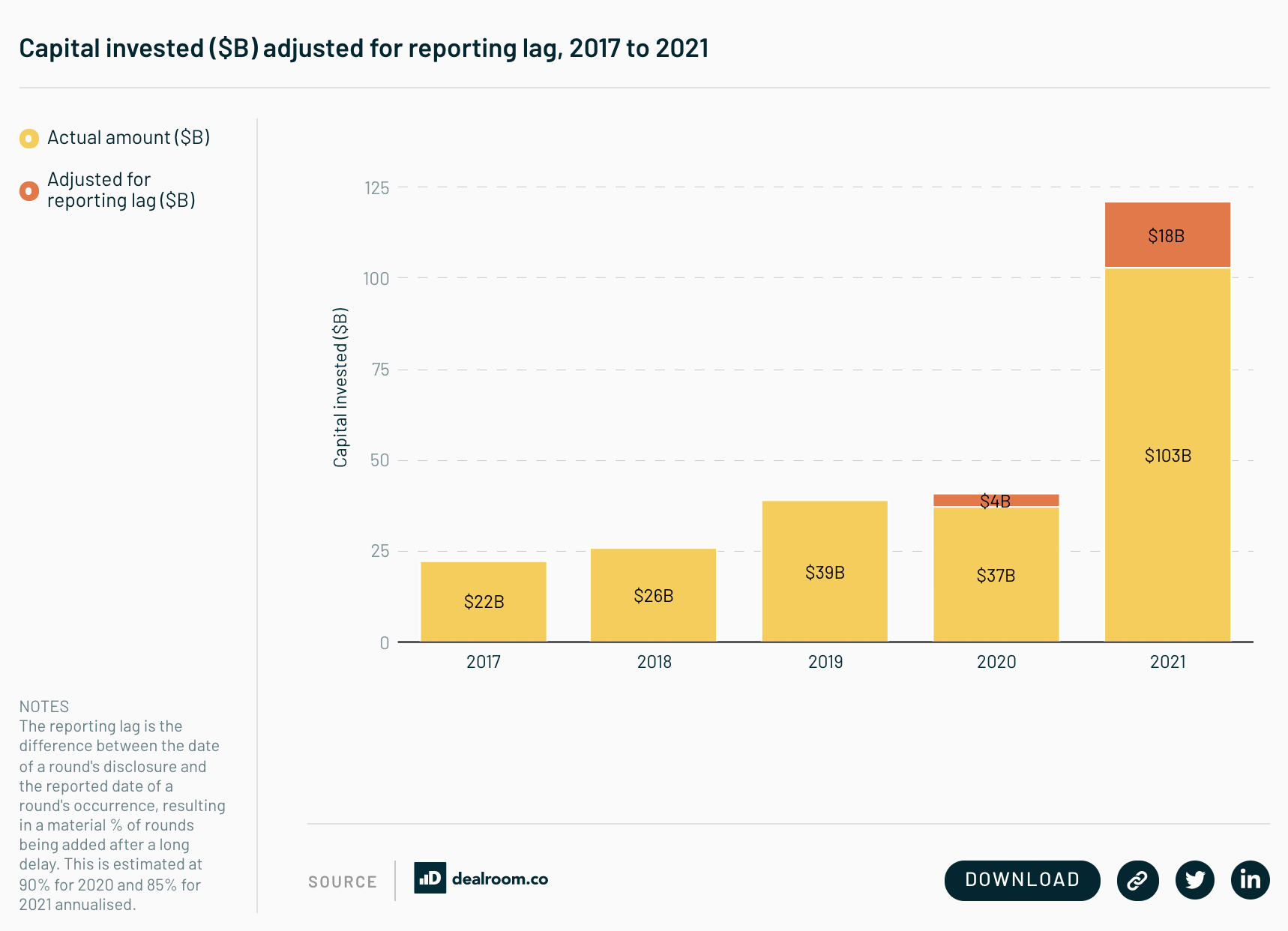 There are still more technology IPOs in Europe than in the US, with IPOs of more than $1 billion becoming the norm.
Record exit activities reach $275 billion. Still, Europe is only at the beginning of its tech journey, and all indicators suggest that even in a conservative scenario, it will add several trillion in value over the next decade.
The number of Decacorns (valued at over US $10 billion) has doubled: 26 European companies now have Decacorn status.
In terms of hubs, investment is still very centralized. The five largest hubs by total capital invested (London, Berlin, Stockholm, Munich, and Paris) host companies that together account for 54% of total investments in the region in 2021, up from 49% in 2017.
The biggest deals of 2021:
| | | | | | |
| --- | --- | --- | --- | --- | --- |
| Company | Country | Round size ($ M) | Deal date | | |
| Northvolt | Sweden | $ 2,750M | Jun 2021 | | |
| Cinch | United Kingdom | $ 1,276M | May 2021 | | |
| Klarna | Sweden | $ 1,000M | Mar 2021 | | |
| Celonis | Germany | $ 1,000M | Jun 2021 | | |
| Gorillas | Germany | $ 950M | Sep 2021 | | |
| N26 Group | Germany | $ 900M | Oct 2021 | | |
| MessageBird | Netherlands | $ 800M | Apr 2021 | | |
| Mollie | Netherlands | $ 800M | Jun 2021 | | |
| Revolut | United Kingdom | $ 800M | Jul 2021 | | |
| Trade Republic | Germany | $ 750M | May 2021 | | |
The biggest exits of 2021:
| | | | | | |
| --- | --- | --- | --- | --- | --- |
| | | Country | Exit type | EV ($B)     | Date |
| 1       | AUTO1 Group | Germany | IPO | $12.9B | Feb 2021 |
| 2 | Wise | United Kingdom | Direct listing | $10.6B | Jul 2021 |
| 3 | Deliveroo | United Kingdom | IPO | $10.0B | Mar 2021 |
| 4 | Paysafe | United Kingdom | SPAC | $9.0B | Mar 2021 |
| 5 | Wolt | Finland | M&A | $8.1B | Oct 2021 |
| 6 | Allfunds | United Kingdom | IPO | $7.9B | Apr 2021 |
| 7 | Sportradar AG | Norway | IPO | $7.4B | Sep 2021 |
| 8 | Cazoo | United Kingdom | SPAC | $7.0B | Aug 2021 |
| 9 | Arrival | United Kingdom | SPAC | $5.4B | Mar 2021 |
| 10 | LumiraDx | United Kingdom | SPAC | $5.0B | Apr 2021 |
| 11 | Veoneer | Sweden | M&A | $4.5B | Oct 2021 |
| 12 | Oxford Nanopore Technologies | United Kingdom | IPO | $4.5B | Oct 2021 |
| 13 | Babylon | United Kingdom | SPAC | $4.2B | Oct 2021 |
| 14 | OVHcloud | France | IPO | $3.8B | Oct 2021 |
| 15 | Groupe Circet | United Kingdom | Buyout | $3.6B | May 2021 |
| 16 | Zooplus | Germany | Buyout | $3.5B | Aug 2021 |
| 17 | True Potential | United Kingdom | Buyout | $3.3B | Sep 2021 |
| 18 | Lilium | Germany | SPAC | $3.3B | Sep 2021 |
| 19 | Hensoldt | Germany | M&A | $2.8B | Apr 2021 |
| 20 | Itiviti | Sweden | M&A | $2.3B | Mar 2021 |