#EU #financing
Fintech Scaleup Software Group Receives €18M through a New Venture Debt Instrument of the European Investment Bank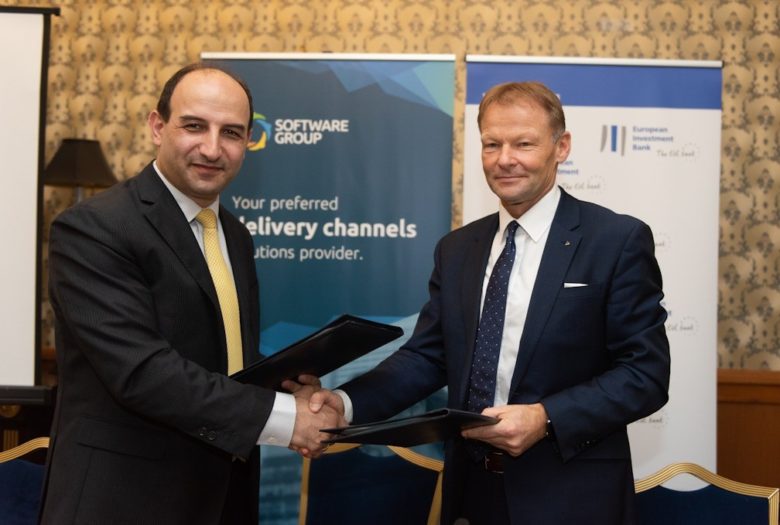 The fintech scaleup Software Group is the first Bulgarian company that receives funding through а new Venture Debt instrument of the European Investment Bank (EIB), as part of EIB's strategy to support the innovative business through direct loans. With the new €18M, the company aims to focus on the R&D of new products and to strengthen its market positions. The financing is part of the Investment Plan for Europe (also known as the Juncker Plan) that is expected to mobilize €1.8B for investments in Bulgaria.
In addition to the deal, the EIB has shared its expectations to increase investments in SMEs through EIF in the country this year. EIF plans to commit €80M for loan guarantees and the establishment of at least one more private equity fund.
Fewer grants and more financial instruments such as loans and guarantees – this is the general strategy of EIB and EIF in the next years, explained Vazil Hudak, Vice President of EIB.
New Horizons for Software Group
"It's essential to use the right instruments in the right moments. Certainly, we believe this instrument fits the needs of the company in its currents stage. It will allow us to grow in numbers and to impact," Kalin Radev, CEO of Software Group stated during the signing ceremony.
The company, which was started in 2009, develops a software platform for microfinancing institutions primarily in the developing markets – Africa and Asia, but it has recently begun expanding to Europe as well. With a team of over 350 in nine countries, and headquartered in Sofia, Software Group has managed to gain a revenue $11M in 2017 and to grow it to $20M in 2018.
Between 2016 and 2018, Software Group has raised three investment rounds in a total over €15M by the Bulgarian funds BlackPeak Capital, PostScriptum Ventures and BrightCap Ventures (two of them indeed also backed by EIF – read below). The investments so far are a mix of private equity and convertible note investments. The new capital is coming in the form of debt of €18M, which the EIB will deploy directly to the company in the next three years, and the European Fund for Strategic Investments guarantees it.
+++ recommended read: Software Group company profile+++
The company will also use part of the new financing for R&D and is willing to develop new products and platforms in the fields of insurance, factoring and IoT. To reach the project goals Software Group is planning to grow its team with another 200 employees.
EIB's New Product: Between Debt and Equity Financing
The relatively new Venture Debt instrument aims to fill the market gap that afflicts innovative European companies in the growth stage that need financing between €7.5M and €50M. By design, the instrument targets European companies with up to 3000 employees in the field of Biotech & Life sciences, Software & ICT, Engineering & Automation, Renewables & Cleantech.
The whole idea behind the financing scheme is to prevent innovative companies from delusion when raising big VC rounds or from exhausting their capital to repay loans right at the moment they need finances to grow. The repayment periods of this instrument are flexible and more extended: five years with 2-3 year availability periods. So far, over 65 companies from Europe have benefited from the program.
"This is direct EIB financing, and it was created for companies that are not necessarily large but need larger tickets. We signed our first deal in Bulgaria with Software Group, and we are now reviewing several other companies to finance," Hristo Stoyanov of EIF, who has designed the instrument, explains Trending Topics.
Continuous Support for Startups & Innovative Businesses
Even though the financing through the venture debt instrument will be deployed to a Bulgarian company for the first time, EIB and its daughter EIF have been active players in the local startup and innovation ecosystem for over seven years.
Back in 2012, the EIF, which doesn't invest directly but operates through fund managers, chose Eleven Ventures and LAUNCHub to deploy €20M to startup companies through a program called JEREMIE. Since 2014 with a commitment of around €90M four venture capital and private equity firms have been created or backed. The first three were Black Peak Capital, Empower Capital, and NEVEQ II. Three years later the two growth funds Black Peak and Empower, and LAUNCHub received the mandate to invest the JEREMIE reflows from the previous period – another €15M each. The newest fund manager backed by EIF is BrightCap Ventures that received €20M for startup investments in 2018. According to Stoyanov, so far 230 companies, of which 180 startups, have received funding through the six funds.
EIF also has other vehicles to support innovation – for example through guarantees. In the past five years, ten guarantee agreements were signed with local lending institutions providing more than €600M in loans for innovative and research-based SME.
According to its own reports, overall in 2018, the support signed by the EIB Group in Bulgaria, including activities of the investment bank and the daughter investment fund, totaled €217M – €114M for SMEs loan guarantees and the new fund Brightcap, and another €103M in direct loans to large companies.
New Programs in Cooperation with the Local Authorities
In 2019 EIF plans to commit another €80M reflow from JEREMIE to the development of the ecosystem through two programs. The first one – Documentary Finance Guarantee facility, is in cooperation with the Bulgarian Ministry of Economy, and aims to reduce collateralization requirements for bank loans through guarantees. EIF will provide €30M in guarantees to banks that will then have to issue loans for €200M.
The second program, called InvestBG Equity, aims to back managers of VC and private equity funds with €110m. The first operations are expected to launch in 2019, and EIF aims first to invest €50M in the program.