future of mobility
The Trending Topics Guide To Hydrogen Mobility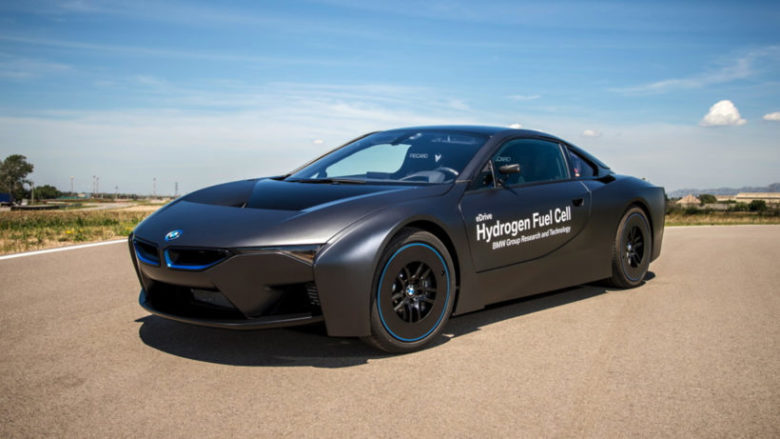 Electric cars are already a trending topic, not least thanks to Tesla. But now the car industry and politicians come up with a new (actually old) idea: The hydrogen cars, or in other words cars with hydrogen fuel-cell on board. The basic idea goes back to the 19th century, it was forgotten after the rise of fossil fuels and then revived by NASA in the 1960s and 1970s.
Today, the hydrogen car that the auto industry has been researching for decades is en vogue again. The climate crisis calls for rapid CO2 reduction, and the hydrogen car appears as such a solution. However, cars with fuel cells as well as suitable filling stations are still available in tiny quantities, and the expansion of suitable infrastructure will cost billions. So it can be assumed that initially pure electric cars will prevail with more and more consumers before the mass changes to the hydrogen-fuel cell.
Political push for hydrogen cars
In addition to technological maturity and environmental issues, the political and geostrategic dimension shouldn't be forgotten. Hydrogen promises Europe to ease the current dependence on the oil states on the one hand and the major battery powers (especially China), because it can also be produced locally. And so in the Ministry of Transport (BMVIT) and Ministry of the Environment (BMNT) and at the European level strategies are being worked on. The parties have jumped on the subject again and argue in the current election campaign for the pros and cons.
How does a fuel cell work?
A hydrogen car works roughly like this: The gaseous hydrogen in the tank reacts with the oxygen in the fuel cell, and the energy from this chemical reaction is converted into electrical energy. This electricity then flows into the electric motor or is stored in a small battery on board (e.g. for on-board system, lights, etc.). By the way, water steam comes also from the exhaust of the car.
How many hydrogen vehicles are on the road in Bulgaria?
We couldn't find any. Cars. Yet, there soon will be one public bus running on hydrogen in Sofia, the Bulgarian National Television reported recently. In the same time, there are estimated to be around 700 e-cars, and 22 e-buses were launched in Sofia earlier this year.  In total, according to official statistics of the Bulgarian Ministry of Interior, in June 2019 there are close to 2.8M cars in Bulgaria.
As of 2018, there are three hydrogen car models publicly available in select European markets: Toyota Mirai, the Hyundai Nexo, and the Honda Clarity. BMW is also working on a model.
How many public hydrogen refueling stations are there in Bulgaria?
No. In Spring the deputy minister of Transport Angel Popov announced that one station will be installed in Burgas in the next two years and is to be used both for ships and for cars. In the next years, another three hydrogen charging stations in Sofia, Stara Zagora and Ruse are expected. "There's a plan for ten stations by 2030," says Ivaylo Boychev from Technokrati, an organization that is educating students on hydrogen mobility.
As a comparison, in Austria, there are already five such stations:  two in and around Vienna, and one each in Linz, Graz, and Innsbruck. Throughout Europe, there are currently 152 charging stations, shows H2stations. 
In the same time, the infrastructure for e-vehicles is being developed. Currently, there are around 150 charging stations throughout Bulgaria, most of them in the capital city Sofia.  In Austria, there are more than 5,500 publicly accessible charging points in Austria. 
In the long run, hydrogen refueling stations could be a better investment because they can (see below) rely on existing infrastructure. "Charging stations are very expensive, especially in the inner city, because you have to open the floor. At a certain point hydrogen refueling stations are cheaper ", says Peter Hofmann from the Institute for Vehicle Drives and Automotive Engineering of the Vienna University of Technology.
How long do you refuel at the hydrogen refueling station?
"Hydrogen cars are absolutely suitable for everyday use. They can be refueled just as fast as fuel-powered cars and can cover a range of more than 500 kilometers," says Peter Hofmann Institute for Vehicle Drives and Automotive Technology at Vienna University of Technology.  To fully charge a tank takes three to five minutes. To charge an e-car, on the other hand, takes at least half an hour.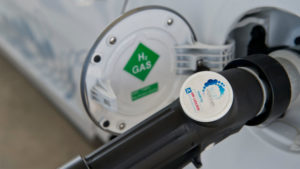 Is hydrogen really dangerous?
"Hydrogen is explosive – it has to be, otherwise it could not release energy. But it's equally safe as all other fuels. And even with batteries, there is a high risk of fire, "says Alexander Trattner, Managing Director and Scientific Director of the Hydrogen Center Austria.
"A hydrogen car is just as dangerous or harmless as a battery e-vehicle or a fuel-powered car that catches fire," says Peter Hofmann of the Institute for Vehicle Drives and Automotive Technology of the Vienna University of Technology.
In sum, anyone who is scared of exploding hydrgen cars should also be afraid of electric cars, gasoline, and diesel vehicles.
Where does the hydrogen come from?
"At the moment it is certainly the case that hydrogen is produced mainly from fossil sources such as natural gas (methane). Producing hydrogen via electrolysis from renewable energy sources is just starting now, "says Hofmann from the Vienna University of Technology.
About 40% of the hydrogen produced worldwide is a by-product of the petrochemical industry, 95% of the remaining 60%  is being produced from fossil fuels. That's why it's called gray hydrogen.
Can hydrogen be produced green?
Yes. "We have to go in the direction of green hydrogen, which is generated by renewable energy sources like sun, water or wind," says Trattner from the Hydrogen Center Austria. "At the moment it is certainly the case that hydrogen is produced mainly from fossil sources such as natural gas (methane). Producing hydrogen from electrolysis from renewable energy is only just starting, "says Hofmann from the Vienna University of Technology.
In the production of green hydrogen, the electrolysis is used, and it requires electricity. Austrian companies Voestalpine and Verbund are building a PEM system (Polymer Electrolyte Membrane – ed.n.) using a new process. The plant is the world's largest of its kind.
Are there any indirect CO2 emissions?
Of course, hydrogen cars already cause CO2 throughout the entire life cycle, taking into account the production of the vehicle (steel, sheet metal, plastic and much more), the production of energy and the production of the installed batteries. But according to Hydrogen Center Austria, the CO2 emissions of a hydrogen passenger car at a mileage of 15,000 km per year, calculated on a 15-year life cycle, are significantly less than those of gasoline or diesel cars.
© Fraunhofer ISE © Hydrogen Center Austria
BEV = Battery Electric Vehicle
FCEV = Fuel Cell Electric Vehicle
HEC = Hybrid Electric Vehicle
Is the hydrogen car a competitor of the electric car?
No, experts say. "In my view, there is no conflict between the e-hydrogen car and the e-battery car, we will need both," says Trattner from the Hydrogen Center Austria. They will most likely coexist. "Batteries are more efficient in small cars and ecologically justifiable. But in buses, in trucks and in large passenger cars, where the fuel cell with hydrogen has its place. "
"That is a co-existence, " says Thomas Hametner, chief technician of the ÖAMTC. "From 2030 on we will not have a dominant transportation form. The battery has its advantages for short distances. From 250 to 300 km range, the hydrogen has the nose ahead. "
Where else could hydrogen cars be used?
In two future markets: car sharing and self-driving cars. "Especially in car-sharing and autonomous driving, the fuel cell will prevail. Carsharing vehicles need high ranges and short tank times, and an autonomous vehicle needs a lot of energy on board. The battery is not suitable for both, "says Trattner from the Hydrogen Center Austria.
 Is the hydrogen car more efficient than the e-car?
"Electricity is a very high-quality form of energy, while hydrogen is a chemical energy source that needs an intermediate step for the transformation. A battery-electric car clearly has an advantage in terms of efficiency, "says Hofmann of the Vienna University of Technology. "But you also have to consider how and where the batteries are produced, how the electricity is produced and stored." As hydrogen cars also use a battery container for the in-between storage, and battery production is very energy-intensive – shifting a large part of the CO2 emissions to the countries producing batteries.  
Rechargeable batteries for electric cars need a lot of lithium, which is mined mainly in South America. "The production of batteries is also very resource-intensive, especially if you take a look at lithium mining in South America. I don't even want to think about the potential impact on nature is we need lithium for all cars in the world in the future, "says Hofmann.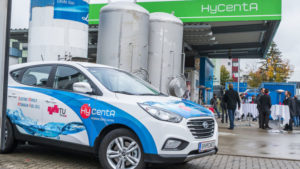 Do hydrogen cars also have a battery?
Yes, but they are much smaller than those of electric cars. The Hyundai Nexo, for example, has a battery capacity of 1.56 kWh, while a Tesla Model 3 has a battery capacity of 50 kWh upwards. An e-car has to store the energy needed for long-distances. In the hydrogen car, the energy is stored in the form of hydrogen on board. 
Which infrastructure would a hydrogen nation need?
"For a nationwide deployment, Europe will need its own pipeline supply. Pipelines can be used to distribute huge amounts of energy. Parts of the existing pipeline network are already being used for this purpose. Currently, up to 4 percent of hydrogen in Austria can be fed into the grid, "says Trattner of Hydrogen Center Austria.
"For the energy transition, we need a fuel solution that can be stored easily. Hydrogen is easy to store and distribute. The existing infrastructure such as tank trucks or natural gas networks can also be used for this purpose, "says Hofmann from the Vienna University of Technology.
© Hydrogen Center Austria
What are the geostrategic considerations of the EU hydrogen plans?
Europe is not well-positioned in the e-car battery market. China is miles ahead of the EU in terms of production of lithium-ion batteries, and the raw materials (lithium, cobalt) are mainly coming from other continents (South America, Africa).
Hydrogen, on the other hand, can be produced locally from renewable energy sources (wind, water, sun). Theoretically, this way a country could theoretically become completely independent of oil states, at least when it comes to transportation.
"Hydrogen is a way for Europe to become more independent of Asian and US battery manufacturers. So we can keep the value-added in Europe. The hydrogen should be produced in Europe from renewable energies, "says Hofmann from the Vienna University of Technology.