STARTUPS
Momsi: The Romanian app that makes motherhood easier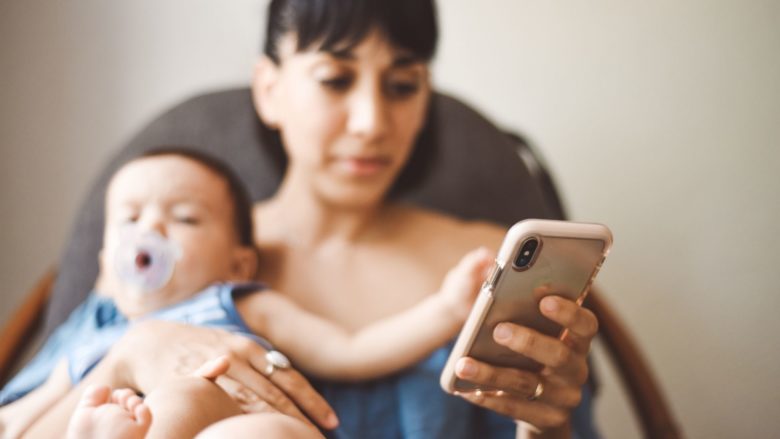 Motherhood is not an easy task. Especially in the dynamic environment of the 21st century where parents have to juggle childrearing and career.  Just a few months ago, the Romanian startup MOMSI launched an app that aims to assist mothers in the process of raising their children. The mobile application is free and aims to strengthen the mom-to-mom connections, enabling local mothers to meet up and find support.
In a nutshell, Momsi is a social app and marketplace for moms with a focus on real-life interactions and proximity matchmaking. Founded in 2021, the Romanian startup is on a mission to transform how society looks at motherhood and start an open conversation about the challenges of parenting.
Croatian Startup Bellabeat to Invest $10m in Scientific Research, Health Startups Focused on Postnatal Depression
An app for moms built by a dad?
The founder of Momsi and creator of the mobile app is Ionuț Țurlea who experienced the difficulties of fatherhood during his paternity leave. Back in 2019, when he became a stay-at-home dad, he "experienced firsthand the pains, anxieties, and isolation moms feel soon after the baby comes into the world", shares the founder. Since Țurlea´s wife suffers multiple sclerosis, he had to take over a huge part of her responsibilities as a mom. This made him realize that parenting could be extremely stressful, especially for new moms and dads who lack experience. He wondered what are new moms supposed to do when they have an emergency and no one's around to lend a helping hand?
This question also led to the beginning of Momsi – a solution moms (and dads) can turn to when in need. A sensitive topic they need to get off their chest, finding other moms they can socialize or organize play dates with, and even having the possibility to buy or sell mom and baby items, Momsi offers it all. Every mother has her own needs, so she is free to choose who she wants to get in touch with. There is also a "Help Request" button that points out that help is needed. If there is mutual consent, you can chat or talk on the phone with other mom-users.
"Our application wants to get mothers out of the insulation between the walls of the house, to put them in real contact. Facebook keeps them in another type of captivity, we don't want them to be on the phone or on the laptop, but just to go out, to socialize, to ask for help from real people," says Țurlea in an interview for Free Europe Romania.
The concept of Momsi is to create a community, a safe space where moms can exchange know-how, interact, and help each other. Users of the app can find mom friends with kids of similar age based on their location. The information required by the application is the child's living area and age, plus a selfie to confirm that the person registering in the app is real. A list of nearby contacts is generated from which each user can invite whoever they want, creating their own "village", their own micro-community.
Another big advantage of Momsi is the "market" area where things related to raising a child can be put up for sale: prams, clothes, toys, etc. From a purely financial perspective, this is a great opportunity for parents to buy second hand clother and toys for their children from trusted sources.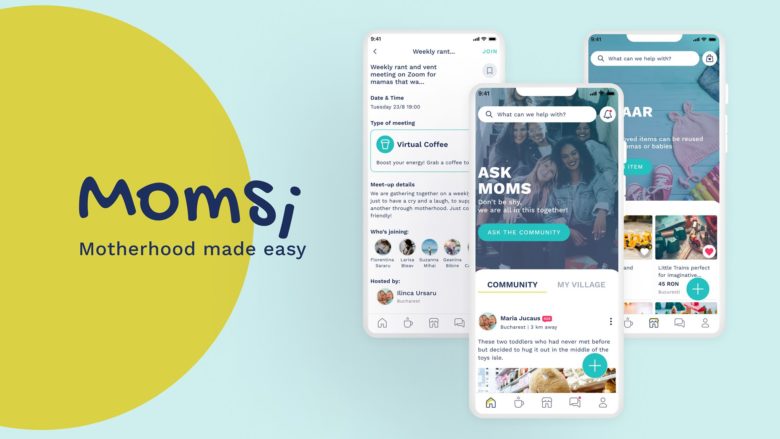 The Momsi application was launched simultaneously in Romania, Bulgaria, Hungary, Slovakia, Poland, Ukraine, and the Republic of Moldova, the total investments in the project round up at approximately €100,000. The initial launch was supported by a personal investment of €22,000. Later on, Ionuț managed to attract an investment of €85,000 for the development of the mobile application. The Momsi team is now aiming to raise another €500.000 to boost its international development and marketing.
"So far, we have invested €22,000 from our own funds and we have received another investment from a group of business angels totaling €85,000. I received the largest amount last April and with it, I kicked off product development. And last December, we formed another union to secure our runaway to finish the product and go-to-market. We hope it will be enough to take us to the pre-seed round for which we are already in talks with three EU funds – one from Poland, one from Luxembourg, and another from the UK, Ionuţ Ţurlea," told ZF. IT Generation.
Pandemic sets back women's equality in the workplace by years
Help for Ukrainian refugees
Once again, motherhood is not an easy task. Ionuţ Ţurlea shares that the three main difficulties moms face are:
isolation and lack of support when trying to accommodate themselves to the new life;
the mom-perfection ideal and the society´s expectations of good parenting;
the social media pressure, unrealistic examples and tones of apps and usesles products.
Running away from war and protecting your children is another major challenge that many women from Ukraine and the region are currently facing. Starting a life in a new country where you have no friends, no relatives, or any form of stability, puts enormous pressure on the refugee moms. More than 80% of refugees bring their own children, sometimes others, to save them. They need to look for each other, to find each other, to support each other. And this is where Momsi steps in.
"The war in Ukraine and the fact that 80-90% of refugees are mothers with children were arguments for us to launch the application in all countries bordering Ukraine so that it is easier for refugee mothers to find each other in the countries in which they arrived and receive the help they need. In the medium and long term, we aim to have the application available in the EU, not only regionally, but also in the US. The goal is to reach at least 100.000 mothers by the end of the year," says Ionuț Țurlea for Startup Romania.