entrepreneurial journey
Panos Kesisis: From Customer Support Officer At 22 To Co-Founder Of A Venture Acquired By GoDaddy In Just Six Years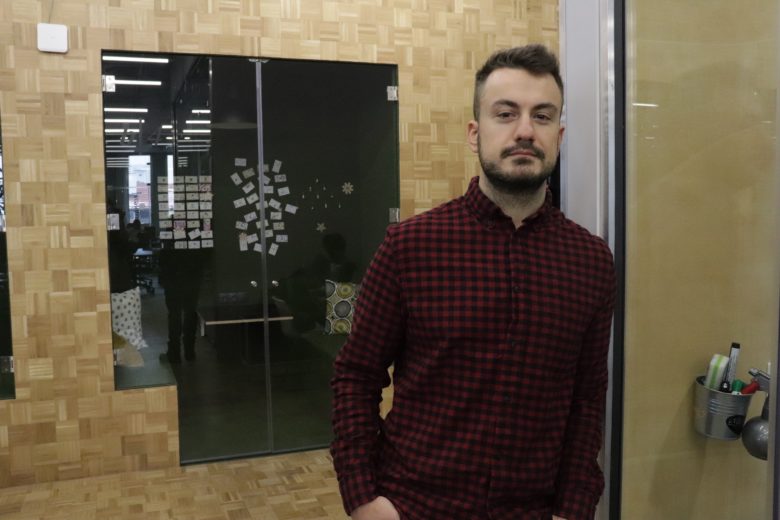 After finishing his studies in Computer Sciences in Greece, Panos Kesisis moved to Bulgaria to look for better job opportunities. After a year working as customer support, he coincidently "met" Seb de Lemos in a conference call for web hosting enthusiasts. The two immediately found a lot in common. And so it went. A few calls and meetings later, they started a Bulgarian branch of Lemos's web-hosting company in Sofia. Six years later this very endeavor of theirs had developed to the reason why the global web hosting player GoDaddy established its presence in Bulgaria. So in case, you wondered, here's what and who brought the hosting giant currently valued at $11b to Sofia.
Half a year after Kesisis left his corporate position as regional Customer Care Director for GoDaddy, and he has already built a new company with 11 thousand customers, he recalls how he got here. These are the lessons learned between the age of 22 and 29, growing from an employee to entrepreneur, going to parties with a laptop, and finding his spark again and again regardless of the fatigue.
"Do business only with people who inspire you and you are willing to learn from"
In these first calls with de Lemos, Kesisis didn't only find out that both had a lot in common. He also found someone to look up to and learn from. "Although Seb is only a year older than me, I instantly knew I can learn a lot from him," says Kesisis. By that time, Lemos had already established a web migration and web hosting company in the UK, that already had six thousand clients, and was willing to expand it. So, in July 2013, both decided to open up Bulgarian operations. They started with six people in an old apartment, where the internet cable was coming through the bathroom, doing website migrations. In six months, as the business started growing, they decided to move the whole support in Bulgaria too and to hire another 20 people.
"Hire people with interesting hobbies, they are usually the most ambitious ones"
For Kesisis, this was the first time he'd faced with the challenge of hiring so many people at once and building a whole unit. "We decided we'd hire only people with the Paragon thing (after the name of the company -ed.n.) Most of the people who came to work with us, had no idea what web hosting was, but they all had interesting hobbies. People with interesting hobbies are also usually the most ambitious ones," explains Kesisis. So, they got a writer, a photographer, and even Radoslav Georgiev, a famous rapper from the underground crew Logoped, who's still on his team today. Then everything kind of started going on its own. Paragon was growing in clients, revenues, people, but also adding new activities. "And so at one point, we were suddenly 120 people. This was the first time I realized we were a big company." But that was also a great responsibility.
"You start being a proper manager once you've lost key people"
Kesisis had no experience or education in management, so he had to acquire all the skills on the go. His partner did help a lot, yet, some mistakes had to be done, and some lessons had to be learned on his own. "I've lost key people, it's part of the game. And then you learn to listen, but also to communicate to everyone the bigger picture, spot people with potential and support them grow," shares the back then 26 years old manager.
In 2015, the co-founders decided they were moving everything to Bulgaria – support, system administration, DevOps, C-panel developers, etc. The only thing left in the UK were the servers. In 2015, the Bulgarian company registered a revenue of €700k. At the time they already had 80 thousand clients mostly in the UK and had found a way to inverse the high cost-low profit paradigm of the web hosting business by moving it to Bulgaria, but also implementing different processes and model innovations. And as their business was growing, they didn't remain unnoticed. At the end of 2015, after turning down several similar offers from local players, they decided to sign a deal with Host Europe Group that would turn them into an acquisition vehicle aiming to double the size of the company over the course of the next 2 years. 
"Spot the smart ones, and give them tasks outside their job description"
And so it went. Paragon, more particularly started looking for smaller players to acquire. In the next two years, they bought close to 20 companies, mostly from the UK and the US, doubling the customer base. So in 2016, the revenues grew to €1.7m, and so did the teams too. "I'm not particularly proud of this, but in some cases, the way we maintained the business profitable was partially though letting people go from the companies we acquired and hiring people in Bulgaria. Not only the cost was lower, but Bulgarian employees turned out to be triple as productive as others," recalls Kesisis. And of course, not all the integrations went in the most smooth manner as well. There were enough cases in which servers fell out, and hundreds of thousands of clients' sites were down. Again, part of the game, says Kesisis. As the company grew in personnel, there were also all kinds of other strange cases – hires with false documents who turned out to be killers, employees who turned out to be alcoholics and maniacs. "And at 26-27 you still don't know how to deal with such situations." All this, however, strengthened his belief that people are the most important asset of a company and he started acquiring new techniques.
Realizing that many of the people who started with support positions had the potential to grow far beyond this, Kesisis started to include them in other projects too. For instance, at the time when Paragon was doing a lot of acquisitions, he started giving them due diligence and research tasks. "You can then see people feeling part of the bigger picture in a different way," he smiles. 
"The only way for an entrepreneur to stay in a corporation after the acquisition is to have a manager to get inspired by"
While Kesisis and Lemos were acquiring smaller companies and coming up with ways to optimize them, so were other bigger players too. In 2016, the hosting giant Go Daddy acquired Host Europe Group and so Paragon was also merged into the corporate machine the next year. The co-founders became Directors for the region. And employees. As usual, they were tied with contracts. So, they did. But left the company almost the day their contracts expired and started another endeavor in two weeks. "I felt I couldn't learn enough from my manager and this was a dealbreaker. He was an experienced professional and everything, but I didn't feel I could take something for myself from this," he says.
"Make sure to find your talent"
And back in the game, today Panos Kesisis and Seb de Lemos run two new companies born right after they quit GoDaddy. The one subscription-based WordPress development business and the second, not surprisingly, a web hosting company that has already gained 11k customers, again mostly in the UK, in the nine months on the market. Fixed and Stablepoint already feature 35 employees, and a new office is being launched in Bali. "This time we kind of know what to expect, we aren't building it from scratch, and we know we will continue to grow," says Kesisis with a touch of boredom in this voice. And then when I ask him why web hosting again, he smiles and lights up. "Oh, I think I found my talent with this – I understand how it works and how to innovate in it. And I somehow like managing the whole process and the people."
We usually find unique and untold stories because we stay with the communities in their natural environment. For instance,…