Video Story
Playground Energy: The Tech Company That Aims to Make Kids Stay Longer Away from Digital Technology
A bit over six years ago, two inventors were swinging on their chairs and had an a-ha moment – an idea to use this energy to produce electricity and charge their phones. They quickly came up with another idea – kids are a great source of energy. Almost as quickly as their idea came up, the two realized that "making children work out to charge your phone is not ethical". So Hristo Alexiev and Ilian Milinov changed the concept. Today Playground Energy designs and manufactures playground equipment that indeed transforms kinetic energy into electricity and makes toys blink, play music, trigger fountains and entertain children.
"We want to keep kids longer on the playground exercising and also socializing with their peers",  Hristo Alexiev explains.
An entertaining ecosystem
The toys don't look any different from conventional ones, so the children intuitively know what to do with them. But to keep them engaged longer, the two inventors thought of additional stimuli. For instance, they've designed similar outdoor fitness equipment so parents stay longer outdoors too. Lately, Playground energy has also put a sort of transmitters in its spring toys that send data on kids' activity and visualizes it in Google Maps. The aim – to add a competitive element to the game. For example, two neighboring playgrounds can compete with each other.
The company has already sold products and installed equipment in 25 countries on five continents. Yet, in order to achieve significant changes and make more kids compete while exercising, the company needs to equip more playgrounds. "We now have up to ten playgrounds in some countries. The shift will, however, happen when there are 100 of them per city", Alexiev explained. In Sofia, for example, there are three such playgrounds.
When the users are not the clients
Playground Energy's equipment is made for kids. But unlike most of the products that target the youngest users, the parents are not paying customers. The clients of Alexiev and Milinov are municipalities, kindergartens, or corporates. For example, in Austra, the company is partnering with BILLA and equips playgrounds to some of their branches.
Even though the company has sold hundreds of items, it's still far away from the big revenues, mass adoption and profitability. With a team of six, and external funding of €425K from Bulgarian fund Eleven, Polish VC HardGamma, and UniCredit Bulbank, Playground Energy has managed to develop, produce and export six products. The products are patented in Europe and in the US. Now the challenge is to start gaining significant revenues and scale to business.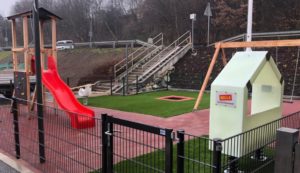 The playground equipment market seems huge, it was estimated to reach $4.2B in 2018 globally. Despite being on the market for six years, the Bulgarian company still has double-digit thousand revenues and generates losses. According to Alexiev, the reason is the very slow sales cycle of these products and the need for education and stimulation of the customers. The latest upgrade – the data visualization on Google maps, for instance, is an additional tool that could help urban planning based on real-time data on public spaces.
Last year, however, was a good one in terms of deals in the pipeline and Playground Energy is already negotiating with some of the big names in the industry. Alexiev expects the company will finally start generating significant revenues and even turn profitable in 2019.
The cherry in the value chain
In all of its current markets, Playground Energy is working with local partners and distributors – companies that build playgrounds. These partners take care of the sales, installation, and maintenance of the toys. "This model helped us export to so many markets. We are very careful with our distributors and don't want them to see us as competitors. Therefore, we are not selling whole sets or designs, but items only. We like to think of ourselves as the cherry on top of the cake", Alexiev laughs.
When the company was founded in 2012, they were the only "cherry" of this type. Now there are already four other companies doing something with an energy component in it.  
The Blue Ocean Sailors
Alexiev and Milinov have experience in blue ocean businesses and creating new markets. Years ago Alexiev was part of the founding team of Walltopia (the global leader in bouldering walls), which established and now dominates its market. Milinov is an awarded designer (Lumi, one of Playground's toys also has a Red Dot Design Award) who has created the famous and produced all over the world Seattable – the chair that turns into a table with one move.
Throughout the years they have always managed to create something novel and exclusive on different markets. So it is with the playground equipment. "We have not created the technology, but have found a new application", Alexiev laughs. Now the company is developing two new product lines for unexpected purposes – one that would optimize public real estate and one that aims to help kids with diseases exercise more while socializing with their peers. With the new lines, Playground Energy will again rely on the design and data transfer to reach its goals. The products are expected in the next two years.