CEE star of the week
Polish Infermedica's AI-driven Alternative to Googling Symptoms and Self-Diagnosis, and a €10M Series A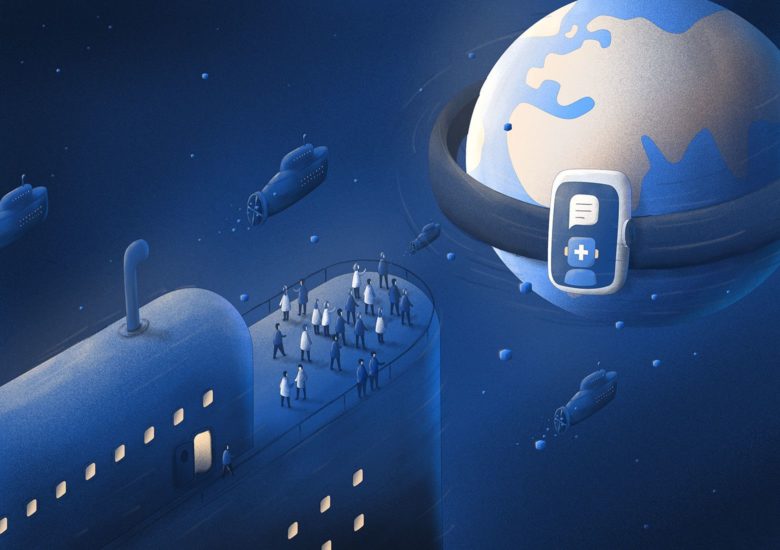 "CEE Star of the Week" is our weekly series of short stories where we present a company from Central and Eastern Europe that has recently achieved something significant – closed an investment round, won a prize, successfully launched on a new market, made a prominent hire, etc. The stories can be found both on trendingtopics.at and trendingtopics.eu.
2020 and the pandemic are definitely a turning point for the healthcare industry and it's no surprise that companies in the telemedicine and digital health domain are thriving. The Polish Infermedica, an AI-driven symptoms triage and early diagnosis startup, that aims to offer an expertise-based alternative to symptoms googling, is part of this trend. In August, founded in Wroclaw, the company raised a €10.3M Series A round, led by the European Bank for Reconstruction and Development  (EBRD). Here's what makes the eight-year-old CEE company interesting and what distincts it from its competitors.
What's the product of Inframedia and what problem is it solving?
Infermedica tackles the problem of inappropriate use of medical services and misdiagnosis, They provide four different products: Symptom Checker, Call Center Triage, Emergency Room Triage, and Infermedica API. 
The core product is the symptom checker, which allows patients to take part in a preliminary diagnostic interview. The AI suggests the most suitable action to take in a given case. Depending on the severity of the symptoms, the recommendation might be to see or call a doctor, self-care treatment, or a visit to an emergency department. Infermedica assists patients in making the best decisions regarding their symptoms, and at the same time allows healthcare companies to save money by making sure patients use the right services to treat their health issues.
Why are Inframedica's founders so sure their algorithms are accurate (the website claims 93% accuracy)?
The company uses artificial intelligence and machine learning to assess symptoms and find patterns in data. Thanks to algorithms, Infermedica gets smarter over time. Additionally, the team of physicians verifies every piece of information that is added to the medical database to ensure that patients get safe and reliable recommendations. To date, physicians involved in the project have spent over 30,000 hours on reviews.
How many users does Inframedica have?
"To date, our tools have been used by over 6 million users worldwide, and we are working with more than 50 companieс", says the CEO  Piotr Orzechowski. The platform supports 19 languages. 
What's the business model of Inframedica?
Inframedica is providing insurance companies, hospitals, and health systems with a set of advanced preliminary diagnosis and triage tools. Infermedica makes money by licensing (whitelabeling) its technology to its B2B clients. Also, the SaaS model charge based on the number of performed API calls or completed patient checkups.
Who are the competitors and what makes Inframedica stand out?
"What makes Infermedica unique is that we are API-first. We're solely focused on providing the most powerful AI triage and pre-diagnosis component, and we integrate easily with all other platforms such as chatbots, patient portals and EHRs. We want to become like Stripe, but for medical diagnosis,"  Orzechowski told Techcrunch. Among the 50 companies that are clients of the Polish startup we find brands like Allianz Worldwide Partners, Microsoft, Global Excel, Médis, PZU Zdrowie, Sana Kliniken, or Everyday Health.
What are the most important milestones hit by the company in the past year?
On the one hand, the €10.3M Series A round completed in August. This makes the total investment in the company since the start €15M. 
Also, over the last year, Infermedica grew into a team of 100 people, and its products were translated into 19 languages, making them available in countries such as China and the United Arab Emirates.
Who are Inframedica's investors?
EBRD, Heal Capital, Karma Ventures, Inovo Venture Partners,  Dreamit Ventures.
What is the company going to use the finding for?
This additional funding will be used for further R&D and expanding commercial operations, especially in the US and Germany. 
What's the next big thing for Inframedica?
"We believe that in 5–10 years an FDA-approved chatbot combined with medical devices will be used to treat common health problems, significantly improving primary care physicians' everyday work. Our ultimate goal is to make primary care more accessible, accurate, and comfortable for everyone. So far, our solutions have been focused on triaging patients and routing them to the most suitable point of care, thus saving time, unnecessary visits, and scarce clinical resources. Now, as the next step on the path to the "Virtual GP", we are working on clinical decision support capabilities such as automating mundane documentation tasks to save physicians time and providing them with rich and structured insights. We hope that in some time Infermedica will be smart enough to assist doctors in making the right decisions regarding diagnosis, treatment, and disease management, allowing every physician to perform at the top of their license," writes the CEO.