SOCIAL IMPACT
Stray Sheep: The Bulgarian company signposting bridges between the Deaf and Hearing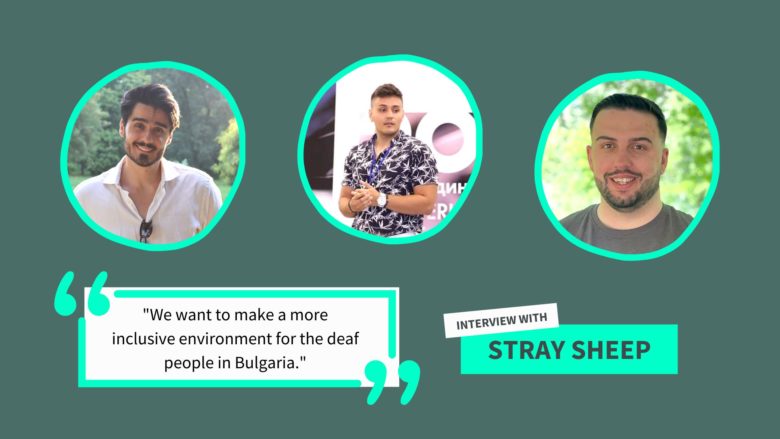 It is hard to imagine life in complete silence. Life without our favorite song, life without hearing the laughter of our most beloved ones. For those afflicted with deafness, this becomes an issue of greater societal pressure, leading to exclusion in social and work situations. According to the World Health Organization (WHO), however, people with hearing disabilities are far from a minority, representing almost 30% of the society.

That's why, in 2020, Boris Bandev, Tsvetelin Dermendzhiyski, and Aleksandar Kalinov co-founded the social business "Stray Sheep". The name is a metaphor for those who find it difficult to integrate socially. Their services are aimed at making a more inclusive environment for the deaf people in Bulgaria.
By combining social entrepreneurship with EduTech innovation, Stray Sheep wants to provide the needed tools for deaf people to become equal members of society and simultaneously re-train the general public and corporates to be more inclusive and accepting of people with hearing disabilities.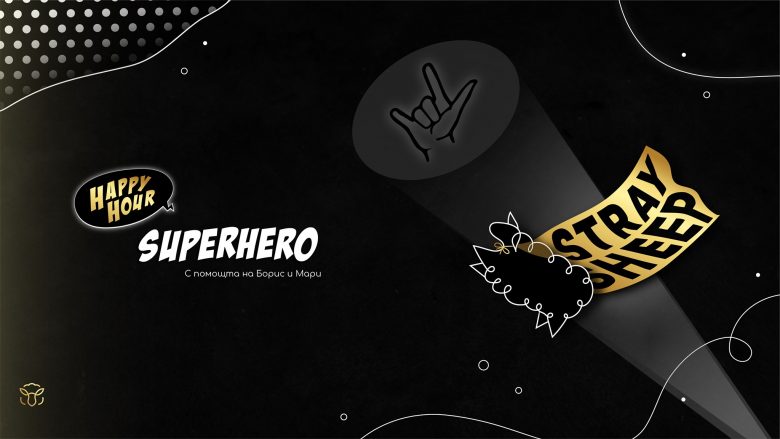 A social business built on friendship
The idea of Stray Sheep was born out of the experiences of one of the co-founders – Boris Bandev. As a child of Deaf adults (CODA), he grew up as the only hearing member of his family.
"I was struggling to identify which world I belong to. Deaf? Hearing? One is verbal, and the other is signed. This inward journey of exploring my identity brought me here – to a place where I can be both," shares Bandev. 
Tsvetelin Dermendzhyiski and Alexander Kalinov chose to co-found the project as Stray Sheep reflects their own friendship, driven by real people and real stories, and the combination of both hearing and deaf backgrounds. Now they aim to change how social businesses are being conducted.
"We are one, and we all do everything. We help each other out all the time, we communicate daily, and we solve problems together," says Kalinov.

"With time, we managed to figure out our weak and strong traits, and we focused more on what we were good at," complements Tsvetelin.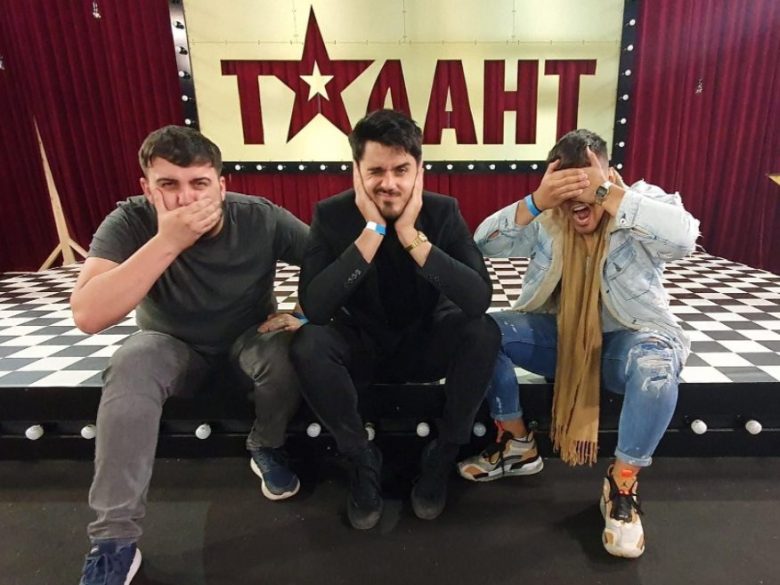 The know-how and strategies for integrating deaf people into the corporate world
Marie Peeva is also part of the Stray Sheep team since its very beginning and works as a Deaf Sign Language trainer. As a deaf person raised in a family of deaf parents, Marie provides the know-how needed to establish a successful plan for a better work environment for deaf people.
Despite her deafness, she was enrolled in a hearing school in Bulgaria. Contrary to tradition, she was able to work alongside hearing people despite the existing dissonance and prejudice between the two communities. 
"I went to a hearing school with hearing people, and they all saw me as an outsider. But in the deaf community, they saw me as popular," shares Marie
Marie acts as a shining example of the company's new business model. In its social enterprise, Stray Sheep strives to empower people like Marie by providing a voice to those few percent of the Bulgarian population. With deaf people making up 3% of the population, she continues to say that even though it sounds simple, it takes lots of work, innovation, and focus.
"At Stray Sheep, we are aiming to spread awareness about sign language and make it easy, accessible and fun. We would like to make life easier for those three percent," she adds.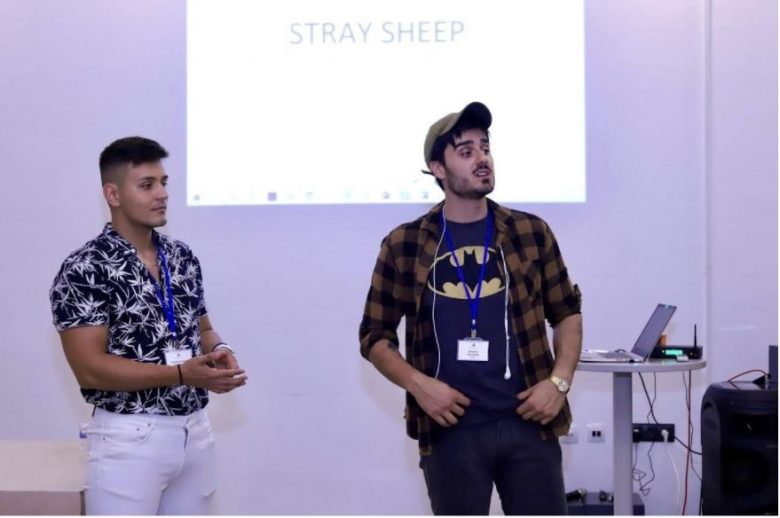 Building a world where they don't need us
Combining forces and experiences, Stray Sheep has mapped out two primary goals for action. The process begins with creating more accessible workplaces for the Bulgarian deaf community while challenging stereotypes that portray deaf people as less capable or qualified. 
The company aims to do this by introducing training options at leadership levels in hopes this can open doors for deaf employees, allowing companies to build socially responsible businesses. 
"If you are a company and want to grow your team, we offer corporate training focused on sign language and work with deaf people. These are soft skills every employee needs. Deaf people lead our training as we believe deaf people should be on the forefront," says Bandev. 
The reality of issues in Bulgaria
In January 2021, a new law was adopted in Bulgaria, recognizing Bulgarian Sign Language as a natural independent language.
"We should be proud because we are one of the few nations to have an official sign language," says Dermendzhyiski. 
However, despite the new ruling, the limited number of sign language interpreters and the lack of adequate government regulations that would define their salaries or fees make it impossible to provide a designated professional for each deaf person.  
According to the co-founders of Stray Sheep, there are only 10-15 active sign language interpreters in Bulgaria. Despite the scarce presentation of statistics on the number of people with a hearing impairment, the European Commission roughly estimates that there are around 120,000 people with differing levels of hearing loss in the country. 
"There is a huge gap between the demand for interpreters and the actual number of people who offer this as a service," points out Bandev.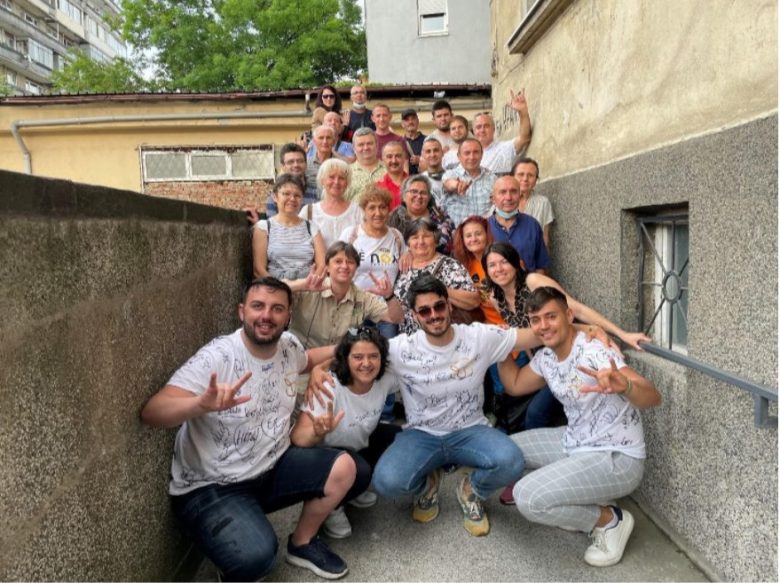 Growing up, Bandev would interpret parents' meetings, hospital appointments, and job interviews for his own family. He shares that CODAs like him can often refuse to become interpreters or go back to the community precisely because interpreting came into their lives by force. However, what changed his mind was his niece, Elly, another CODA going through the same struggles.
"I don't ever want her to feel lost as I did. I want her to be raised in an environment where people accept deafness and sign language, where she feels proud and safe to be herself." 
Kalinov also recognizes the rise in the number of trained interpreters as the organization's most important goal. More importantly, he finds the provision of sign language education for hearing people like himself as a crucial investment in a needed service. 
The co-founders conclude that people with hearing problems are also at a disadvantage regarding sources of information and entertainment provided to them. 
"There is a justified outcry for original content, whether found in movies or music, produced by deaf people for deaf people," says Dermendzhyiski. 
Yet, such projects are rarely given the green light and are often rejected for funding. This motivates Stray Sheep to work with some of the most prominent and well-versed Bulgarian deaf professionals to provoke change towards a more well-rounded collection of content.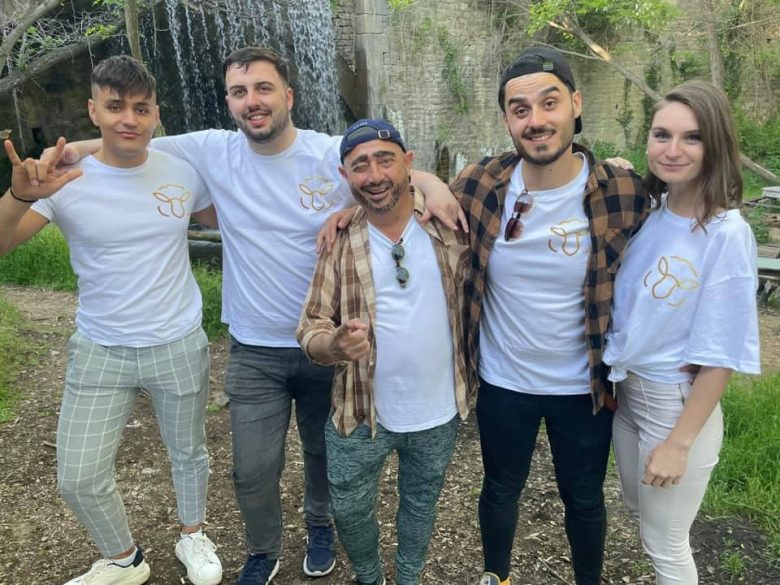 Stray Sheep's solutions for imminent change
Therefore, the company also aims to change how the arts and media are presented and adapted for deaf people by making general content more accessible with live and pre-recorded sign language translations. With many live events, meetings, and conferences not made accessible by organizers, it boasts the fact that hearing is a privilege invisible to those who have it. 
"Currently, in Bulgaria, the situation is the following: people go to an event, and they are so shocked that there is an interpreter. This shouldn't be shocking; this should be the norm, this should be the standard," Dermendzhyiski adds.
That is precisely why, at the beginning of 2021, the Stray Sheep team went on a tour across key Bulgarian cities to collect more information on the main challenges that deaf people experience and the immediate changes they want to see. By showing up for those in need, the team of Stray Sheep wants to extend the message for inclusivity beyond the state, shifting the focus towards civil responsibility.
A More Involved Future Generation?
For those eager to learn, Stray Sheep has already prepared a platform called ZhestoHub to encourage the hearing population to take up sign language courses. Co-founders Bandev, Kalinov, and Dermendzhyiski believe that this is the key to a growing number of interpreters. 
The platform entirely flips the script and puts deaf people in charge as lecturers or Sign Language trainers. They would be able to simultaneously share their knowledge with the hearing community and make a living out of it. 
"ZhestoHub is certainly our most ambitious project. It would be a video platform with educational content where people could learn sign language online," says Bandev. 
Other tools that Stray Sheep intends to use will take the shape of a Sign Language interpreting app that would allow people, companies, and institutions to connect to interpreters in real-time that need access to sign language translation. 
 "What we want to do in the next year is train enough Sign Language interpreters to set up a website, which allows deaf people to book an interpreter for a particular task or event," says Bandev.
The process resembles the setup of any other application done on a mobile device. By selecting a location, anyone could find an available interpreter and book them based on their profile and which field they specialize in – medicine, law, etc.
"With the Sign Language interpreting app, people with hearing impairments could finally feel more confident when dealing with authorities, taking care of doctor's appointments and even reporting a crime," according to Kalinov. 
So far there is no similar platform available in Southeast Europe. Stray Sheep has the potential to change the lives of thousands of deaf people in Bulgaria and the Balkan region. If you are interested in supporting the initiative or any of the future projects along the way, make sure to drop them a line at hello@straysheep.bg, or visit their website.