POST
The World's First Blockchain Postage Stamp Is Here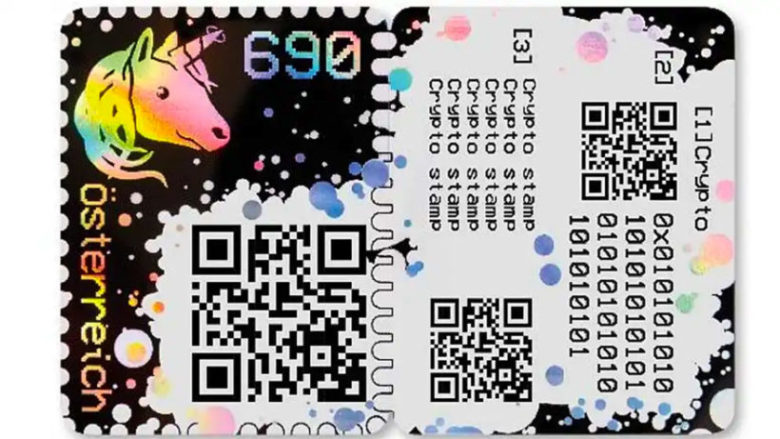 Austrian Post has developed an affinity for cryptocurrencies and blockchain in recent years. After cooperation with Bitpanda (sale of cryptocurrencies in branches) and Coinfinity (Swiss Bitcoin machines), the post has now entered a third cooperation with a crypto firm. The world's first cryptocurrency and blockchain postage stamp, developed together with the blockchain experts Capacity,  has just been introduced to the market.
The special stamp, the digital copy of which is stored in the Ethereum Blockchain, has a value of €6.90 and which was launched in 150,000 copies, should appeal to philatelists. The collector's item is available in five different colors (each limited to 1,500 to 75,500 pieces). In addition to a unicorn, there's a QR code printed on each "crypto stamp" that contains a unique identifier and is concealed under scratch layers. The code is used to save the stamp on the Ethereum Blockchain, the digitized and unique stamp is then available in an Ether-Wallet and can be transferred to another one.
Unusual crypto partnership
Einhorn, which is reprinted, by the way, does not stand for a startup with a billion-dollar valuation ("Unicorn"), but is the heraldic animal of the Ethereum community. The graphic design of the special stamp comes from Julia Obermüller. The crypto stamp definitely falls into the category of unusual products of the Austrian post but is not the first. The organization has already produced many collectibles ranging from dirndl (traditional feminine dress worn in Austria) embroidery and lederhosen (traditional leather shorts worn by men in Alpine regions) stamps to special stamps made of porcelain, glass, meteorite dust or Swarovski crystals.
With Capacity, the post has found a partner already well known in the crypto community. Behind the company is blockchain expert Andreas Petersson. He sold his crypto-startup Minebox (Blockchain-based NAS systems) to New Zealand server-specific Clear Center at the end of 2017. Petersson also advises on the crypto-project Pantos, which Bitpanda is doing with researchers from the Vienna University of Technology, the Academy of Sciences and the Research Institute for Future Cryptoeconomics (RIAT).